2021 has been another strange year in many ways but as we race into 2022, it's worth looking back and reflecting that actually, it's not all been bad news during these uncertain last 12 months. We have added some wonderful new pieces to our collection of Oriental Art, we have made some great new customers and we continue to introduce our growing community of Instagram followers to our world of Magical Meiji fine art and antiques.
In our last Newsletter of the Year, we showcase some of the exciting new arrivals to our website, shine a light on Japan's first leader, Emperor Meiji and take a look at some wonderful Box wood Netsuke.
We hope you enjoy the read!
Kevin Page Oriental Art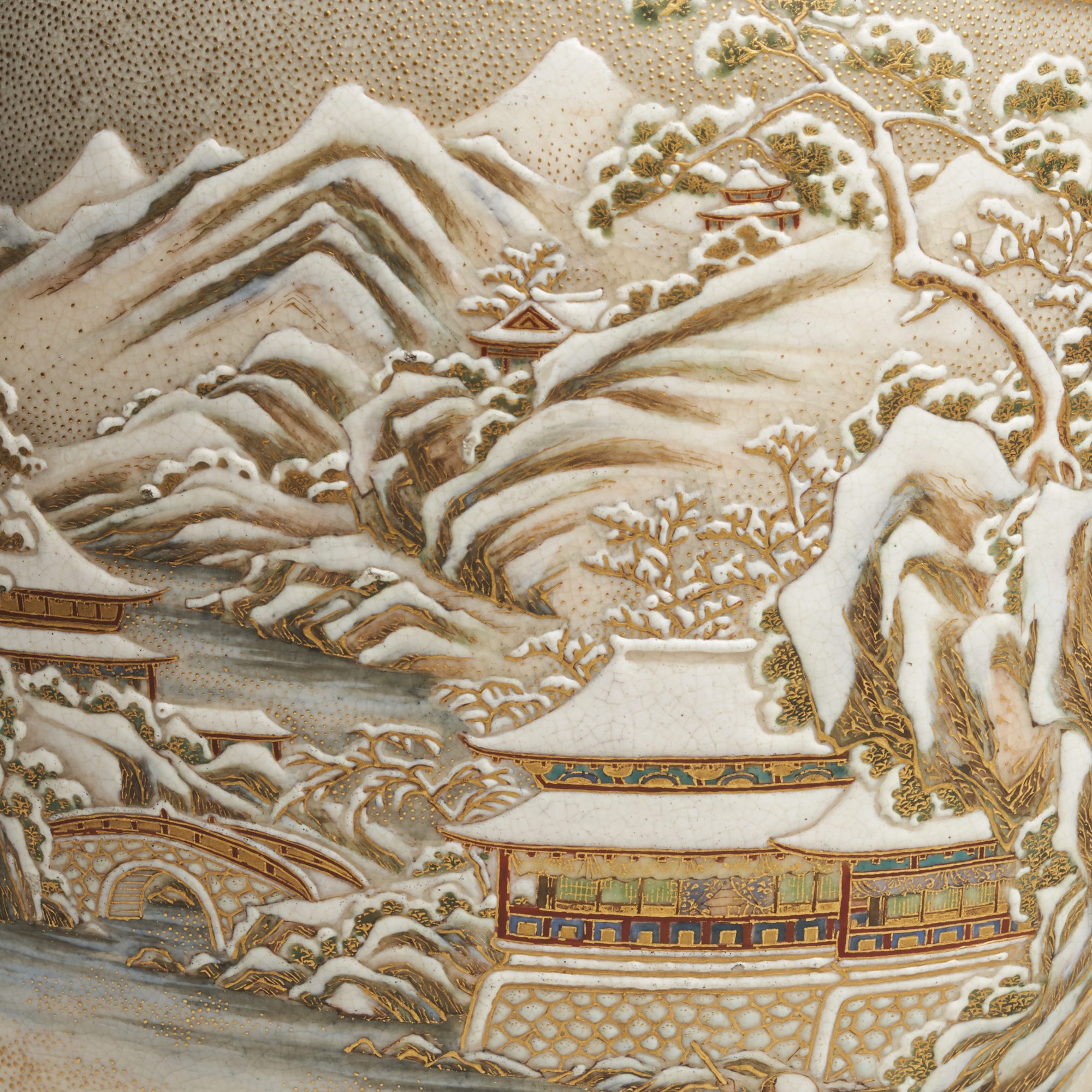 The legend behind the art: Introducing Emperor Jimmu, Japan's first leader
In each edition of our Newsletter, we like to shine the light on inspirational characters from Oriental legend and Emperor Jimmu, (the first Emperor of Japan) is a wonderful example.
This fabled character, a direct descendent of the Sun Goddess, is often portrayed in art and literature as a fearless, benevolent, strikingly handsome leader and his is a fascinating story inspired by true events and embellished with mythological magic.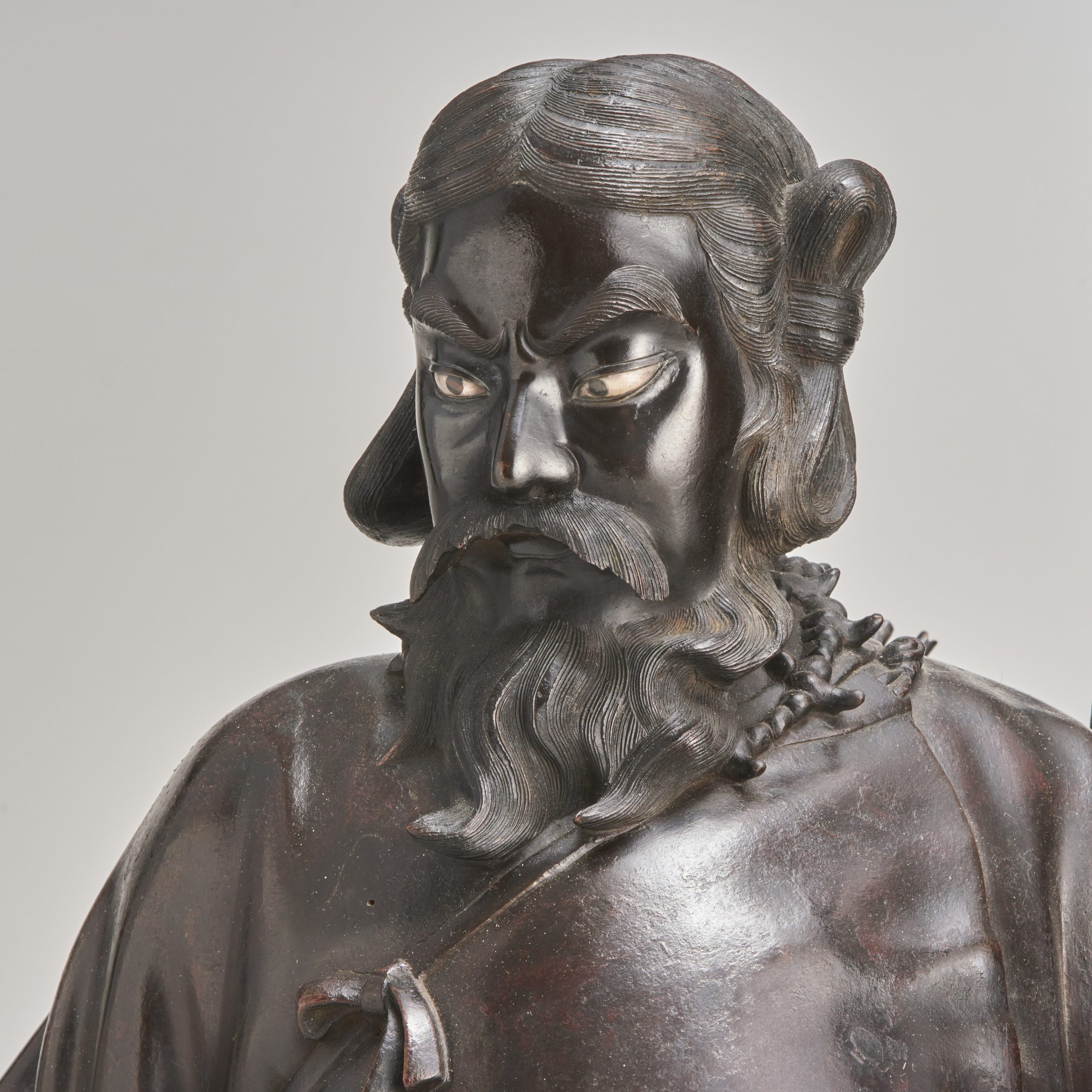 We recently wrote a short blog about Emperor Jimmu, and you can read it by clicking here.
Meiji-era Boxwood Netsuke, a gateway drug for  aspiring Japanese antique collectors?
Intricately carved toggles, once an everyday part of Japanese life, Netsuke are now highly desirable for a growing group of passionate collectors. Between the 17th and 19th Centuries, men's robes didn't have pockets or sewn sleeves, so possessions such as tobacco or medicine were carried in pouches called Inro that were looped under and behind the Obi (sashes that were used to keep a Kimono fastened in place.)
Netsuke were attached at the end of these cords to act as counterweights, preventing the Inro from coming loose and falling off. Like most forms of clothing accessories, these objects became fashionable, conversation-starters and a symbol of status.
It is likely that even back then, Netsuke were highly collectable and there would have been friendly competition to see who had the finest Netsuke. Over the years, their popularity has grown and they have gone on to become highly sought after with collectors paying tens of thousands of pounds in auction for the finest and rarest pieces. A uniquely Japanese art-form, Netsuke help to tell the story of Japanese life, history, culture, mythology, legend and imagination.
We have recently added to the website a small selection of carved boxwood Netsuke from our collection of Japanese Meiji art and antiques. These pieces help to showcase the wonderful craftsmanship and dark humour of the time. You don't need to break the bank to find good examples of Netsuke and as it is likely that their value will continue to rise, these pieces could be both an excellent investment opportunity and an excellent gift for a budding collector.
Click here to view our Online collection of Box wood Netsuke. We have many more examples of Netsuke, Inro and Okimono at our Islington Galleries, so please feel free to contact us for further information.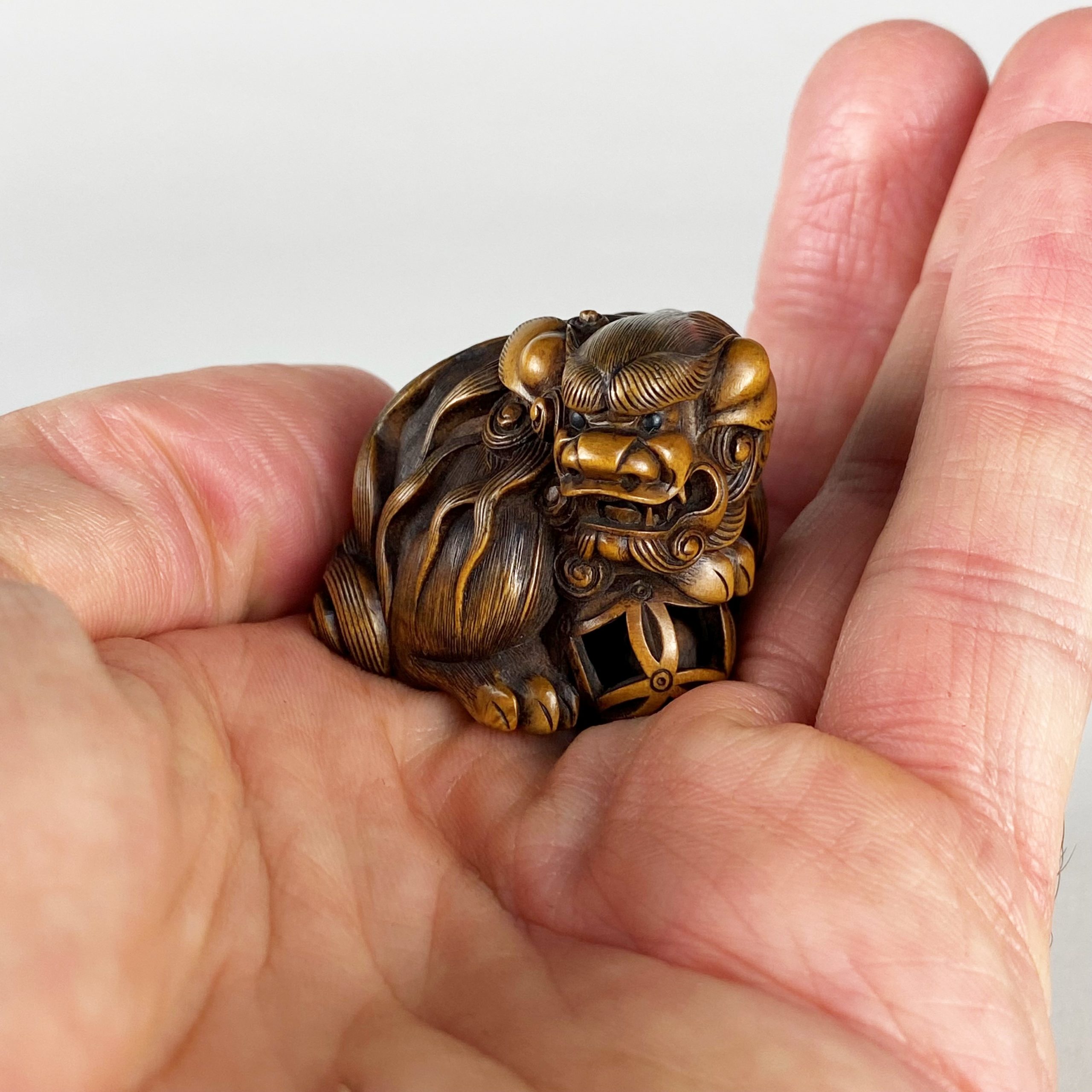 Festive and New Year Opening
As much as we are very proud of ever-growing online presence, we know that there is nothing quite like visiting a gallery in person. A photograph or a video can never truly replace the experience of seeing an object in the flesh, handling it or enjoying the feeling of being surrounded by precious antiques and fine art.
If you are planning a visit to the galleries, (with it being the holiday period and with talks of the potential tightening of restrictions in the coming weeks),  we strongly advise that you call ahead to ensure that we are here in person to greet you.
Contact us by clicking here. Naturally, we will be online throughout the holidays to offer pricing, additional information and more.
A look inside the Gallery:
Each week we continue to add new pieces to our website. In the last few weeks, we have added some wonderful Meiji-era Satsuma, a great collection of box wood Netsuke and some magical metalwork. We now have over 450 examples of Chinese and Japanese Fine Art and Antiques online, and here follows a hand-picked sample of our latest additions. (Click on any of the images to see more information.)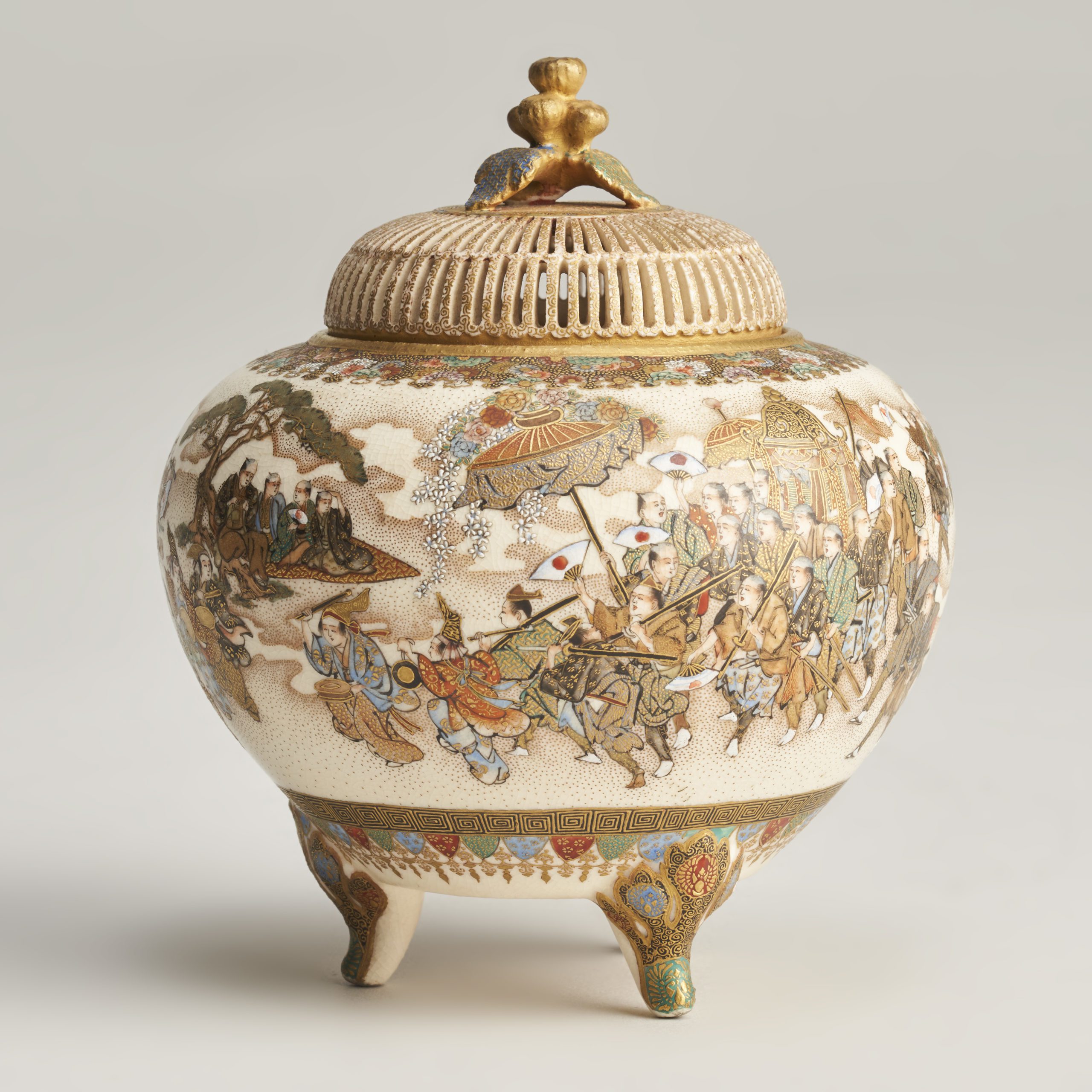 A beautiful Miniature earthenware pottery Satsuma Koro
An amusing Japanese, Meiji-era Netsuke depicting a man caught in his robes
An Iron and multi-metal vase depicting Dragons and Shachi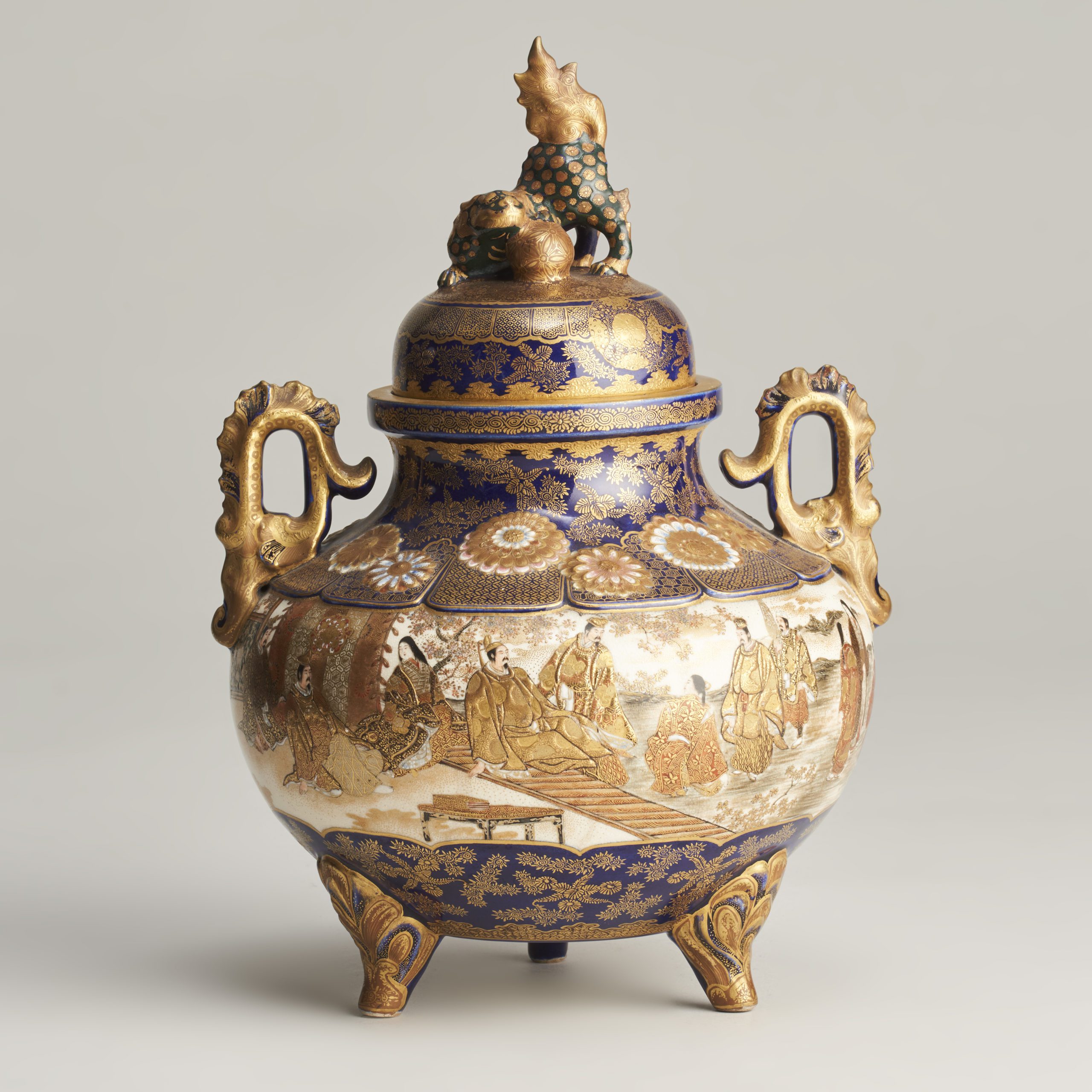 A stunning Japanese, late 19th Century Satsuma Koro
A delightful large, Japanese Meiji-era Satsuma dish by Kinkozan

A beautiful Silver filigree, enamel and Multi-metal vase
A beautiful Japanese wood Netsuke of a playful Shishi (18th Century)
A charming life-sized Silvered Bronze Okimono of an owl on a gnarled stump
Follow us on Instagram
Join our ever-growing community of nearly 2,600 Instagram followers for regular updates and fascinating insight from our collection of Chinese and Japanese Fine Art and Antiques. We regularly receive complimentary feedback about our posts and our Instagram feed is a great way to learn about Oriental Art and to see new pieces from our collection as they are added to our website.
You can find us @kevinpageorient
We hope you enjoyed the Winter Newsletter. If you missed any of our previous editions, you can find the online archive on our website by clicking here.
Until next time, we thank you for your support and custom and we wish you health and happiness for the Festive Season and the New Year.
Kevin Page Oriental Art