A beautiful Japanese Meiji-era Koro (incense burner) with reticulated cover. Standing on three legs, the lower section of the Koro with geometric design. The main body with a continuous scene depicting men and women in procession carrying sun disk fans, masks and drums. The top of the body with a band of intricately painted mille-fleur design.
Condition is very good. Please feel free to contact us for further images or to arrange a viewing.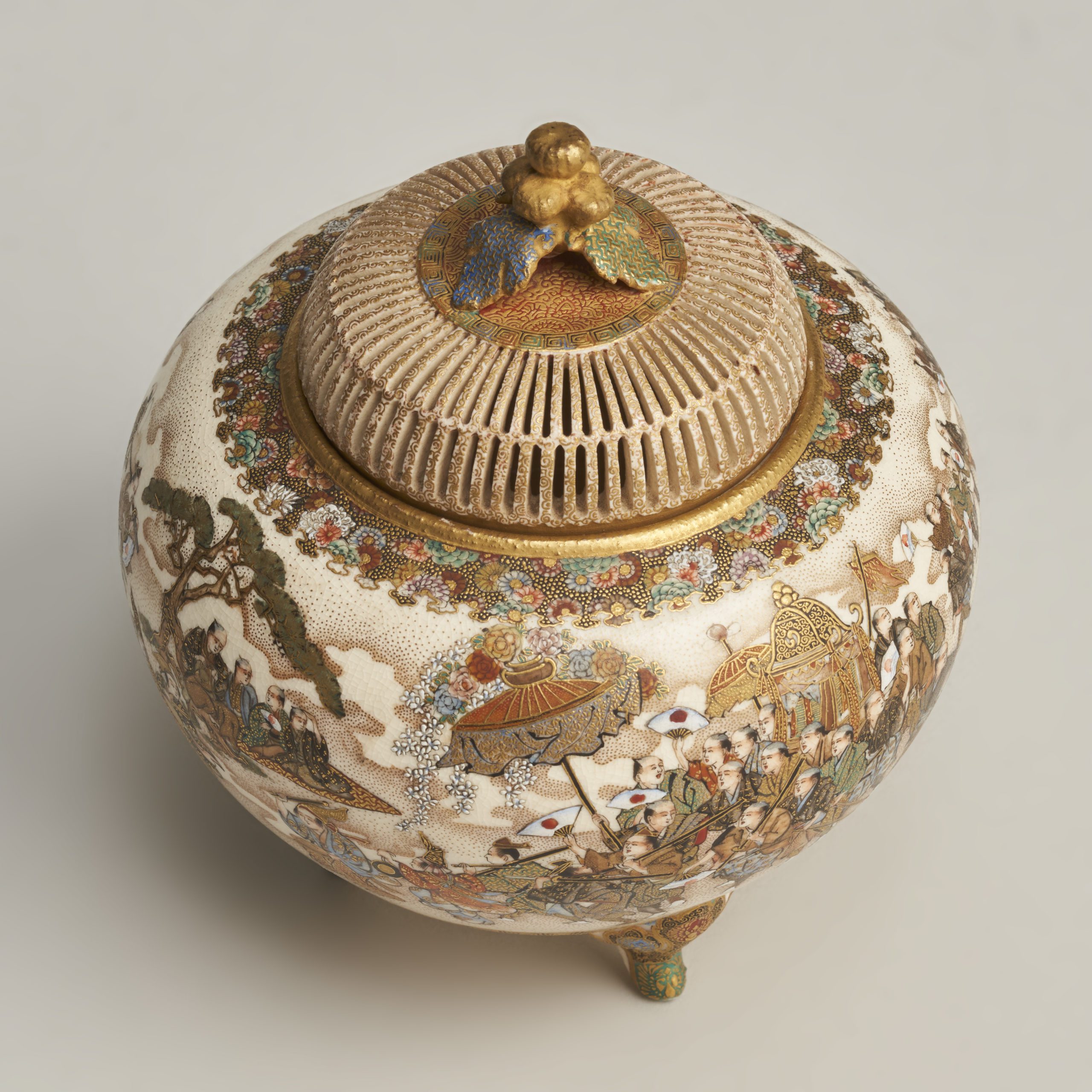 Flag of Japan (Hinomaru Sun Disk)
The Hinomaru or sun disk flag is the flag currently used by Japan as it's national flag, it features a red circle on a white background.
It embodies the countries nickname of 'the land of the rising sun' and was officially legislated Japan's national flag in 1999, though it had been in use as a national flag for the navy and merchant ships since 1870. Use of the Hinomaru was severely restricted after the second world war but this was later relaxed.
Satsuma
Satsuma ware is a type of earthenware pottery originating from the Satsuma province in Southern Kyūshū, Japan's third largest island. The first kilns were established here is the 16th century by Korean potters kidnapped by the Japanese for their extraordinary skills, prior to this there was no ceramic industry in Satsuma.
The first presentation of Japanese arts to the West was in 1867, Satsuma was one of the star attractions, it was this that established the satsuma aesthetic we are most familiar with today. This export style reflects the foreign tastes of the time, popular designs featured millefleur (million flower), and complex filled in patterns. Many pieces featured panels depicting typical Japanese scenes to appeal to the west such as pagodas, cherry blossom, birds and flowers and beautiful ladies and noble men in traditional dress. The height of popularity for Satsuma was the Meiji Period and many of the most beautiful and artistically accomplished works were made during this time.
Koro
A koro is an incense burner, they can be made from may different materials, ceramic and bronze being very popular. Many were made to be used but the form was also used as the basis for more decorative artworks.