Bearing the celebrated mark of Masanao, this wonderful boxwood Netsuke is a fantastic example of late 19th Century Japanese craftsmanship. The toad is depicted in a seated position, as if watching the world pass by.
Offered in excellent condition. Please feel free to contact us for further information, images or to request a viewing.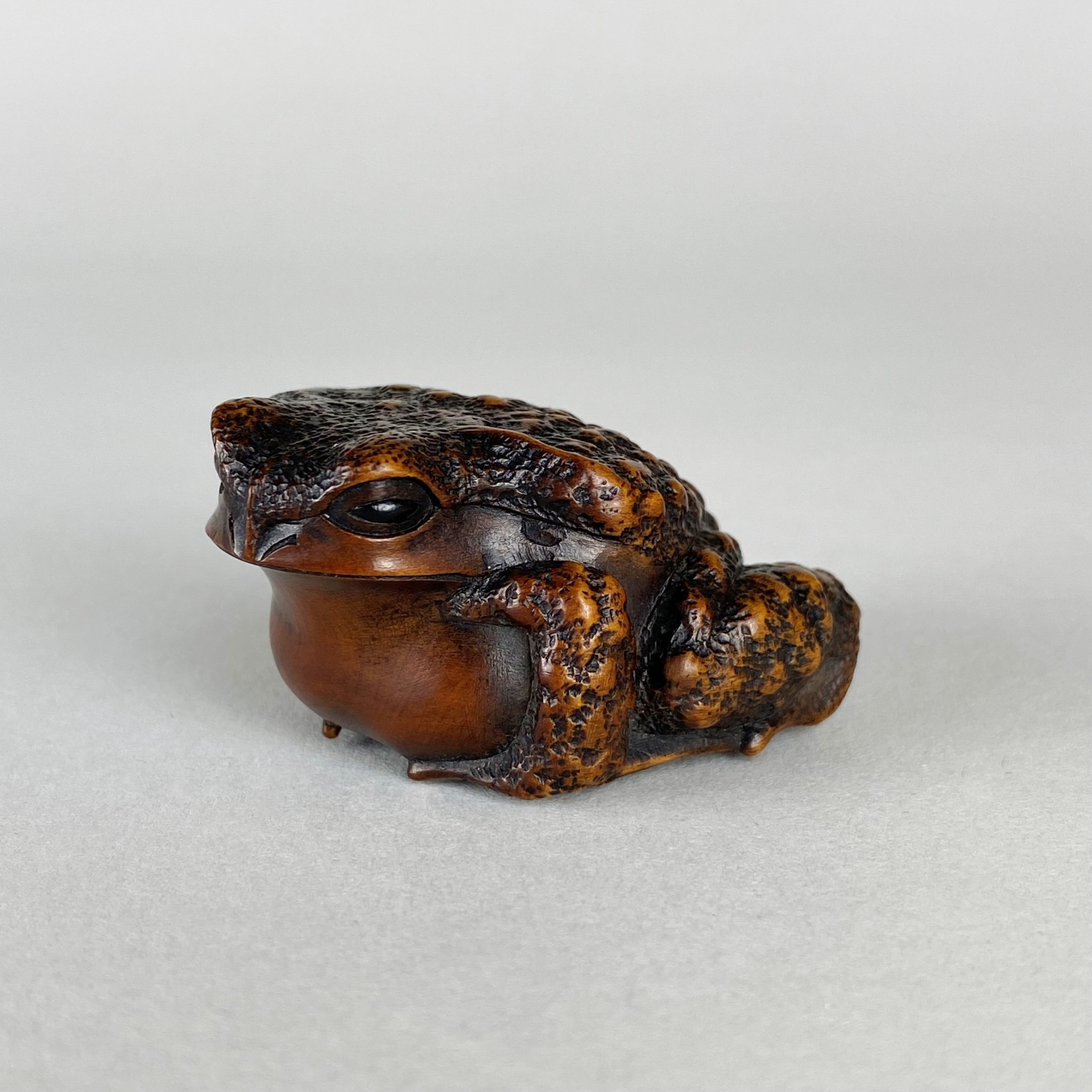 Masanao
The Masanao name actually refers to three generations of the same family, all famed for carving netsuke, the coiled rat being their most popular and well know model. There are small differences between the styles and woods used by the three artists but it is very hard to tell them apart. Generally the older pieces by the Grandfather are larger and more unrefined with the later generations becoming finer and smaller.
Toad
Toads appear in many popular Japanese folk tales such as Jiraiya, a ninja who used shape-shifting magic to transform into a giant toad.
They are also a symbol of Gama Sennin which translates as 'Toad Immortal'  is almost always seen with at least one toad. He is based on the 10th century Chinese alchemist, Liu Hai, who learned the secrets of immortality from a great three legged toad. He is a master of healing and herbs and has the ability to transform into a toad as well as fly, and release his spirit from his body.
Netsuke
A netsuke is essentially a toggle, used to prevent an object (usually an inro) from slipping through the obi (kimono belt). A cord is passed through the himotoshi (two small holes on the netsuke or a natural hole formed by a leg or arm of the piece) the other end tied to a container containing money, herbs or tobacco. The cord is then passed through the obi with the netsuke resting above it and the container below.
Netsuke have evolved from being utilitarian objects to miniature sculptures of great beauty and craftsmanship. Subjects they depict wide ranging and are an important record of Japanese life and folklore.