From our collection of fine Japanese late 19th Century Satsuma ware, a stunning large Incense Burner.
Standing on three legs, the lower and upper sections of the Koro with cobalt blue with gold decoration. The main body with a continuous scene showing Noble men and ladies standing in small groups in gardens and seated under pavillions. Two large handles with further gold and blue decoration.
The cover depicts a playful Lion dog standing over a ball with its tail up in the air.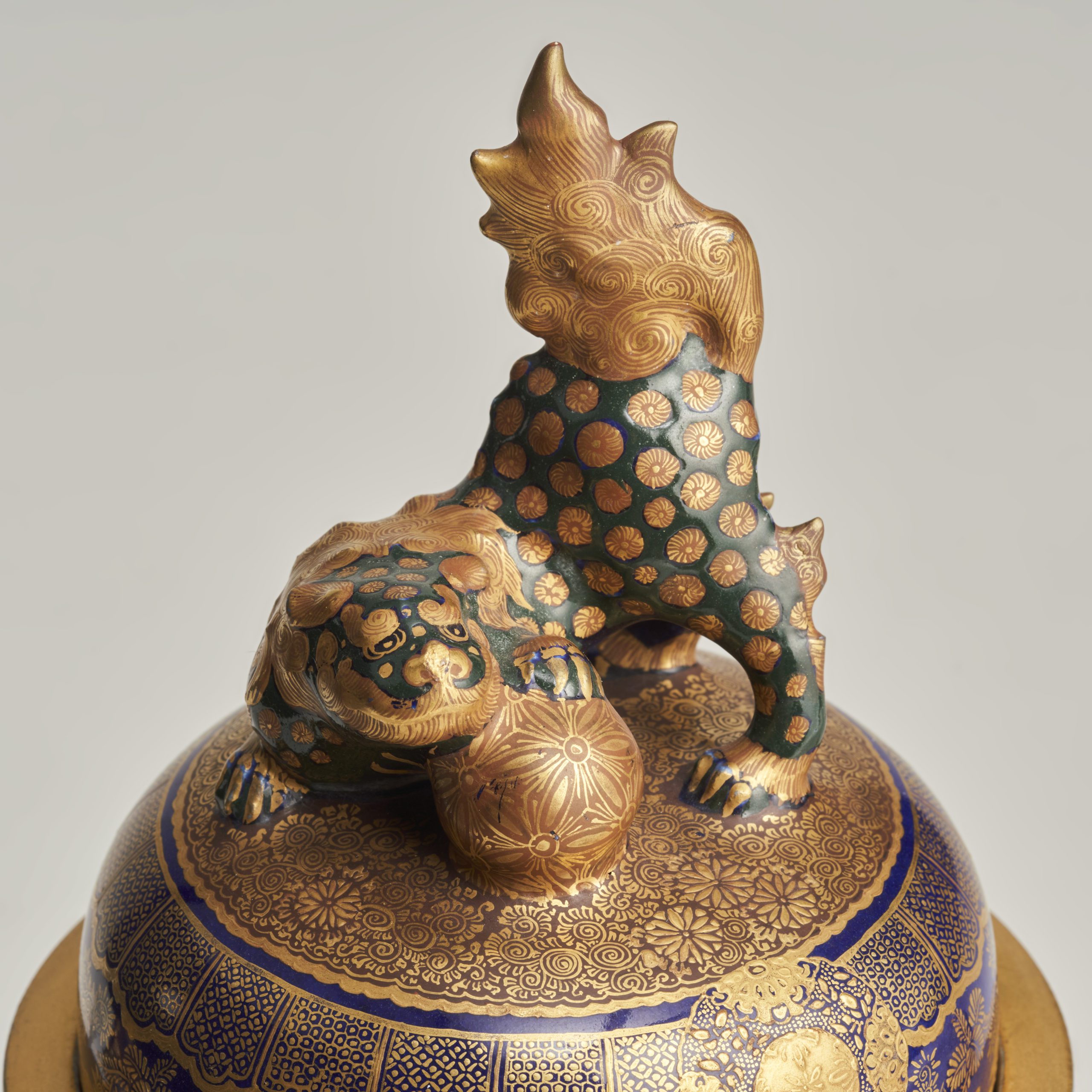 Condition is excellent. Contact us for further images or to arrange a viewing.
Lion Dog
Known as Komainu in Japan, are mythical lion like statues which are places at the entrance of a place of worship or home to ward of evil spirits. Often one will have and open mouth and one will have a closed mouth this represents the beginning and end of all things.
Koro
A koro is an incense burner, they can be made from may different materials, ceramic and bronze being very popular. Many were made to be used but the form was also used as the basis for more decorative artworks.
Satsuma
Satsuma ware is a type of earthenware pottery originating from the Satsuma province in Southern Kyūshū, Japan's third largest island. The first kilns were established here is the 16th century by Korean potters kidnapped by the Japanese for their extraordinary skills, prior to this there was no ceramic industry in Satsuma.
The first presentation of Japanese arts to the West was in 1867, Satsuma was one of the star attractions, it was this that established the satsuma aesthetic we are most familiar with today. This export style reflects the foreign tastes of the time, popular designs featured millefleur (million flower), and complex filled in patterns. Many pieces featured panels depicting typical Japanese scenes to appeal to the west such as pagodas, cherry blossom, birds and flowers and beautiful ladies and noble men in traditional dress. The height of popularity for Satsuma was the Meiji Period and many of the most beautiful and artistically accomplished works were made during this time.