This powerful Okimono group depicts the legendary first Emperor of Japan, Emperor Jimmu. In this sculpture, he is dressed in Generals attire. His armour is decorated with auspicious Magatama Jade strones and he wears an impressive necklace made from them.
Also depicted is Michino Omi No Mikoto, a close friend and confidant of Emperor Meiji. Michino Omi No Mikoto was also known as The Sun Lord or the Path Finder. He is depicted holding a dried Abalone as an offfering of thanks to the Shinto Gods.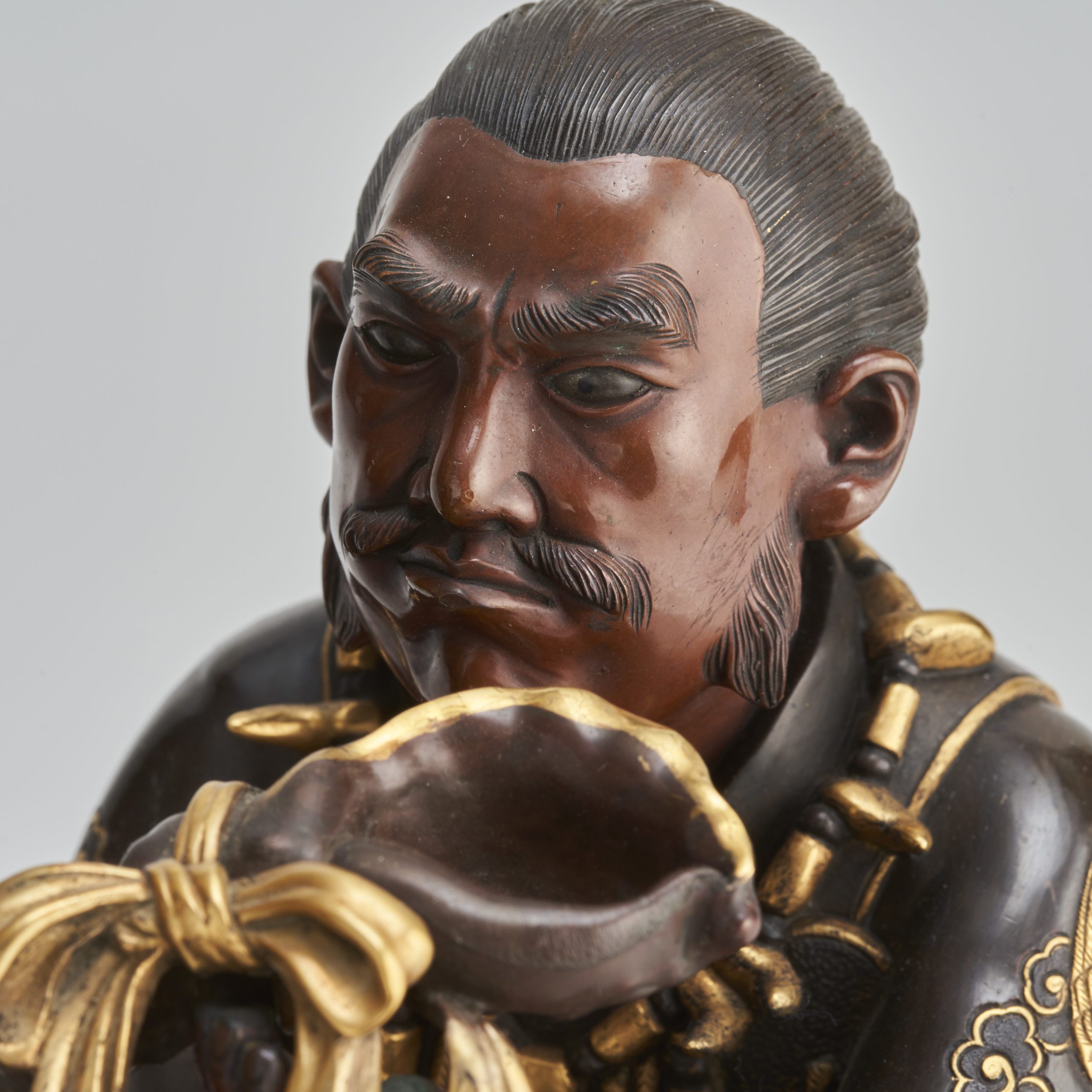 The scene depicted in this Masterful Okimono group (by the Miyao studio), reflects upon a period when Emperor Jimmu strove to subdue the babarians of the East. He wanted to go to Naka-tsu-kuni but the mountains were too steep to cross. His trusted friend and attendant Michino Omi No Mikoto saw a miraculous bird in flight and they followed its path to get to their destination.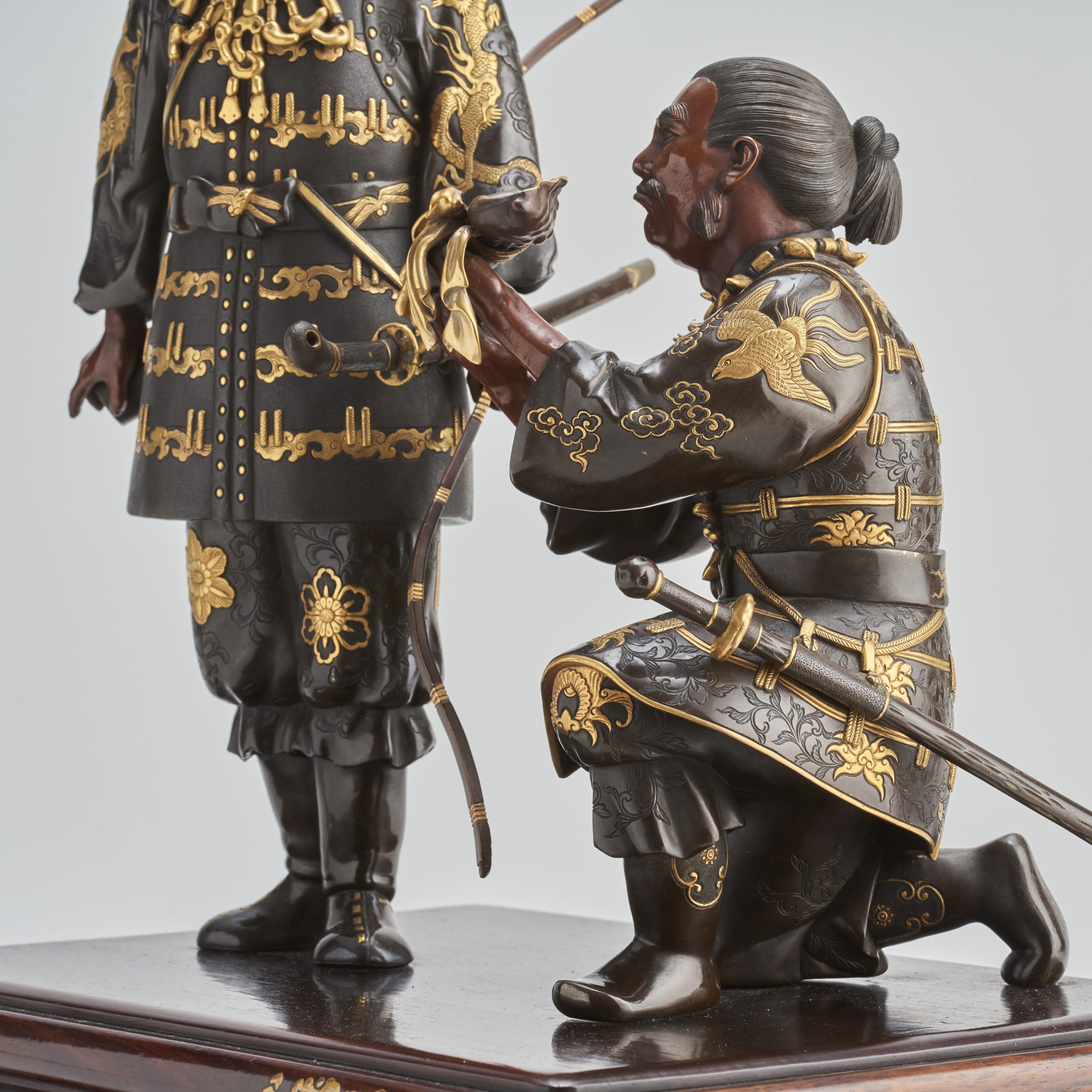 The group stands on a fine wood base with gold decoration, typical of the Miyao studio.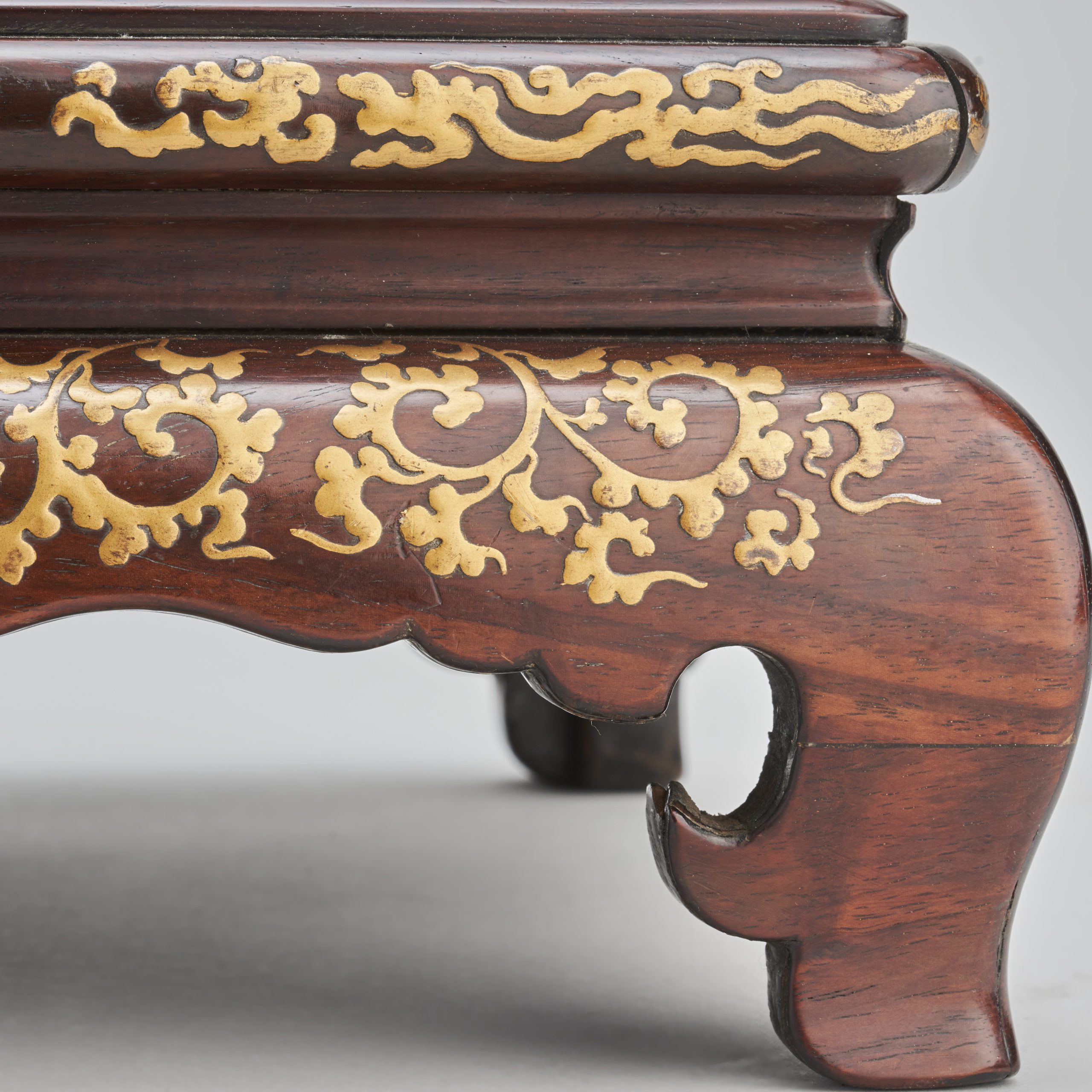 Condition is excellent. Please contact us for additional information or to arrange a viewing.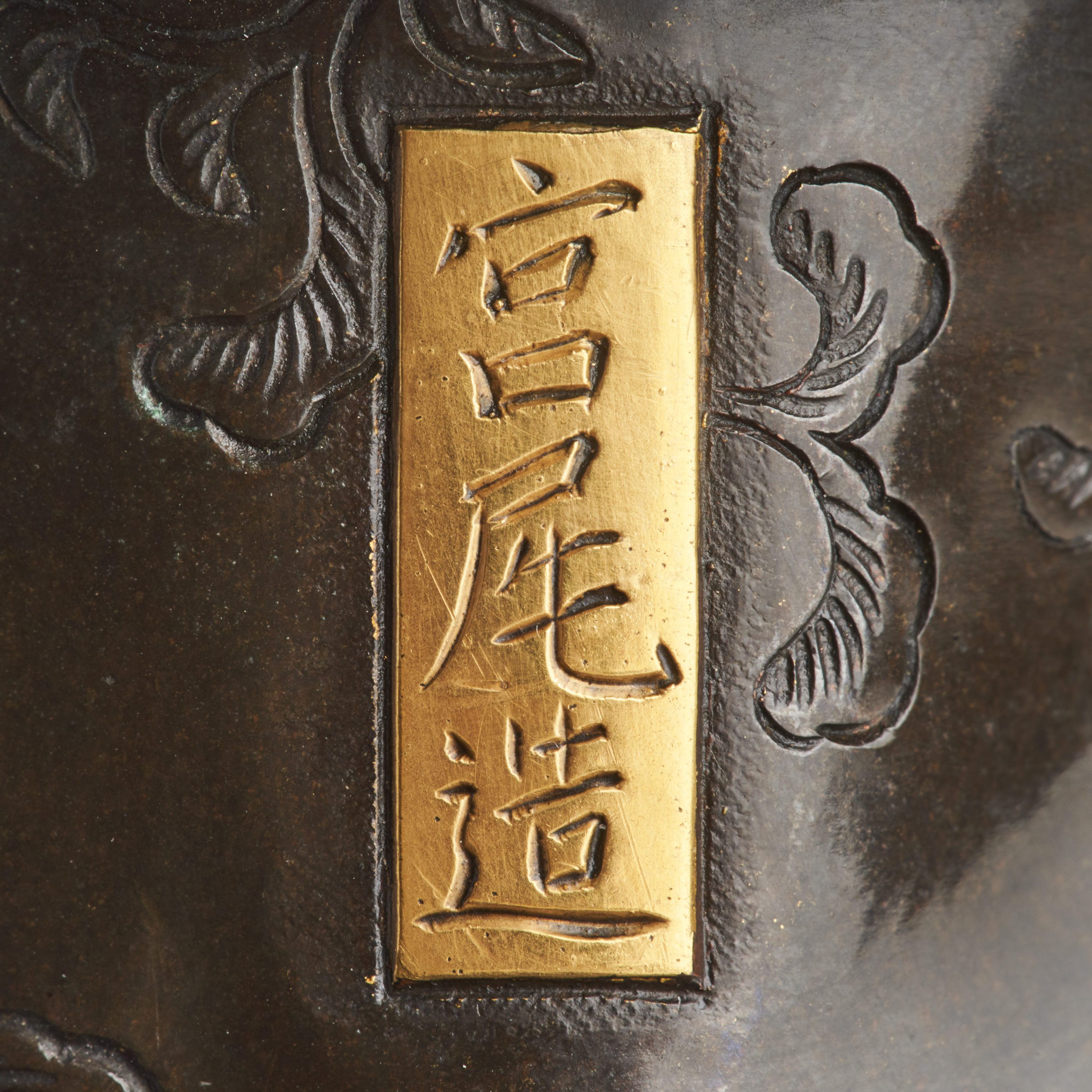 Emperor Jimmu
Emperor Jimmu was the legendary first emperor of Japan. He was believed to be a direct descendant of the sun goddess Amaterasu and ascended in 660BC. His accension is marked as National Foundation Day on the 11th February.
Michino Omi Mikoto
Also known as the Sun Lord, Michino Omi Mikoto was a loyal retainer and close friend of the first Emperor Jimmu. He earned the name Lord Pathfinder after successfully navigating through a steep mountain pass. He was also an accomplished poet and sang a Soueta at the  Emperors enthronement.
Magatama
Magatama are comma (.) shaped jade beads (often referred to as jewels) which first appeared in Japan in the later part of the Jomon period (14,000-300BCE). They were worn as decorative jewellery but also functioned as religious ceremonial objects. A set of Magatama made up part of the three Imperial treasures of Japan, they represent the benevolence of the Emperor.
Dried Abalone
Dried abalone has been an auspicious food in Japan since ancient times. It is believed to prolong life and is a sacred food offered  to Shinto gods.
Miyao Eisuke
Possibly one of the best known and widely celebrated metalwork manufacturers of the Meiji period, the Miyao company was first based in Yokohama before moving to Tokyo in 1890.
They exhibited at many of the Great Expositions to great critical acclaim and won many prizes for their impressive works, they are best known for their metal ware but they also manufactured Shibayama style works and ivory figures.