Far from being just a beautiful, annually-occurring phenomenon, the Cherry Blossom Season carries an important historical and cultural significance in Japan. Tourists travel from all over the world to witness the Sakura (Cherry Blossoms) and in this blog, we look at the symbolism and meaning behind this magical time of year.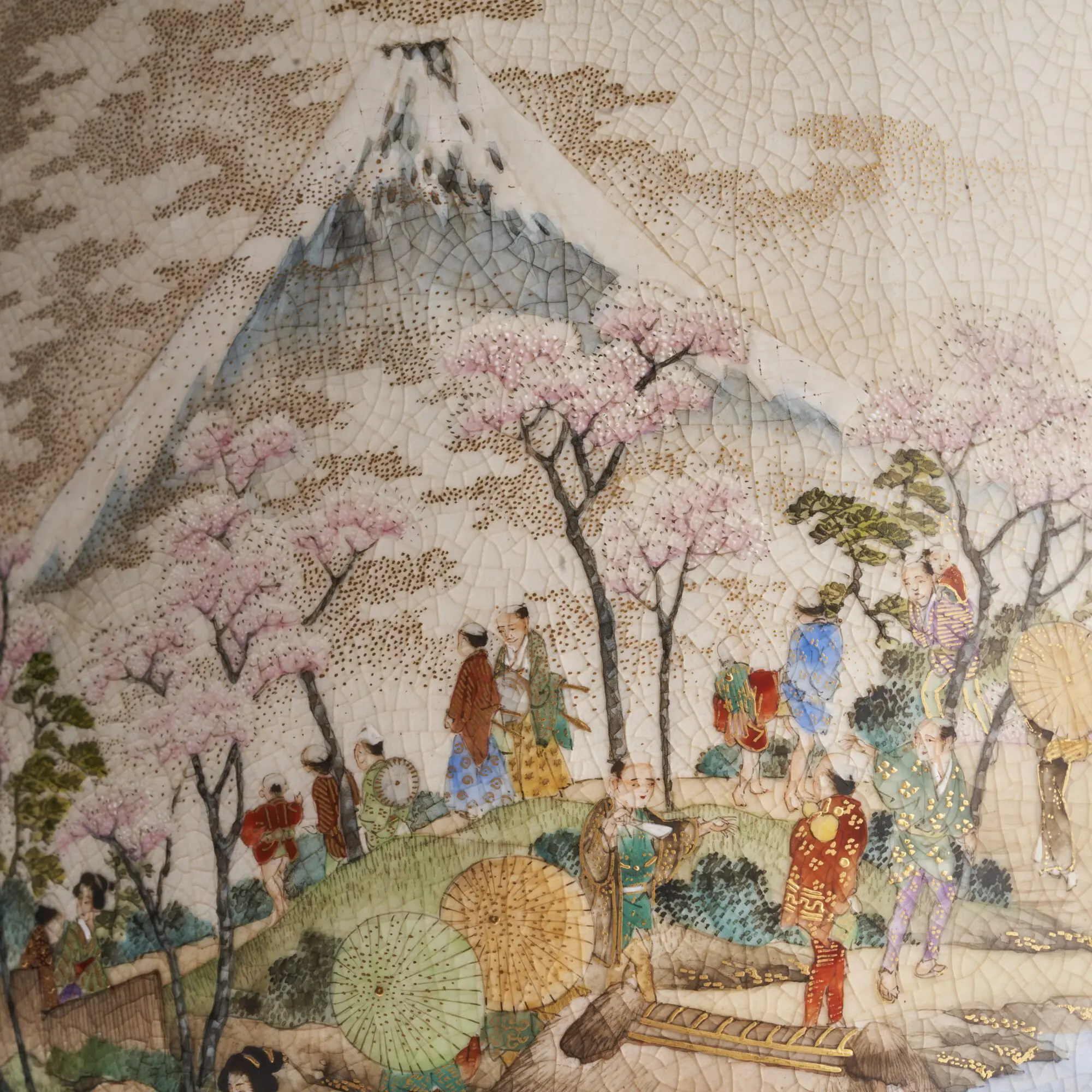 Villagers gather amongst the Sakura under the gaze of Mt. Fuji on this Satsuma vase by Ryozan
With roots in the Buddhistic view of mortality, Cherry Blossom has come to represent the fleeting beauty of life.. and death. The blossoms typically only last for one to two weeks before falling from their branches and leaving a luscious pink carpet on the ground below.  This short but beautiful spectacle has become a romanticised metaphor for the transience of human existence.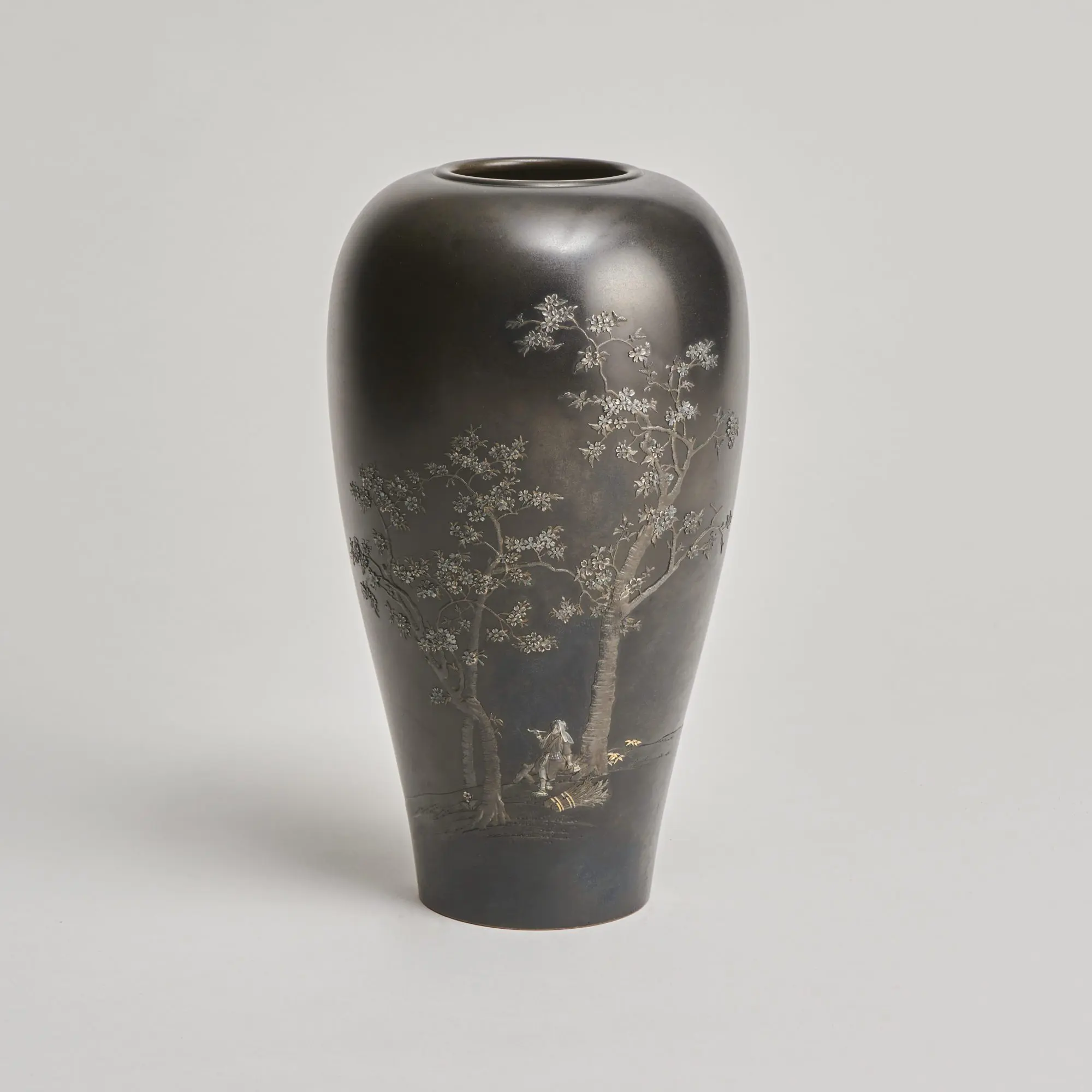 A woodman sits, enjoying his pipe under the boughs of a blossoming Cherry tree on this Bronze vase
Not only a symbol of life and death, Sakura has come to represent solidarity and peace. In 1912, Japan gave over 3,000 Cherry trees to the United States as an act of friendship. Twenty of these were planted in the grounds of the White House. Later, the then American President (William Taft) reciprocated with a gift of flowering Dogwood trees. To this day, the trees are replanted and maintained as a symbol to ensure that the partnership between these two countries remains and continues to thrive.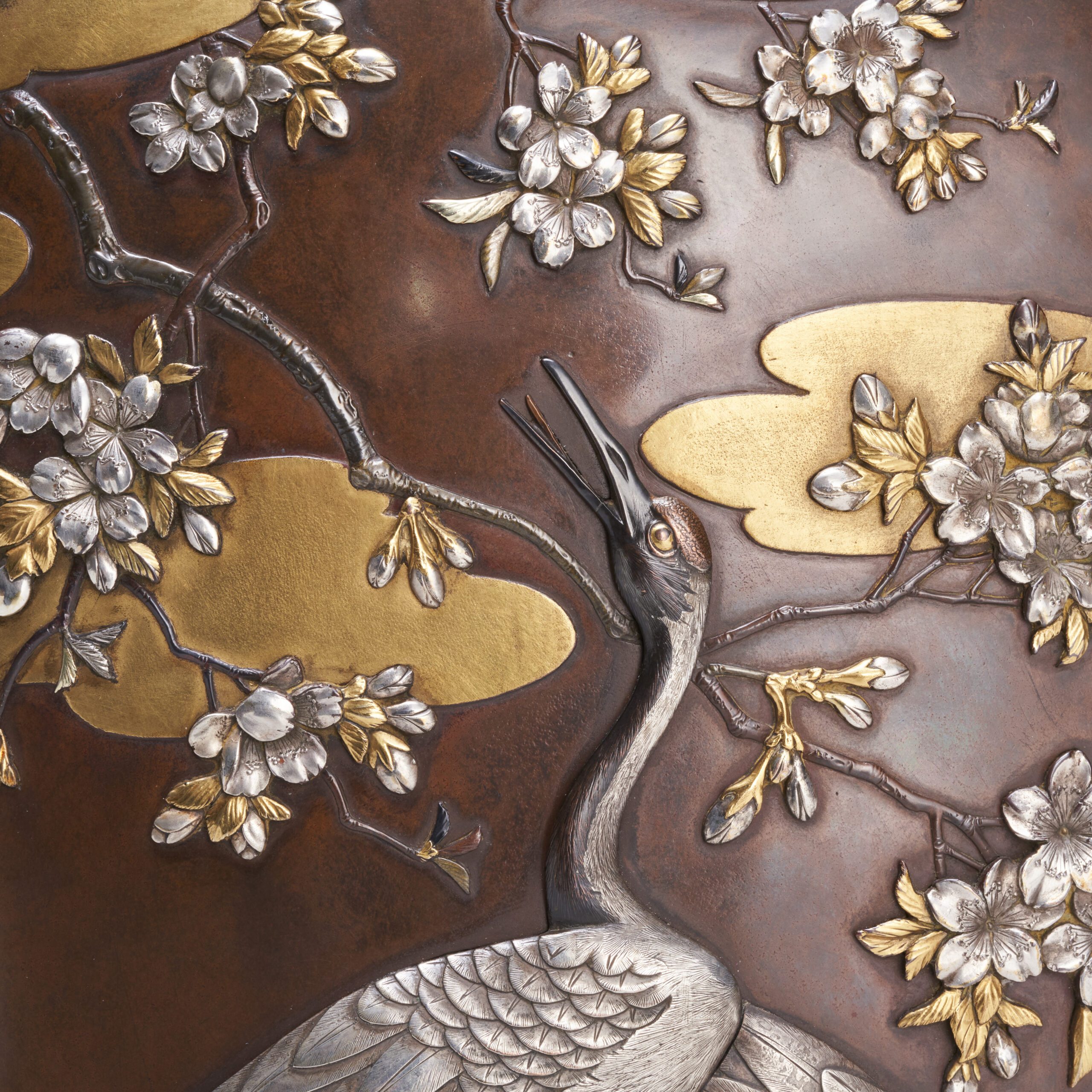 A red crowned Crane marvelling at the Sakura on this pair of Bronze and multi-metal vases
In Japan, the academic year starts in April (around the same time as the Cherry Blossom season) and therefore the themes of new beginnings and hope are visually reinforced with the backdrop of the Sakura. Historical and contemporary depictions of Japanese school-life are often accompanied by Cherry blossoms.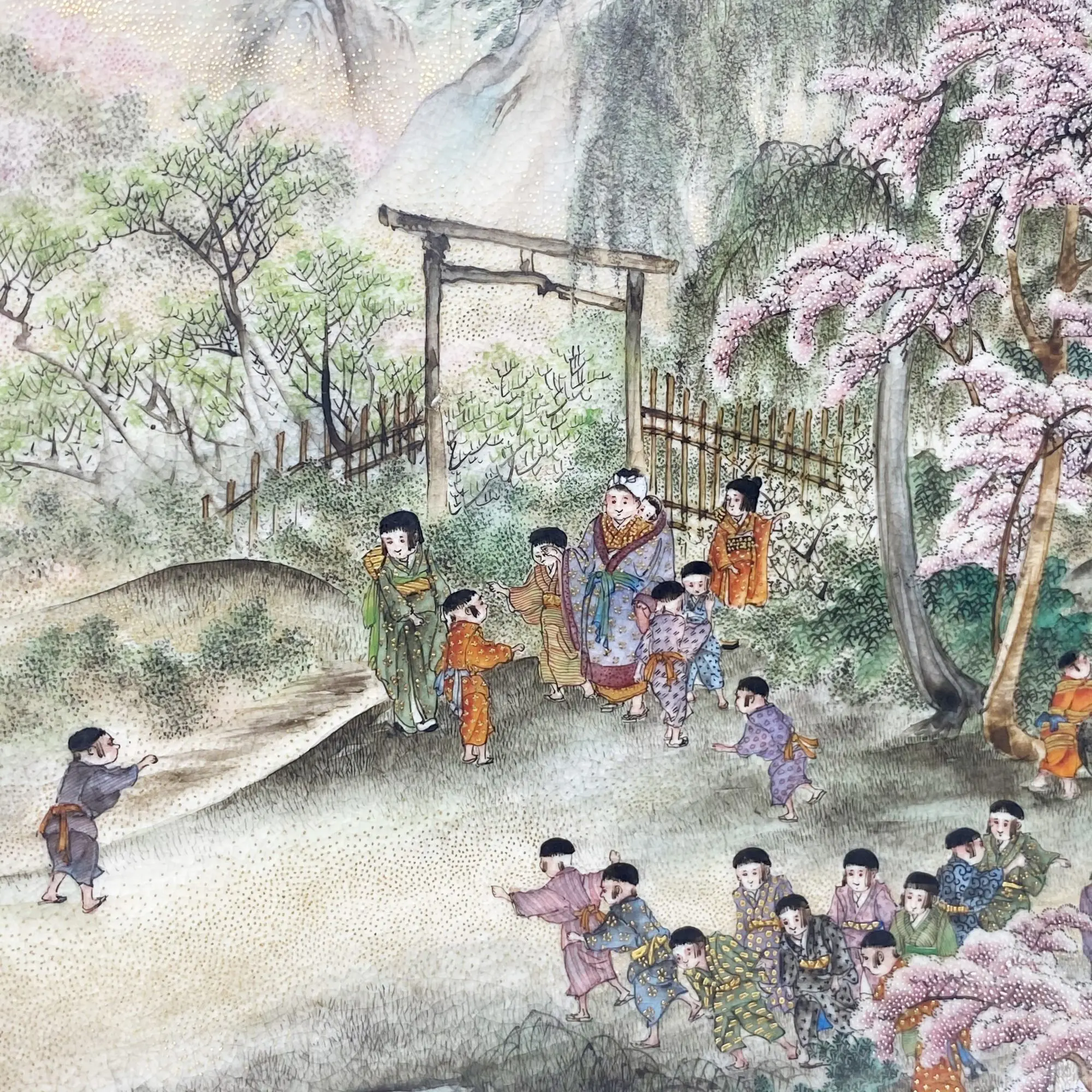 Children playing amongst blossoming trees on this Satsuma dish by Kinkozan
Across Japan, this time of year is considered as a time to reflect on the fleeting beauty and brevity of life and the tradition of Hanami ("To view the flower") has become popular amongst Japanese people and tourists. Hanami dates as far back as the 8th Century when upper-class families would host al-fresco dinner parties under the branches of blossoming plum trees. It was later, during the Heian period (794 – 1185) that villagers would start doing the same under Cherry trees during the Sakura season. It is believed that it was at this point that the Cherry Blossom became recognised as the unofficial flower of Japan.
Mother of Pearl Shibayama decoration on this fine carved lacquer vase
Hanami is an opportunity to appreciate the Sakura whilst showing gratitude and mindfulness for the life that we have and the beauty that surrounds us. It is common to see large groups of families, friends and colleagues gathering under the laden boughs of Cherry blossom trees. Picnics would be shared and in the evenings romantic young couples enjoy Yozakura (Cherry Blossoms at night).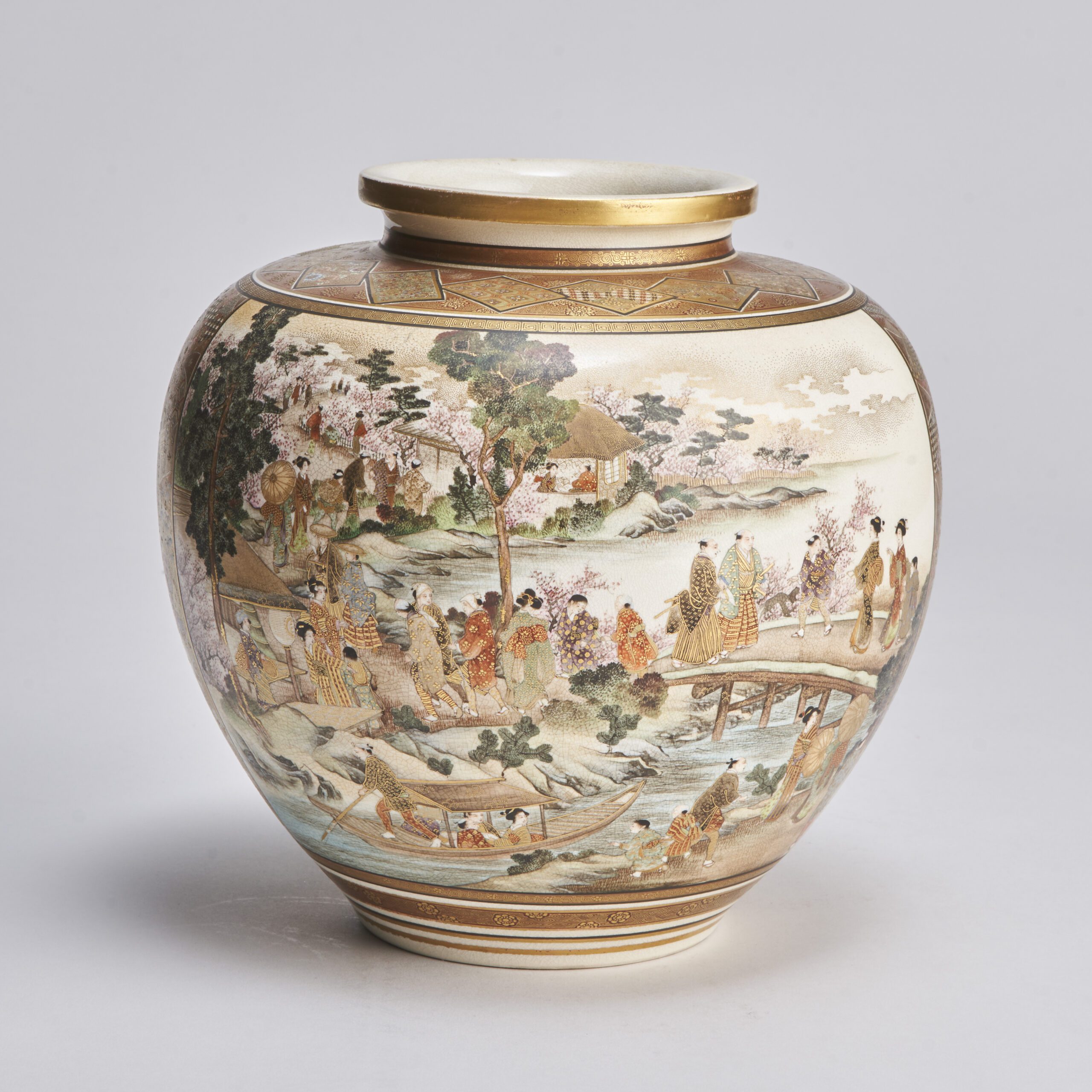 Noble men and women gather on the banks of a river to enjoy Hanami on this exceptional vase by Ryozan for the Yasuda Company
Sakura may be the most celebrated blossom in Japanese culture but many different plants and flowers have come to represent new beginnings and the re-emergence of life after the Winter. Here are just a few of our favourite depictions from our collection of Japanese Meiji-era fine art and antiques.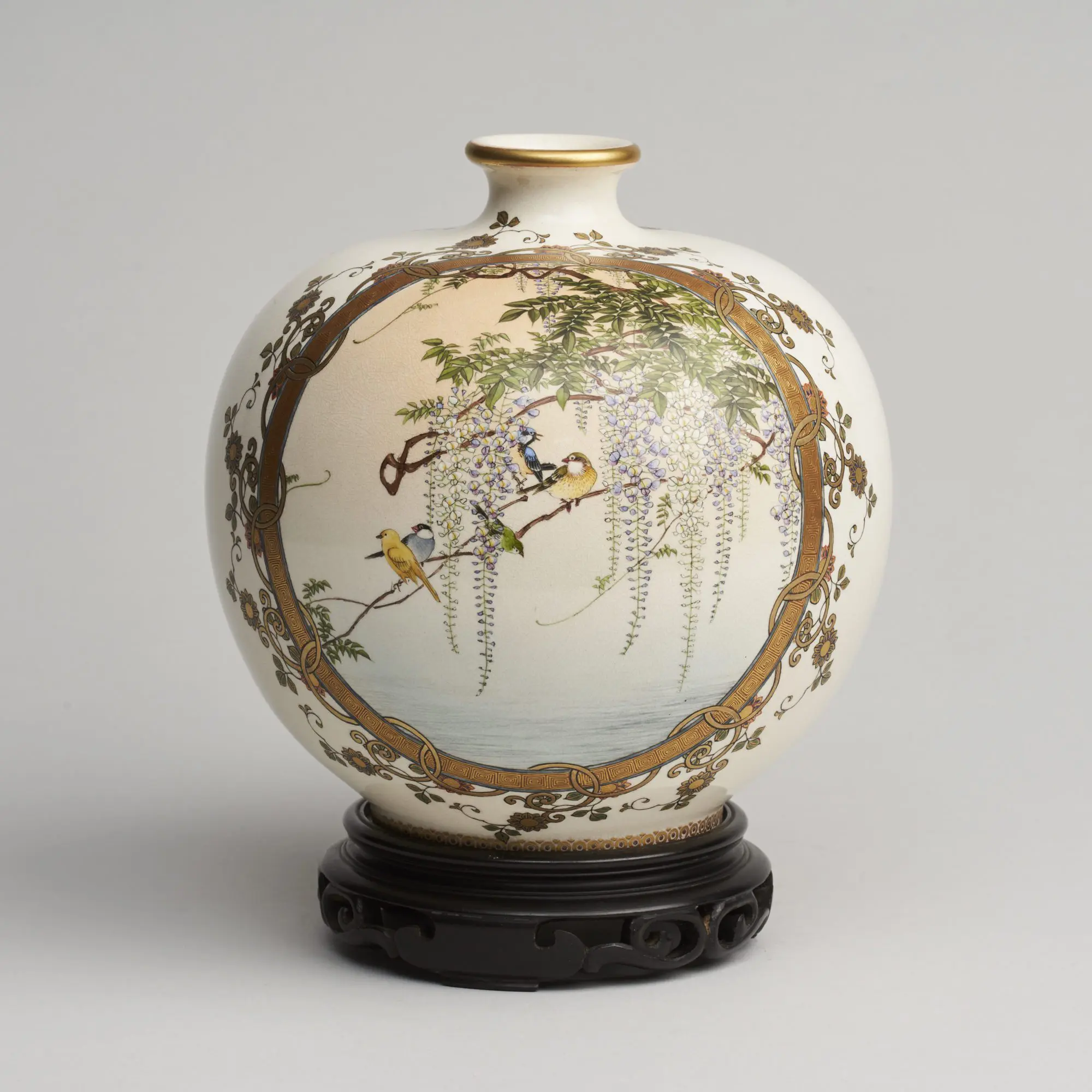 Songbirds resting on the branches of a Wisteria on this Sozan signed vase (with impressed Kinkozan mark)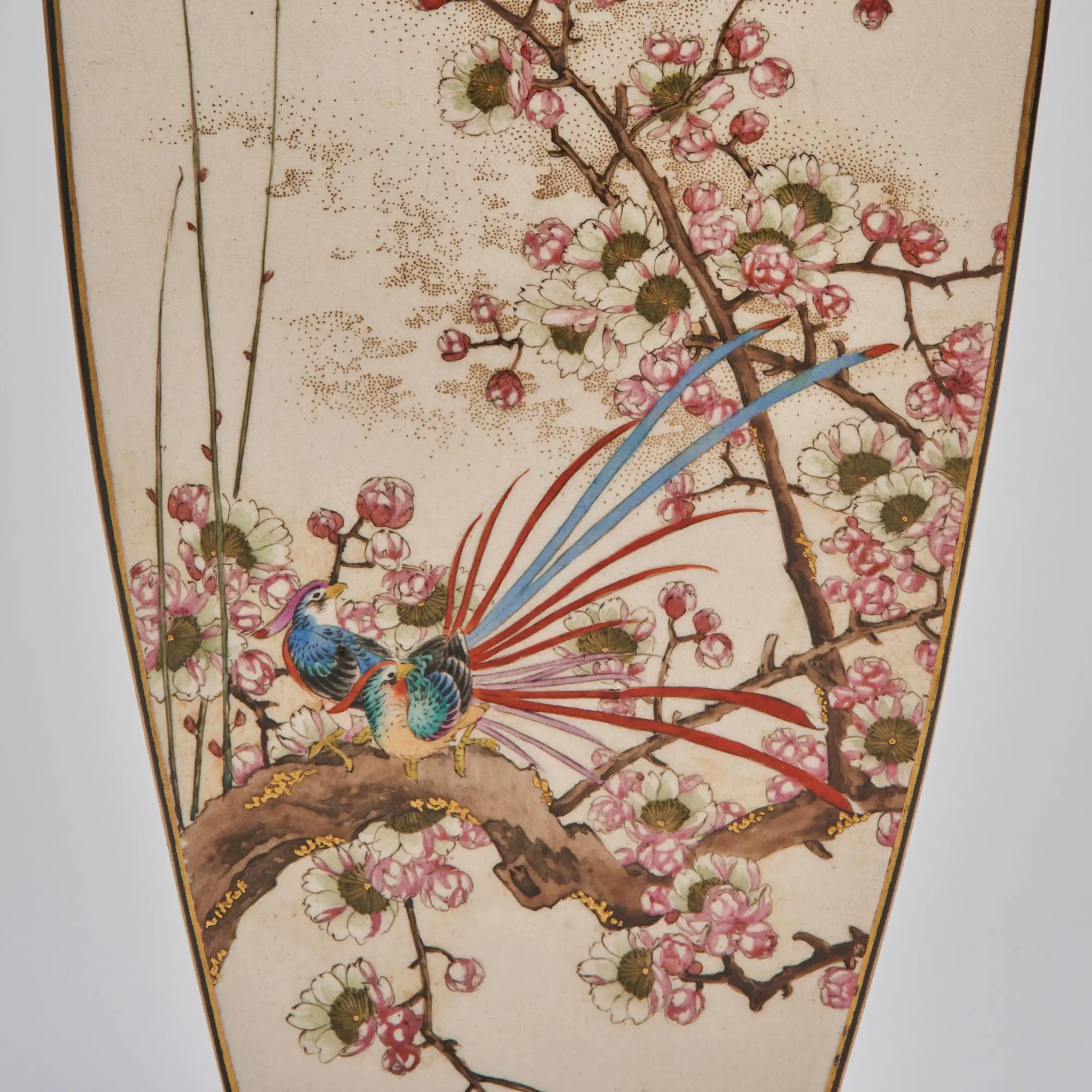 A pair of domesticated magpies resting on a branch of a Cherry tree about to break into full bloom
Songbirds gathering around the plum blossom, day lilies and daisies on this Cloisonné covered box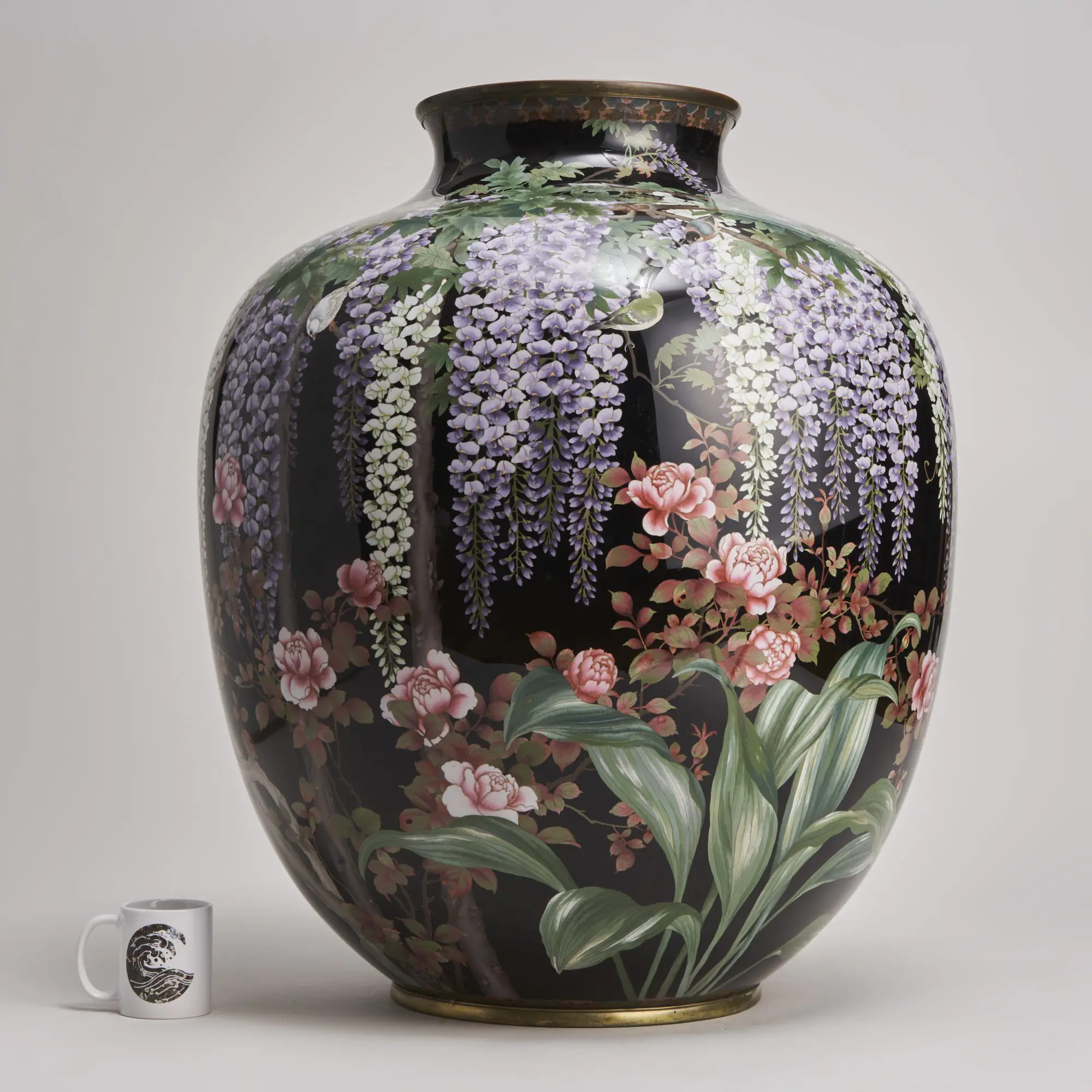 Wisteria and Roses competing for space on this monumental Cloisonné vase by Goto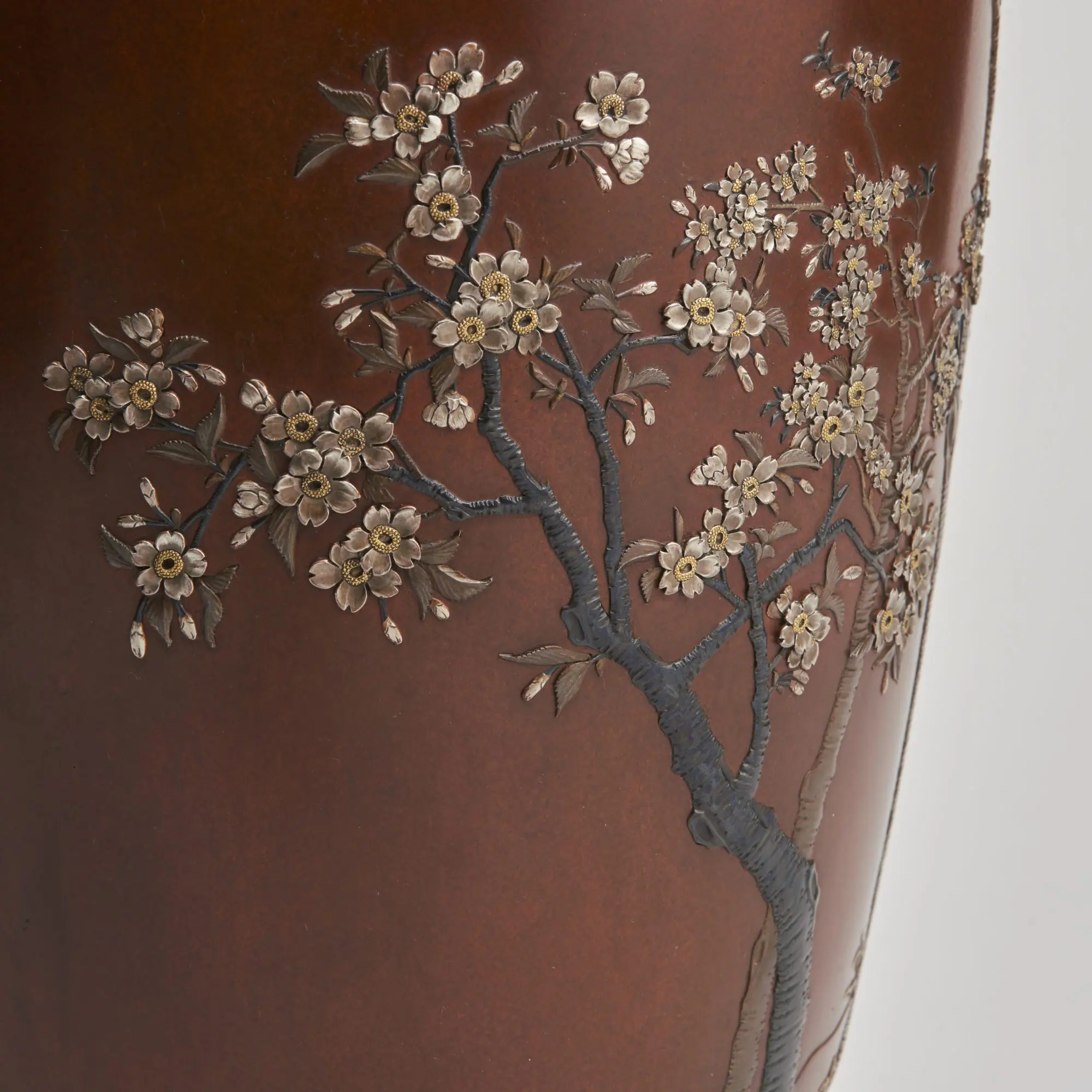 Beautiful Cherry Blossom decoration on this rich red patinated Bronze vase (Circa 1880)
We hope you have enjoyed this read. You can visit our News and Blog page for more stories behind the art.