One of the most-prized and admired pieces in our collection of fine Japanese Meiji-era Cloisonne ware is this monumental vase by Goto.
Standing 144cm in height on it's original carved wood base, it is highly likely that this vase was exhibited at one of the world expositions of the late 19th Century.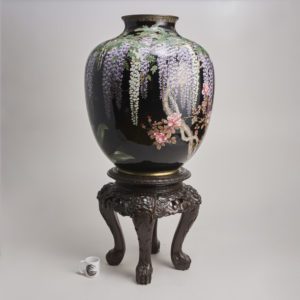 The vase itself is 85cm in height.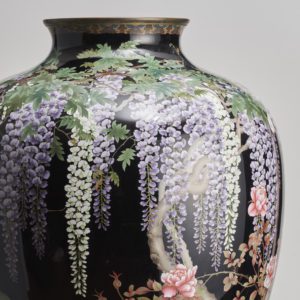 The vase depicts boughs of blossoming Wisteria cascading from the top of the vase. The bottom third of the vase with lilies, and Roses. There are songbirds on the branches of the Wisteria.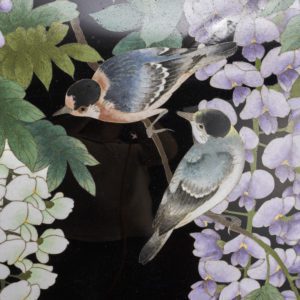 Signed by Goto, this is a fine example of Meiji-era Japanese art influencing the art nouveau movement of the West.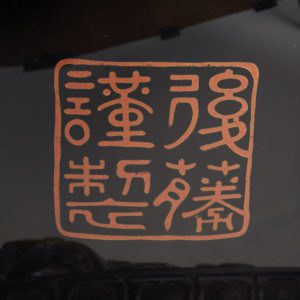 Condition is excellent. Put simply, this is one of the finest examples of Japanese Meiji-era cloisonne work. Please feel free to contact us for further information or to request a viewing.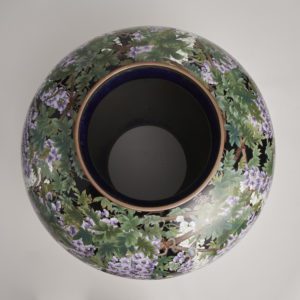 About the artist:
Goto was yhe best known maker of Yokohama cloisonné. He left Kiato county in Owari province, travelled around Japan and finally settled in Yokohama to make Toshima style of cloisonné around 1872 / 1873.
Internationally, Goto achieved the highest reputation for cloisonné ware and received a gold medal at the second national industrial Exposition in 1881 for his vessels depicting flowering plants and small birds.