A fine and unusual Japanese Meiji period cloisonné box (kogo) and cover with delicate decoration of panels of birds and blossoms on a floral patterned ground.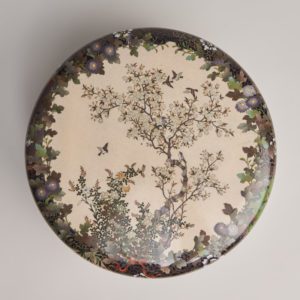 Condition is very good. Please feel free to contact us for additional information.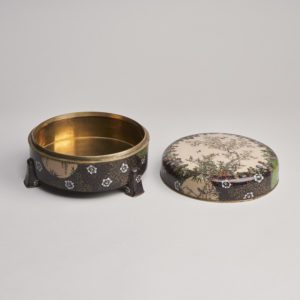 Cherry Blossom
Cherry blossom is a well known symbol of Japan, it is beautiful but fleeting, it represents spring, a time of renewal and reminds us of the fleeting nature of life.
Cloisonne
Cloisonne is an enameling technique used to decorate metal objects, typically copper or silver, fine lines of metal are used to define the outlines of a design (called cloisons in French which is where the name cloisonne comes from) enamel paste in different colours is applied to the areas, which are then fired in a kiln and polished to create a glass-like finish.
Cloisonne is very fragile and must be treated with the utmost care, as one tiny knock can cause an area to shatter, it is very hard if not impossible to restore cloisonne.
Kogo
A kogo is a box used to hold incense for the tea ceremony, they come in many materials, including lacquer, bronze, wood and cloisonné.