Takagari is the Japanese word for Falconry. It is believed Falconry originated in the Far-East as long ago as 5,000 BC and arrived in Japan relatively late, during the Fourth Century AD.
Takagari was a status sport, (as it is in the West and the Middle-East to this day). It was mostly reserved for wealthy Nobles. It was an expensive sport and only the very rich were able to buy and house birds such as Falcons, Hawks and Goshawks.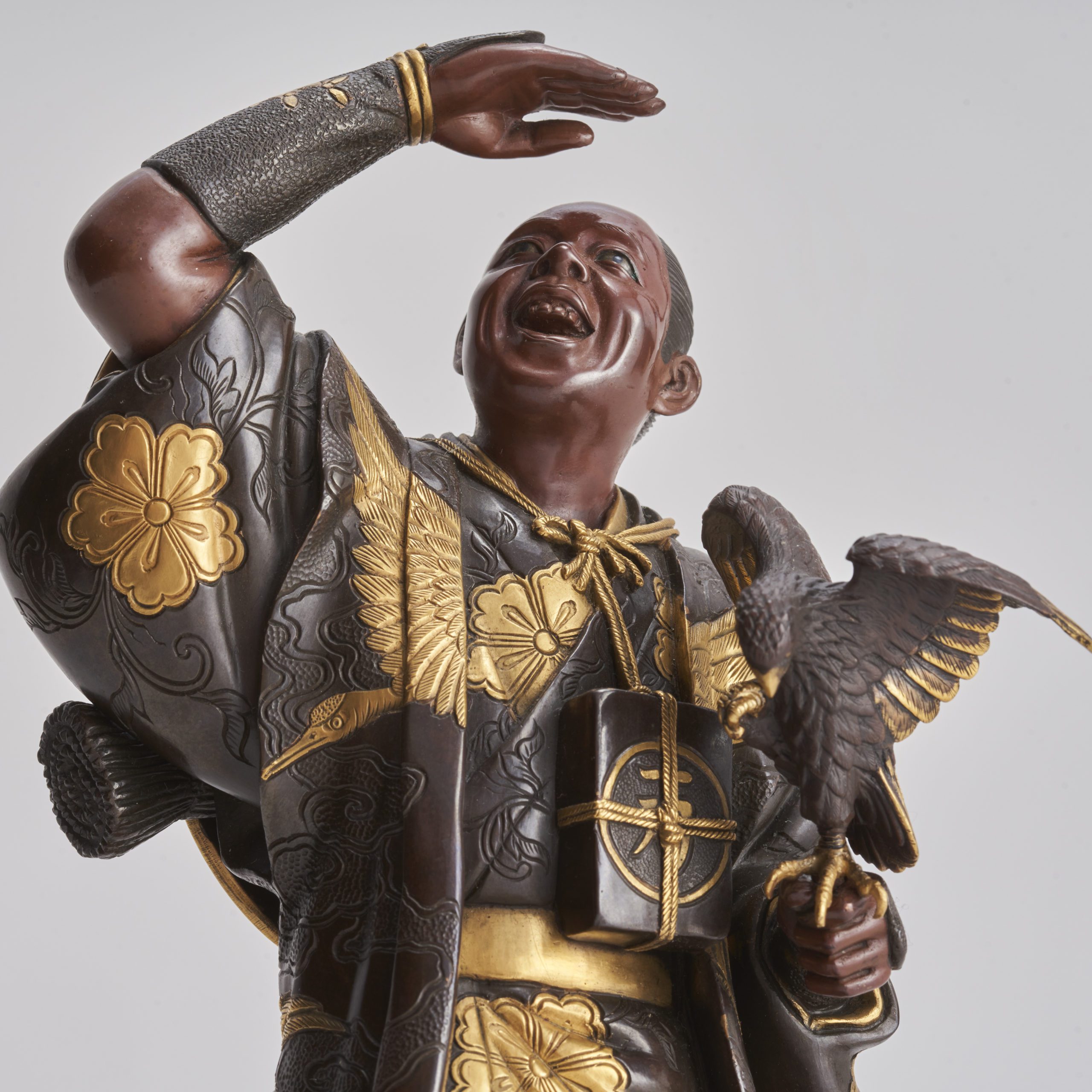 A characterful Bronze Okimono of a Falconer by the Miyao Company
Falconry in Japan has always held strong military connotations. A demonstration of falconry was a visual representation of strength and Mans ability to harness the power and beauty of nature. It was also closely associated to the Emperor of Japan. It was the Emperors' responsibility to ensure a rich rice harvest each year and the red-crowned Crane was the most powerful symbol of a successful crop. Cranes would appear at the end of a bumper harvest to feed on discarded husks. The Crane population needed to be protected and managed and birds such as Falcons and Hawks were used to assist with that.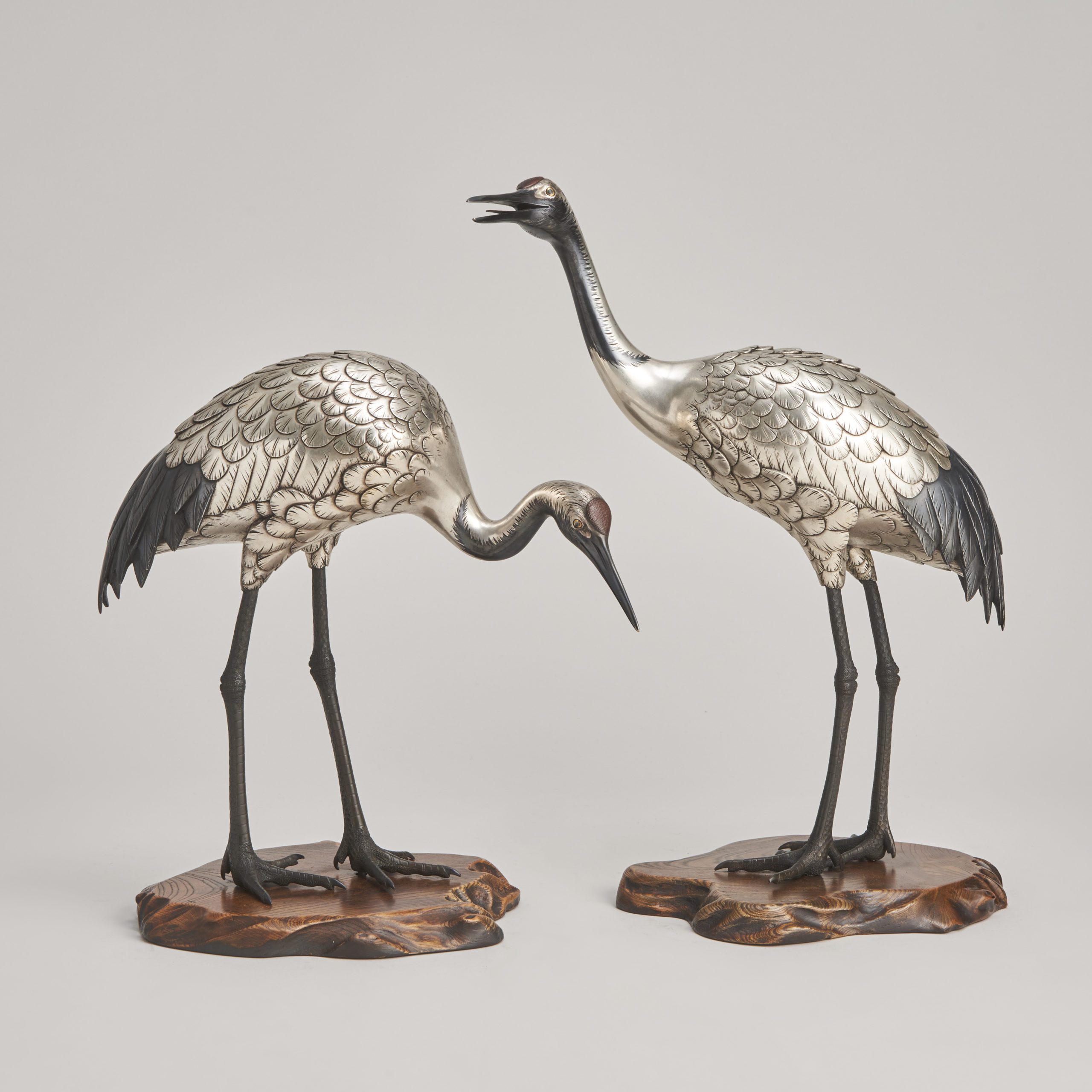 A pair of Silvered Bronze Okimono of Red Crowned Cranes
Originally, only local Lords (Daimyo), would be allowed to ride with a Falcon on their fist. This was a show of strength and a display of asserting dominance over the land. As the Samurai rose to prominence though, they began flouting these Imperial rules and warriors would also ride with birds of prey. The Samurai favoured the Suwa School of Falconry.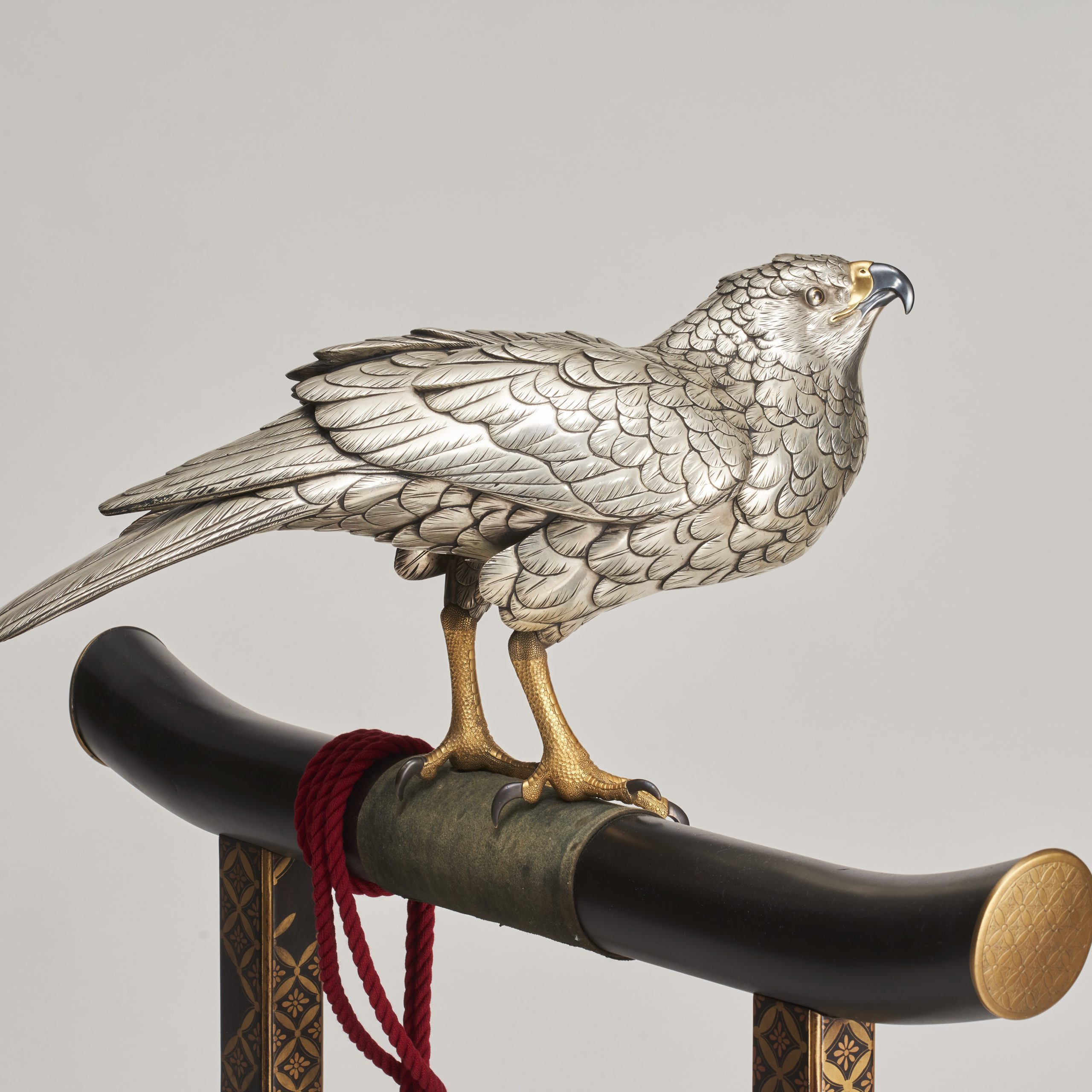 A magnificent Silvered Bronze Okimono depicting a Hawk on a lacquered stand
The Takagari heyday was during the Edo Period, (1603 – 1867). The Meiji-era, (1868 – 1912) saw the abolition of the feudal system and the disbandment of the Samurai and the sport fell into decline as it became more accessible to the public. To this day though, Takagari is kept alive by small clubs of enthusiasts and in 2010 the United Nations Educational, Scientific, and Cultural Organization (UNESCO) declared falconry to be part of the Intangible Cultural Heritage of Humanity.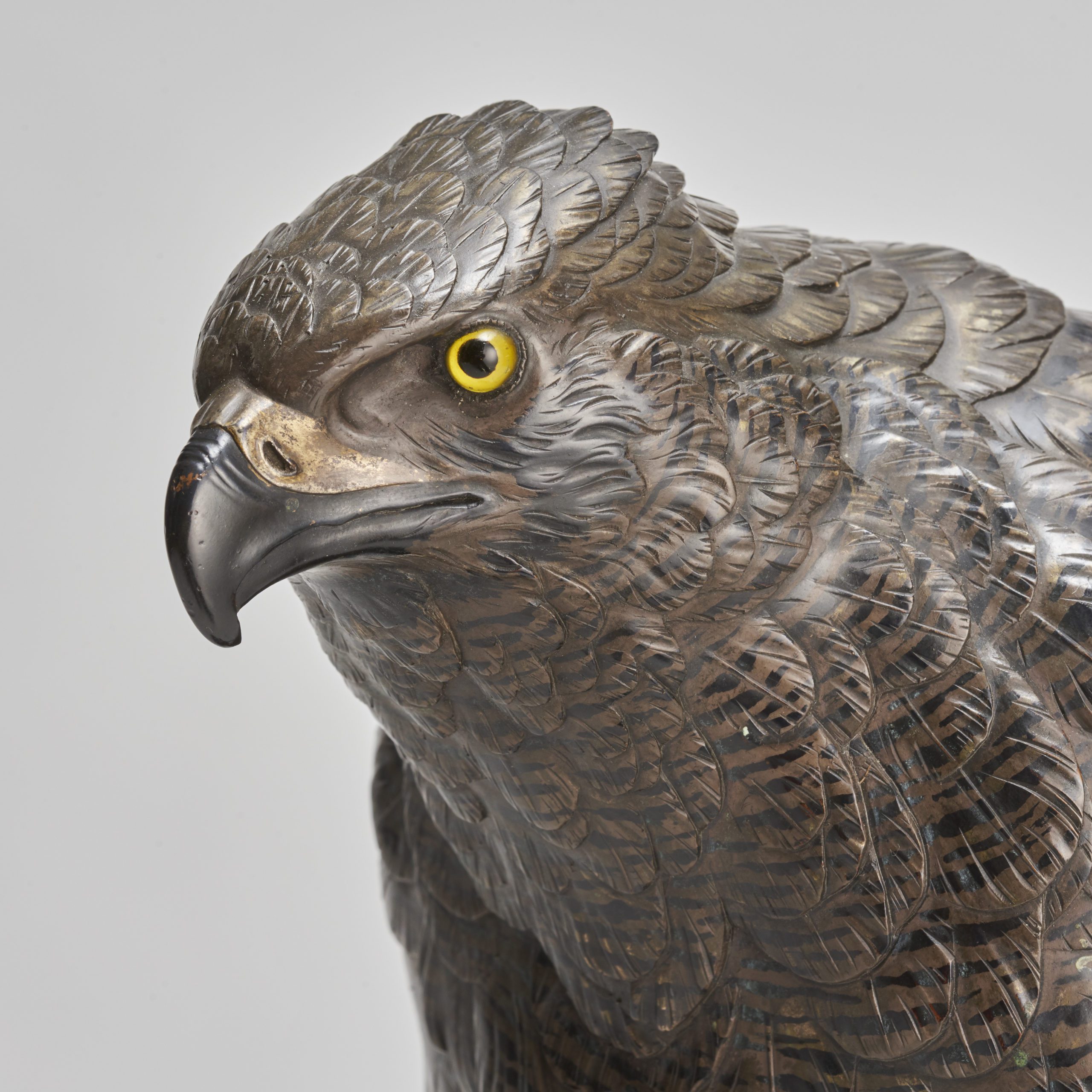 A realistic Bronze Hawk by Kazan
Falcons, Hawks and Eagles can often be seen in examples of Japanese art. Favourite birds were treated with the highest respect and their portraits would be commissioned and placed in prized positions within the household. These powerful and beautiful birds often appear as Bronze or Silver Okimono or depicted in silk embroideries, in metal-work, on ceramics and in Cloisonne-ware and enamels.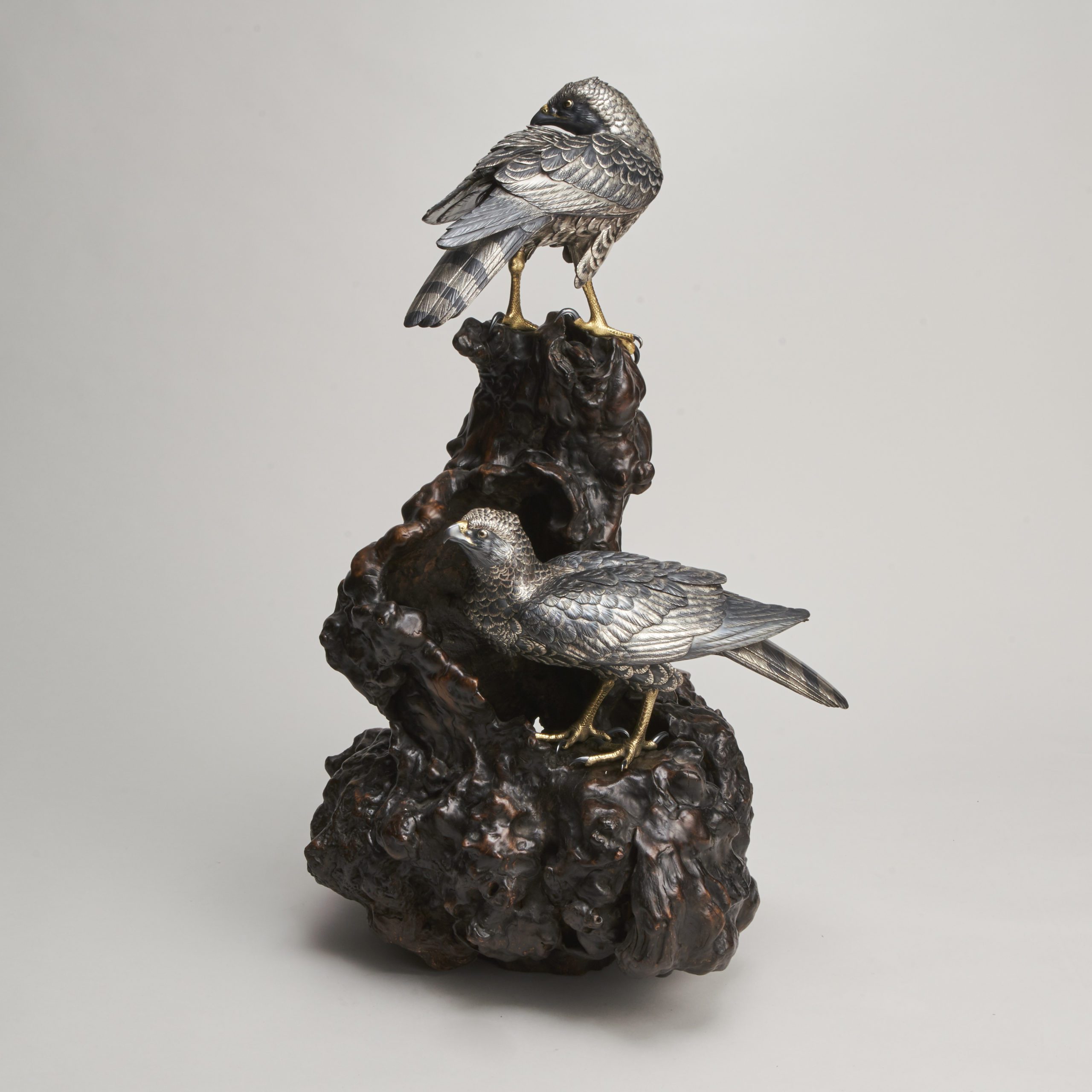 A pair of Multi-metal Hawks on a root wood base
We have selected some of our favourite depictions of Birds of Prey and Falconry from our collection of Japanese, Meiji-era Fine Art and Antiques. You can click on each image for more information.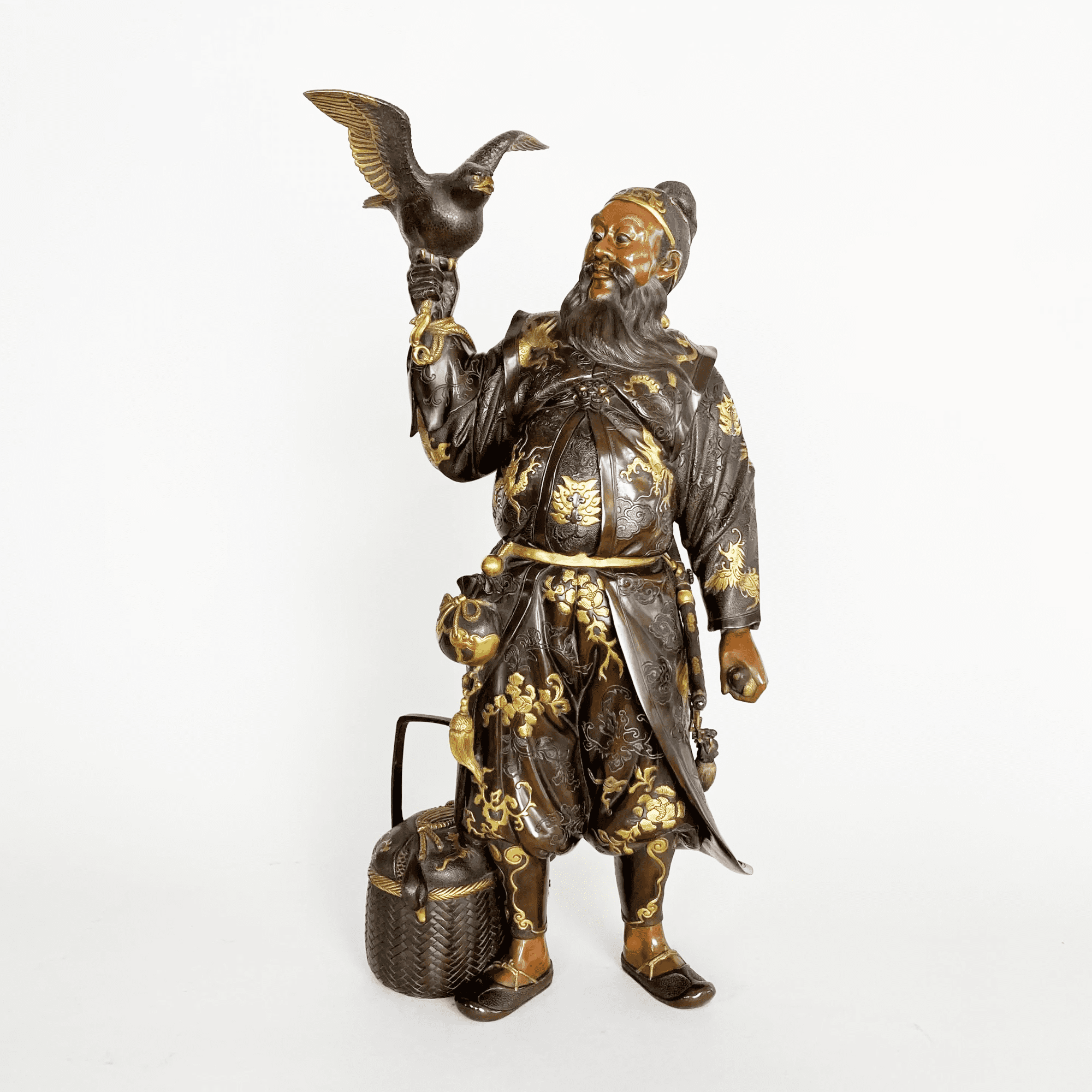 A large Bronze Okimono depicting a hunter signed Miyao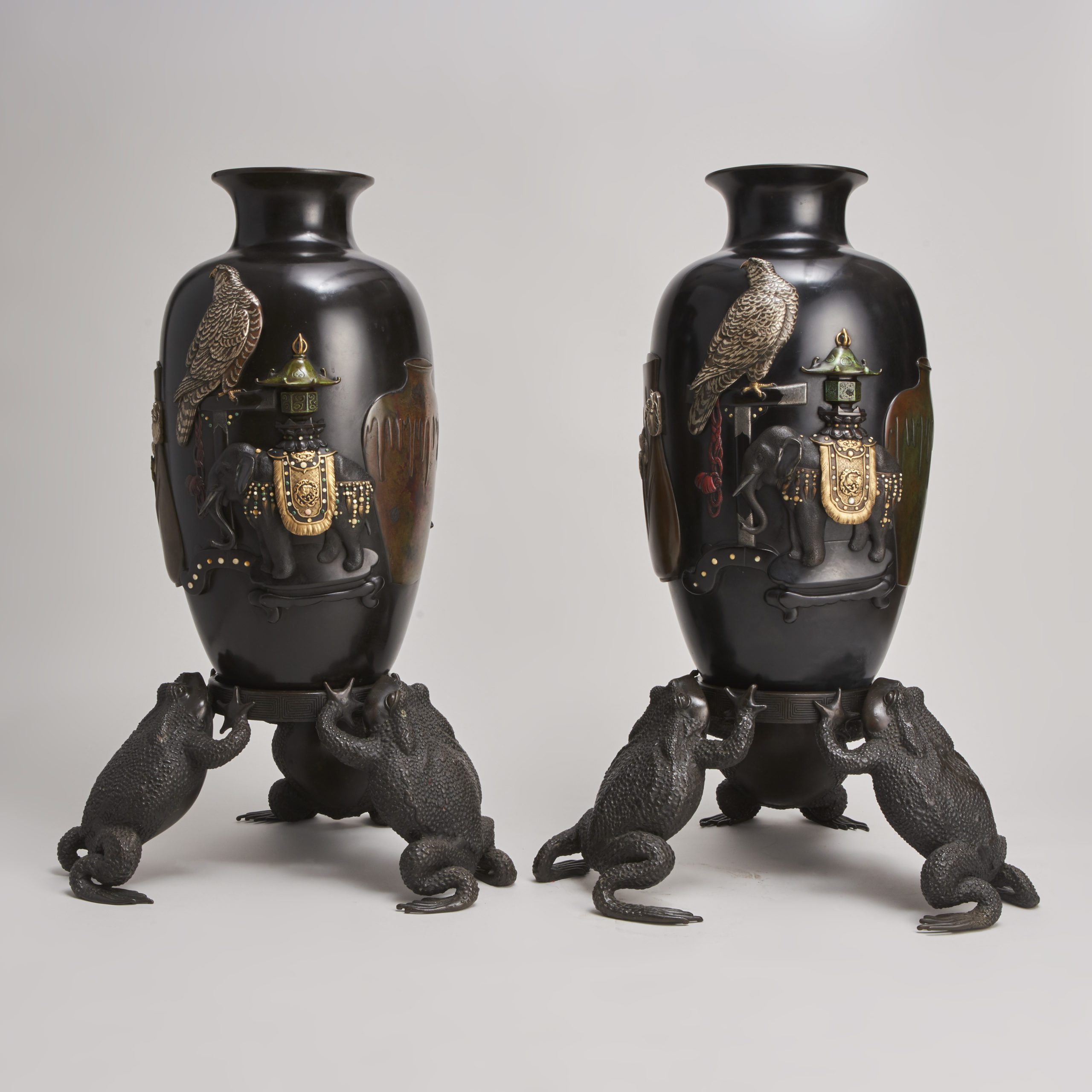 Hawks feature on this wonderful large pair of vases by Seiya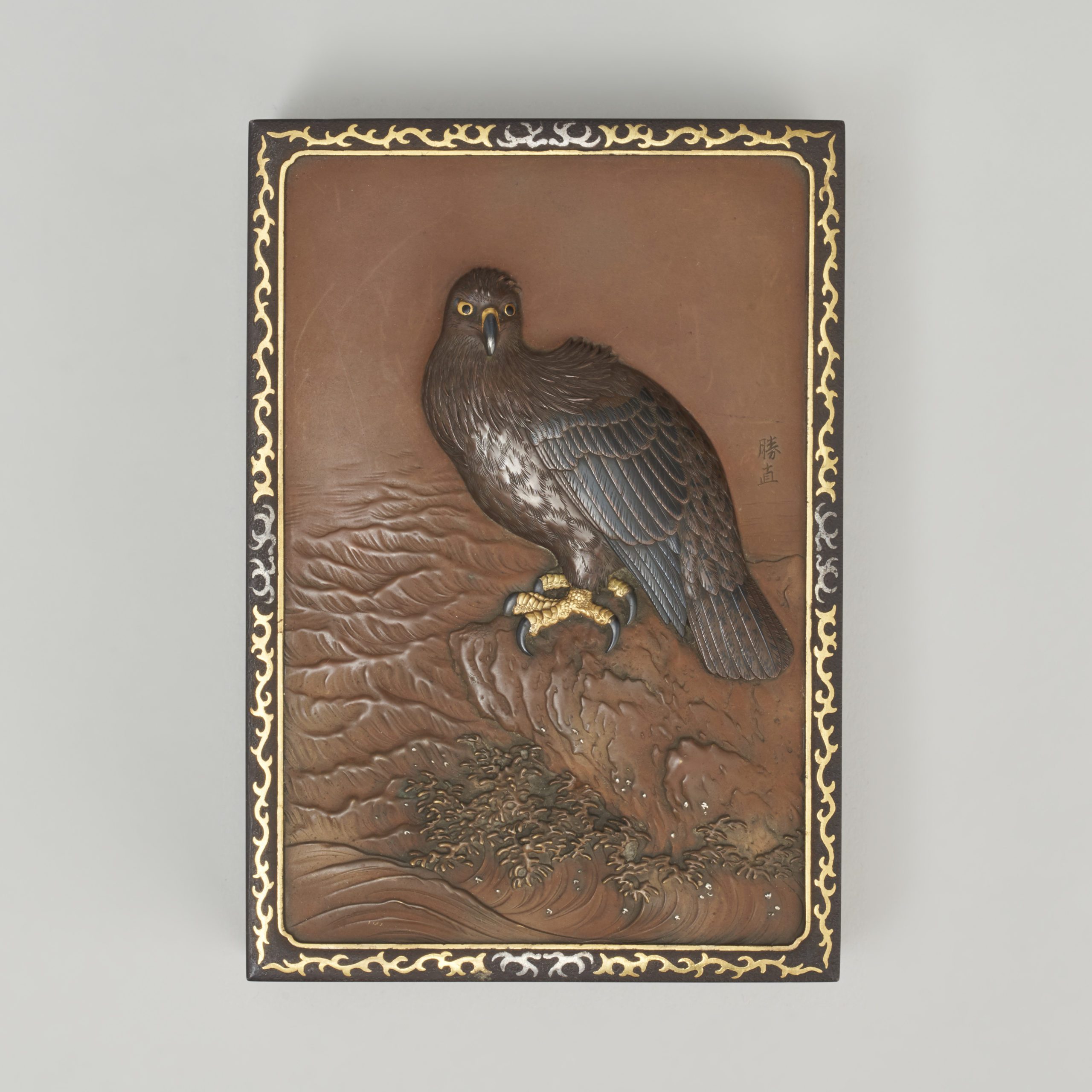 An impressive Iron box with inlaid and onlaid decoration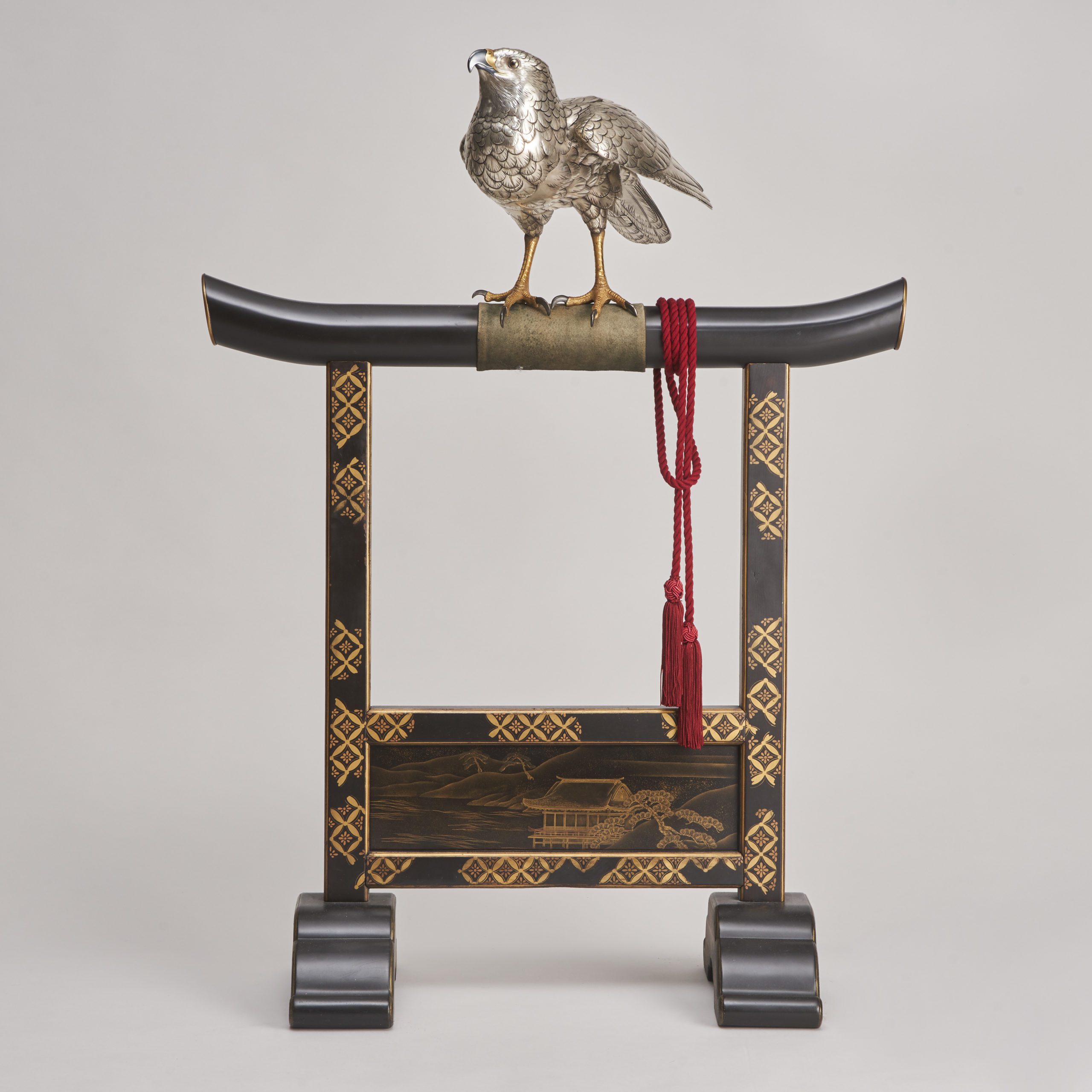 Another photo of this wonderful Silvered Bronze hawk standing proudly on an intricately decorated lacquered stand
Thank you for reading. For more stories and blogs, please feel free to visit our News & Blog page.