An exceptional work of craftsmanship, this silvered Bronze Okimono of a Goshawk is part of our collection of fine Japanese Meiji-era (1868 – 1912) metal work.
The Goshawk, stands alert on a fine quality black lacquer and gold Toboko. The wonderfully detailed Silver body work is complemented by gilded legs and Shakudo eyes, beak and talons.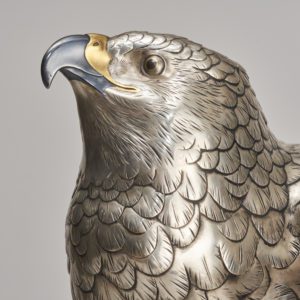 A tablet on the underside of the tail feathers bears the mark of Kunichika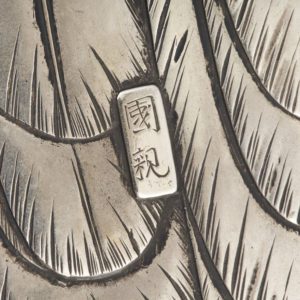 This piece measures 94cm in height (including the stand) and the bird is 46cm in length (from beak to tail feathers.) The stand is 63m across.
The condition is excellent. Please contact us for pricing and additional information.
Hawk
The hawk is traditionally a symbol of nobility and wealth, due to the expense of training and caring for the birds.
Goshawk
A Goshawk is a large, powerful raptor found in most northern temperate climates. It can be identified by its characteristic white 'eyebrow' markings, both male and female are grey the female being larger and slightly browner than the tercel (male), juveniles are brown in colour. They were a popular hunting bird among Samurai and a status symbol in Japan.
Falconry in Japan (Takagari)
Falconry has a long history in Japan beginning in the 4th century, originally coming from China via Korea. Due to the time, effort and cost of keeping birds it has always been a pursuit dominated by nobles or wealthy individuals.  Goshawks and Eagles being popular and high status birds to won, falconry was used to entertain but also to settle disputes between lords.
Shakudo
Shakudo is an alloy of gold and copper which can be treated to develop a black patina.
Tokobo
A tokobo is a stand for a bird of prey.
Kunichika
Not to be confused with the Edo period woodblock print artist of the same name. Kunichika of Meiji Period (1868-1912) metalwork fame is best known for his realistic bird okimono.