A stunning and serene patinated bronze sculpture of a hawk. Standing 58cm in height on a bronze stand in the form of a gnarled tree trunk, the bird itself measures 33cm in length from beak to tail.
The beautiful patination, incredible, rare and hyper realistic.
The hawk stands on one claw, the other slightly raised and peering out from the plumage.
The fine detail even includes a cicada making it's way up the trunk.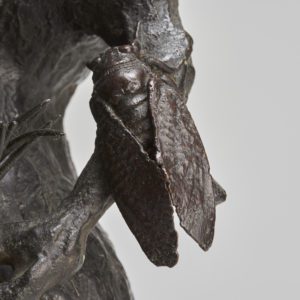 Do not hesitate to contact us for additional information, photographs or to arrange a viewing.
Signed to the underside of the tail.
Condition: Excellent condition.
Hawk
The hawk is traditionally a symbol of nobility and wealth, due to the expense of training and caring for the birds.