A beautifully crafted pair of Silvered Bronze red-crowned Cranes. Attached to hard wood stands, each bird stands with both feet planted to the ground.
One bird with head bowed as if inspecting shallow waters for food, whilst the other with head raised keeping watch they appear to be working as a team.
Different techniques and metals have been used to accentuate the detail including the red crown on top of the head and the gold inset eyes.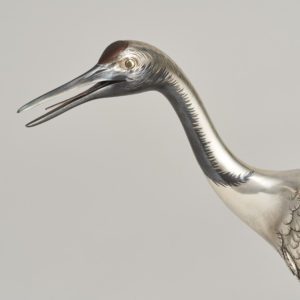 Signed to the underside.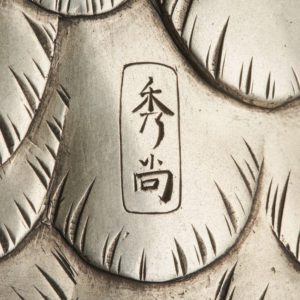 Please don't hesitate to contact us for additional images or to arrange a viewing. Condition: Excellent
Red Crowned Crane
In Japan the the red crowned crane is a much revered bird it is a symbol of strength, good fortune and longevity. The Crane was thought to live for 1000 years, in captivity red crowned cranes have been known to live for 75 years making it one of the longest lived birds. The red crowned crane is currently endangered due to loss if it's wetland habitat with less then 2000 individuals in the wild, about 950 of these being in Japan.