The word Cloisonné derives from the French word "Cloisons" which means partitions or silos.
Cloisonné is the ancient technique of enamelling works of art. Fine metal wires are applied to a base material (often Copper or Bronze) to delineate decorative areas. Different coloured enamels are then flooded into these spaces, ("Cloisons") before the piece is fired in a kiln and then polished repeatedly to leave a smooth surface area.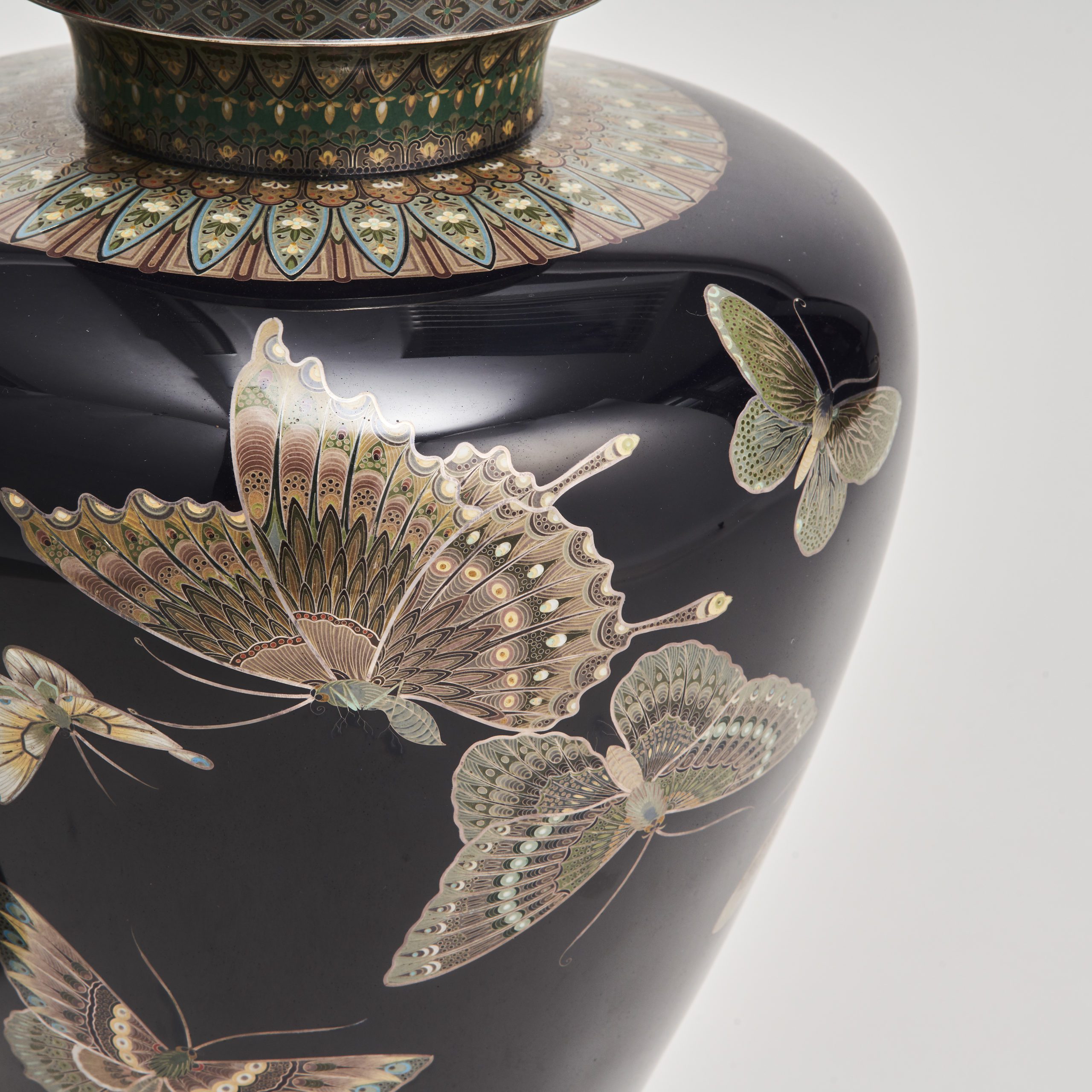 Detail on a stunning pair of Butterfly vases
It is thought that the art of Cloisonné has its origins in Ancient Egypt sometime prior to 1800 BC and some of the earliest and undisputed Cloisonne objects using enamel and wire include a group of rings from Graves in Cyprus that date to the 12th Century BC.
The technique became highly regarded and it spread globally with the Romans, Georgians, Celts and Chinese all producing varying forms of enamelled works of art.  The Japanese however seem to have adopted it quite late. It was a former Samurai searching for a way to supplement his income, who popularised Cloisonné in Japan. In the 1830s, Kaji Tsunekichi of Nagoya obtained a piece of Chinese Cloisonné enamel and deconstructed it in order to examine how it had been made. He then reworked the piece to produce a small dish with wired enamel decoration. By the 1850s he had opened a workshop, taken on students and was appointed as the official maker of Cloisonné in the Owari Province.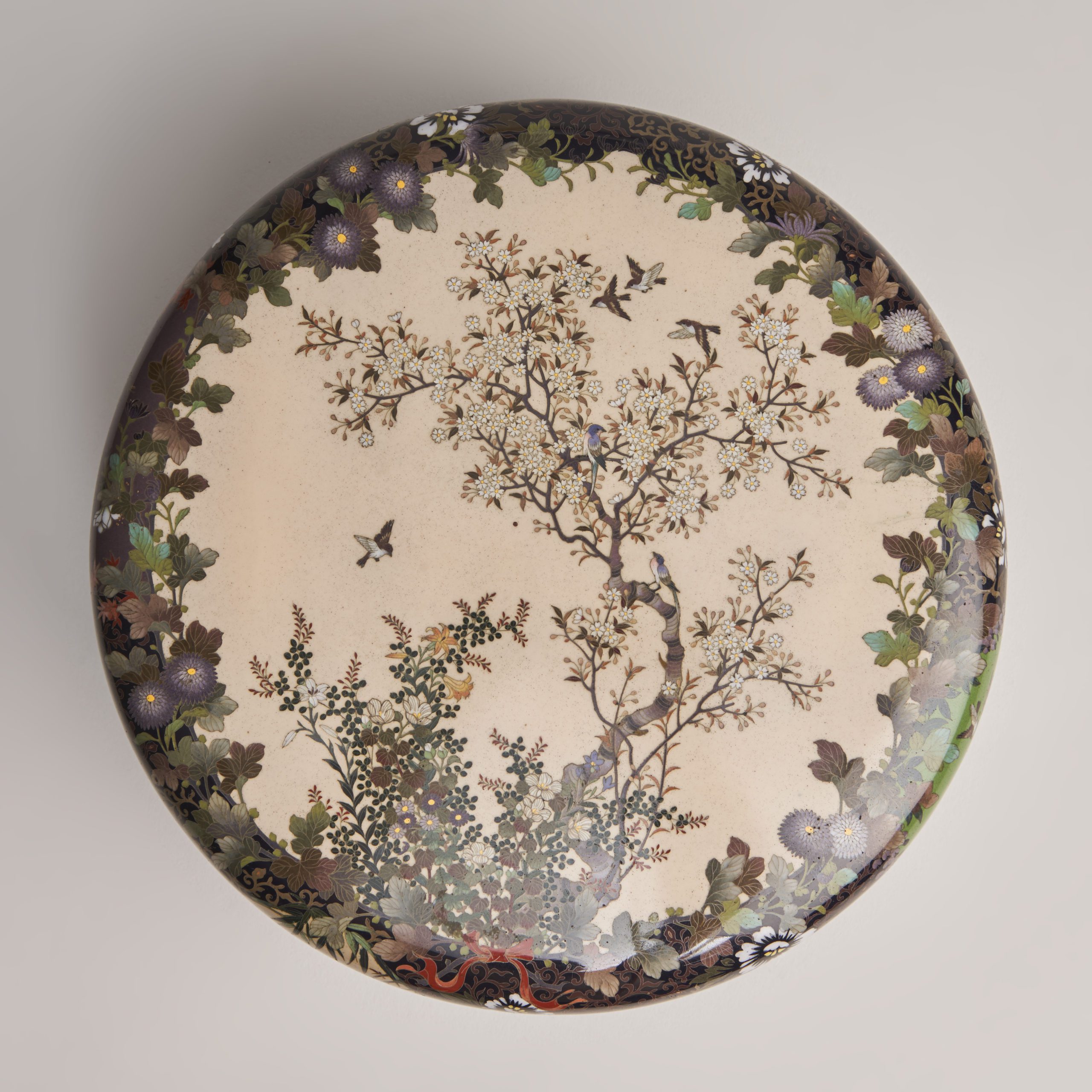 A beautiful scene on the cover of a Cloisonné box
Following the "reopening of Japan" and the Meiji- Restoration, the Western World became fixated with all forms of Japanese art and this in turn drove a huge increase in the production of Japanese Cloisonné. Nagoya became famous for fine quality works of art and innovative production techniques and Tokyo and Kyoto also went on to become notable producers as demand from the West continued to grow.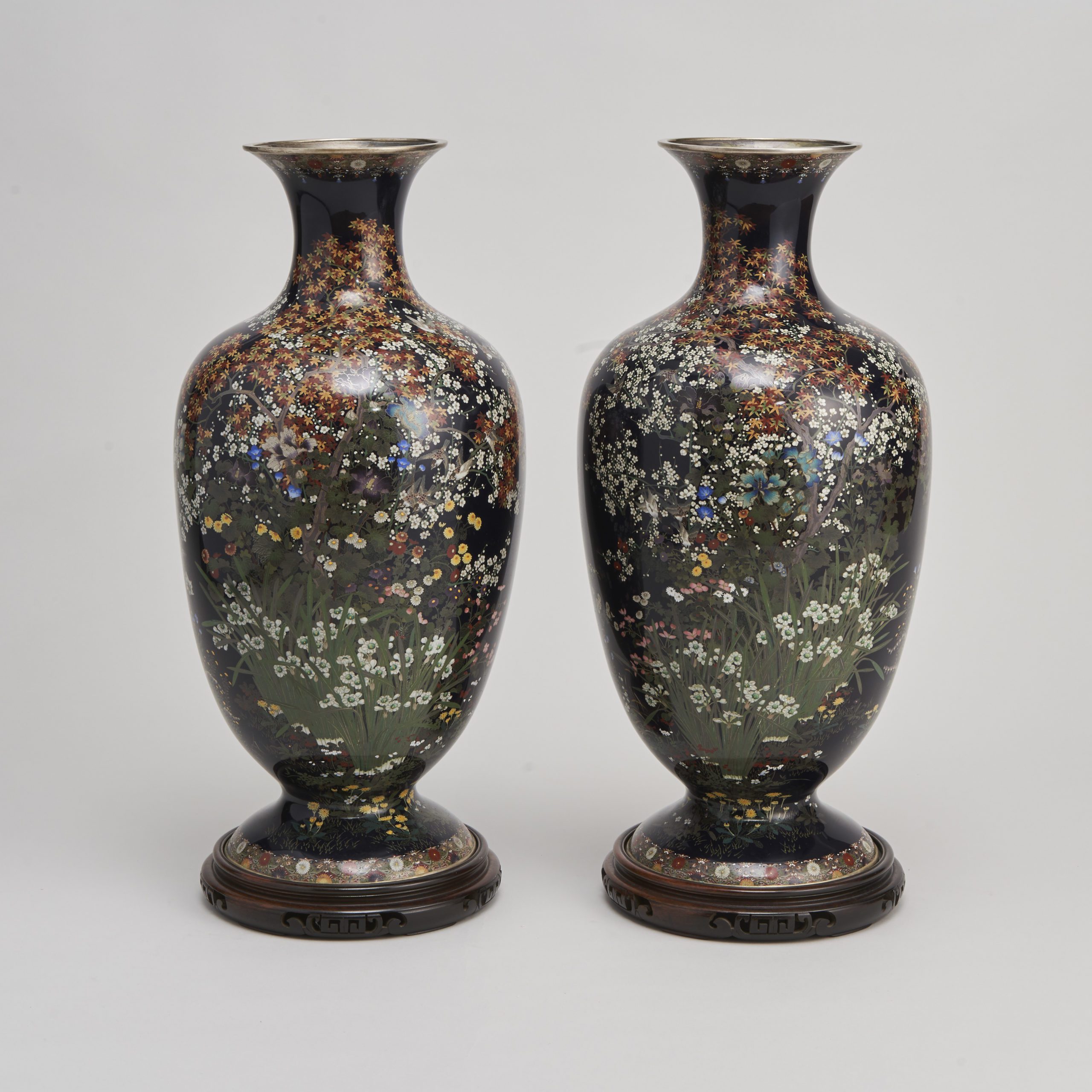 One of the finest examples of "Shippo" in our collection, this large pair of vases (61cm in height)
The Japanese term for enamelware is "Shippo" which means "Seven Wonders" It is the rich colours found in Chinese and then Japanese Cloisonné that inspired this name. The Seven Wonders of Gold, Silver, Emerald, Coral, Agate, Glass and Pearl feature in Ancient Buddhist texts.
By the end of the Nineteenth Century the art of Cloisonné enamelling had become one of Japan's largest and most successful forms of manufacture and export.
Signed Gonda Hirosuke, this magnificent pair of vases
The Ando Cloisonné Company (Ando Shipo-yaki) became one of the most prolific producers of the late 19th and early 20th Century and they also pioneered and perfected a form of wireless Cloisonné whereby the wires were very carefully removed prior to firing. The effect was a smooth surface uninterrupted by "Cloisons". This technique was known as Musen Shippo.
A pair of vases by the Ando Company showing both wired and wireless enamel work
Often referred to as "The Golden Age of Japanese Cloisonné" the period between 1880 and 1910 would see some of the most spectacular pieces take prized place at the Great World Expositions.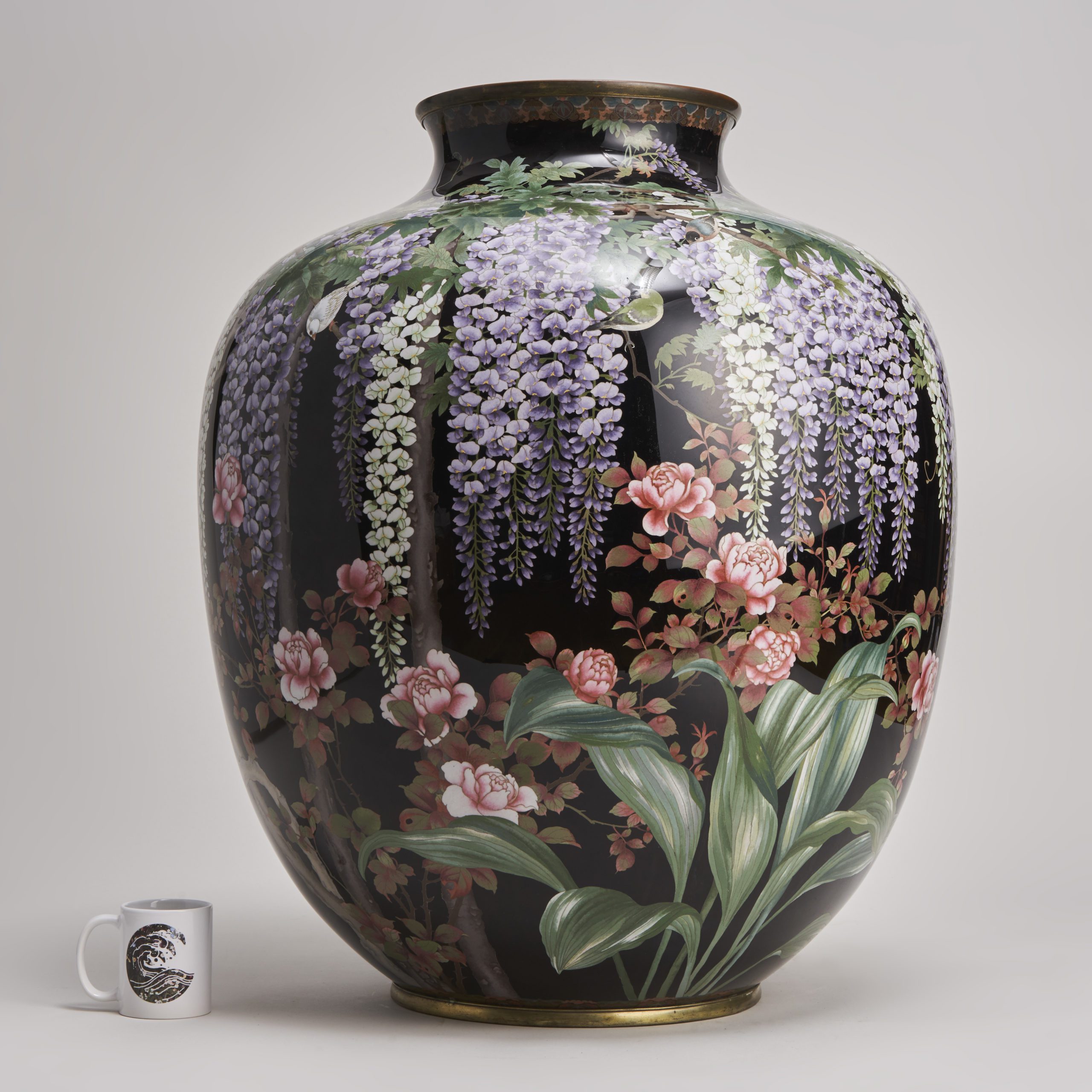 Likely made for exhibition, this Monumental vase by Goto
You can brose through a selection of our Cloisonné works of art here. 
We hope you enjoyed this short-read blog. You can browse other articles and "Stories behind the art" by visiting our News and Blog page.