An exceptional pair of very large (90cm in height) Bronze and Gilt candlestick holders by the Miyao Eisuke workshop and depicting Ashinaga and Tenaga.
Tenaga kneels on one knee with his famously long arms outstretched whilst Ashinaga stands tall on elongated legs. The effect is that both candle stick holders stand at 90cm tall.
The pair, both wearing gold bracelets and robes adorned with Mon and other decorative motifs.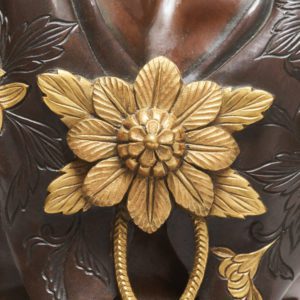 Both pieces stand on decorative gold lacquered wood bases, typical of Miyao Eisuke.
Signed to the rear of each piece with mark of Miyao Eisuke.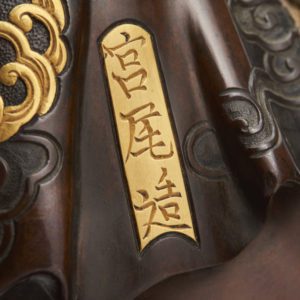 Condition: Excellent
Please feel free to contact us for more photographs or to arrange a viewing.
You can read more about Ashinaga and Tenaga here