This decorative and impressive lidded Koro is held aloft by the much-loved mythological partnership of Ashinaga and Tenaga.
Tenaga is seated with his famously long arms outstretched whilst Ashinaga stands on elongated legs carrying the Koro close to his chest.
The pair betray wonderful facial expressions of concentration, strength (and fatigue) as they hold the giant Koro.
The multi patinated Bronze and gilt figures wearing loin cloths adorned with Mon. Likewise, the figure of a boy holding up a lantern on the cover of the Koro is of Bronze and Gilt with decorative robes.
The Koro itself decorated with a pair of friendly-looking dancing dragons.
A cartouche bearing the mark of Miyao Eisuke is on the rear of the Koro.
The Bronze group stands on a gold lacquered hard wood base, typical of the Miyao Eisuke studio.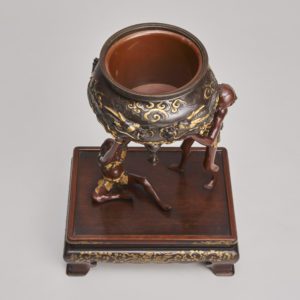 Condition: Excellent. Please feel free to contact us for more information, additional photographs, pricing or to arrange a viewing.
You can read more about Ashinaga and Tenaga here