A fine Silver Okimono depicting a Dragon. The dragon has Gilt inlaid eyes and a spout of water is coming out from his mouth supporting a rock crystal sphere.
Signed by Gyokuryuken Sanmi, (also known as Kazumi). The artist is renowned for his masterful Silver metal work during the reign of Emperor Meiji.
The dragon stands, coiled around a gnarled wood base with his tail arched adding to the dramatic effect and sense of movement.
Condition is excellent. Please feel free to contact us for more information.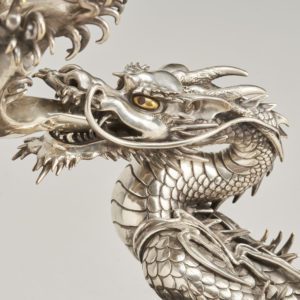 Dragon
Dragons are hugely significant in Asian culture. Known as the Ryu or Tatsu in Japan, they are closely related to the Chinese Long and Korean Yong.  Like all Asian dragons they lack wings and are serpent-like in form. The Japanese dragons rarely fly and usually reside in or near the sea and other bodies of water.
Japanese dragons have positive symbolism. They are good and represent wisdom, generosity and they are portrayed as using their powers to help mankind. (Unlike the Dragons of Western mythology.)
Generally you can tell a Chinese dragon from a Japanese by counting the toes, a Chinese having four or five and a Japanese having three.