A wonderful example of Japanese late 19th Century Silver work, these vases are part of our collection of Fine Japanese metal ware.
One vase depicting a Cockerel and Hen amongst foliage. His tail feathers on show and their combs, beaks, eyes and talons picked out with precious metals. The other vase depicting a pair of pheasants amongst the undergrowth, again the details picked out with onlaid precious metals.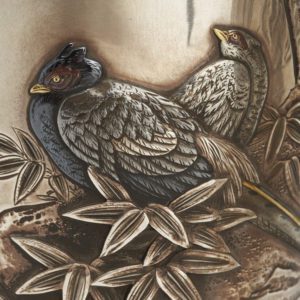 The rear of each vase, plain apart from the signatures.
Condition: Some wear, to be expected with age.
Signed: Both vases signed Katsuoki.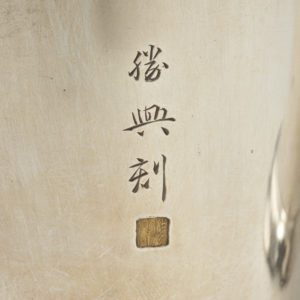 Please don't hesitate to contact us for additional photographs or to arrange an appointment.
Chicken
Celebrated and much revered in Japan the noble chicken is a symbol of many things including love, luck, prosperity and courage. It's crow was said to banish the darkness when it awoke the sun goddess Amaterasu, it is an auspicious symbol in the Shinto religion and reverence for the chicken dates back to the earliest tomb paintings in Japan.
Pheasant
The Japanese green pheasant is the national bird of Japan, it is a symbol of power, abundance and promise and is associated with the sun goddess Amaterasu.
Shakudo is an alloy of gold and copper which can be treated to develop a black patina.
Shibuichi is an alloy of silver and copper which can be treated to develop a grey patina.