An interesting Bronze vessel in the form of The Bell of Mii-dera with a Dragon coiled around it. It is unusual because usually this subject features the bell the correct way up.
The dragon represented here is Ryujin, the God of the Sea. He is considered a good and noble God and is a patron of Japan. Able to take human form and to control the sea with two tide jewels. (Lowering and raising the tide accordingly.)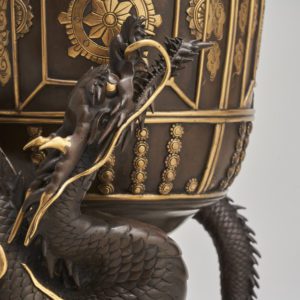 The Bell is likely modelled on the famous Bell of Mii-dera. Mii-dera is a Buddhist temple at the foot of Mount Hiei. Legend has it that Ryujin gifted the Bel to the hero Tawara Toda after he saved Ryujin's Palace from a giant centipede.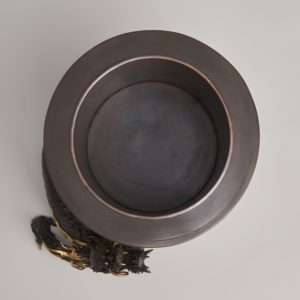 Condition is very good. Don't hesitate to contact us for further information or to arrange a viewing.