By the celebrated Japanese Meiji-era Miyao studio, this pair of pairs (four fighters as two groups) is a wonderful example of late 19th Century Bronze and multi-metal craftsmanship.
Both pairs are in combat. One pair is in the Kawazugake hold. It translates as "hooking backward counter throw.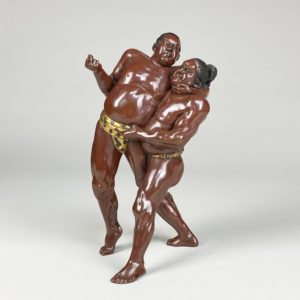 All the figures are wearing Bronze loin clothes with gilded decoration depicting Mon, floral designs and geometric patterns.
Condition is very good. Please feel free to contact us with regards to pricing, additional information or to request further images.
Sumo
The sport of Sumo (meaning to strike one another) is a form of full contact wrestling and is the national sport of Japan. The earliest examples of Sumo depicted in art date back to 712, it is believed to have evolved from a ritual dance for good harvests. Sumo still involves many rituals such as purifying the ring with salt, today it still enjoys huge popularity in Japan attracting large crowds.