A beautiful depiction of Jurojin, (one of the Seven Lucky Gods) from our collection of Japanese Meiji-era fine Silver Okimono.
The Deity is dressed in opulent Scholars hat and gown and is holding onto a long staff in his right hand. He is the God of longevity and the scroll attached to his staff is said to contain the life expectancy of all living things.
He stands, slightly hunched and his left arm, is concealed by the long sleeve of his robe. His robes and hat with flush inlaid decoration in Gold and Shakudo.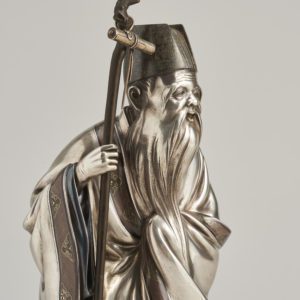 37cm in height off his stand.
Condition is very good. Please feel free to contact us for further information or to arrange a viewing.