A large (47cm in height) pair of Bronze vases with onlaid and inlaid multi metal decoration.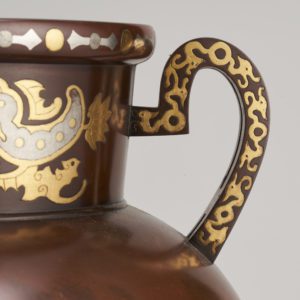 The neck and foot with inlaid geometric design whilst the main body of the vases depict sparrows flying amongst the boughs of a Paulownia tree.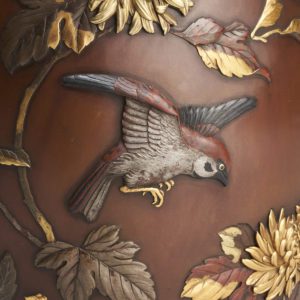 Condition is very good. Feel free to contact us for additional information.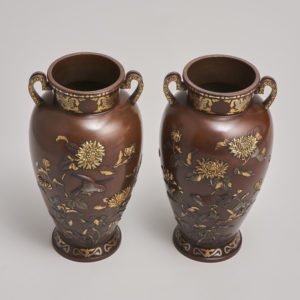 Paulownia Plant
The paulownia plant is an important symbol in Japan, also known as the 'Empress tree' it would be planted when a baby girl was born to a wealthy family, traditionally a paulownia wood kimono dresser would be given to a bride on her wedding day.
The flower is also the symbol of the Prime Ministers office and appears on the 500 yen coin.
Sparrows
Sparrows are a popular motif in Japanese art, birds in general represent longevity, but the popularity of the sparrow is probably due to the traditional fable of the tongue cut sparrow.
It tells the story of a kind woodcutter that finds an injured sparrow, so he takes it home and cares for it, the farmer goes out one day and asks his greedy and jealous wife to feed the bird while he is away. She does not, and while she is out the sparrow eats the store of rice, she is so angry on her return she cuts out the bird's tongue and sends it flying back to the mountains where it came from.