An impressive pair of Japanese Meiji Period (1868-1912) bronze vases with striking multimetal decoration.
This pair of unusually large vases are decorated in, gold, silver, copper, shakudo and shibuichi in a bold style with a wraparound scene of a flock of chunky sparrows among hydrangeas and peonies with fine, accomplished, patinated Autumn leaves, on a very dark shakudo ground.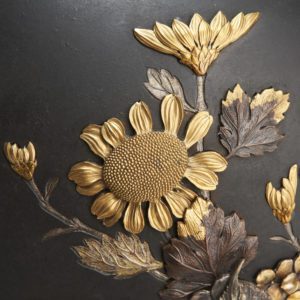 The rims and foot of the vases featuring an inlaid geometric design with phoenix and florals.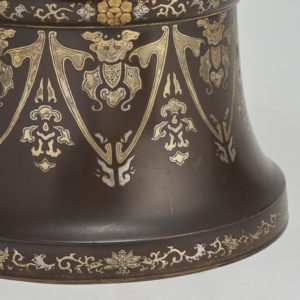 Sparrows
Sparrows are a popular motif in Japanese art, birds in general represent longevity, but the popularity of the sparrow is probably due to the traditional fable of the tongue cut sparrow.
It tells the story of a kind woodcutter that finds an injured sparrow, so he takes it home and cares for it, the farmer goes out one day and asks his greedy and jealous wife to feed the bird while he is away. She does not, and while she is out the sparrow eats the store of rice, she is so angry on her return she cuts out the bird's tongue and sends it flying back to the mountains where it came from.
The woodcutter returns and is very upset and goes looking for his friend, the other sparrows lead him to the Sparrow's Inn where he finds the little, they sing and dance for him and offer him a choice of two baskets as a reward for his kindness, he is a humble man and chooses the smaller, and when he returns home he opens it to find it is full of treasure.
Once his greedy wife learns of the existence of the larger basket she returns to claim it, and opens it before she returns home, to her surprise it is full of dangerous snakes, it scared her so much she fell all the way down the mountain to her death.
Phoenix 
The phoenix is a powerful symbol in Japan, used to represent the Empress. When used to decorate an object or house it symbolises the loyalty and honesty of the people that live there, traditionally a phoenix only stays when a ruler is without corruption.
Hydrangea
The hydrangea is said to have originated in Japan, it is associated with the rainy season in June/July and have duel symbolism both meaning a deep heartfelt emotion and fickle heart.
Peony
Known as the King of Flowers in Japan signifies good fortune, bravery and honour.
Shakudo is an alloy of gold and copper which can be treated to develop a black patina.
Shibuichi is an alloy of silver and copper which can be treated to develop a grey patina.