A beautiful wood carving depicting Ryujin, God of the Sea. He holds aloft a tide jewel whilst a Dragon wraps himself around him. He is dressed in full armoury and an elaborate head piece.
The Dragon, bearded and with long horns looks up at Ryujin who is looking down so they are locked in a fearsome stare.
Intricately carved from a single piece of wood, this Okimono dates from late 19th Century Japan and is a wonderful example of Meiji-era craftsmanship.
The Tama (tide jewel) is held high and out of reach from the Dragon.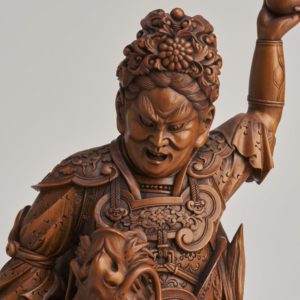 Condition is excellent. Please don't hesitate to contact us for additional information.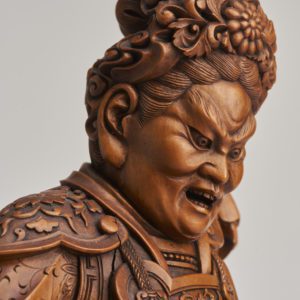 Ryujin
Ryujin the god of the sea, is considered a good god and a patron of Japan, he is often depicted as a dragon and is able to take human form and controls the sea with two tide jewels, one lowering and the other raising the tides.