A charming, large Satsuma dish by Kinkozan. The scene depicts two noble ladies and a young girl at the banks of a river. The little girl, sitting and holding a termari ball. In the distance a pair of young boys are chasing after a kite and behind them we see the snow-capped peak of Mount Fuji above the rolling hills.
Condition is very good. Please don't hesitate to contact us for further information, images or to arrange a viewing.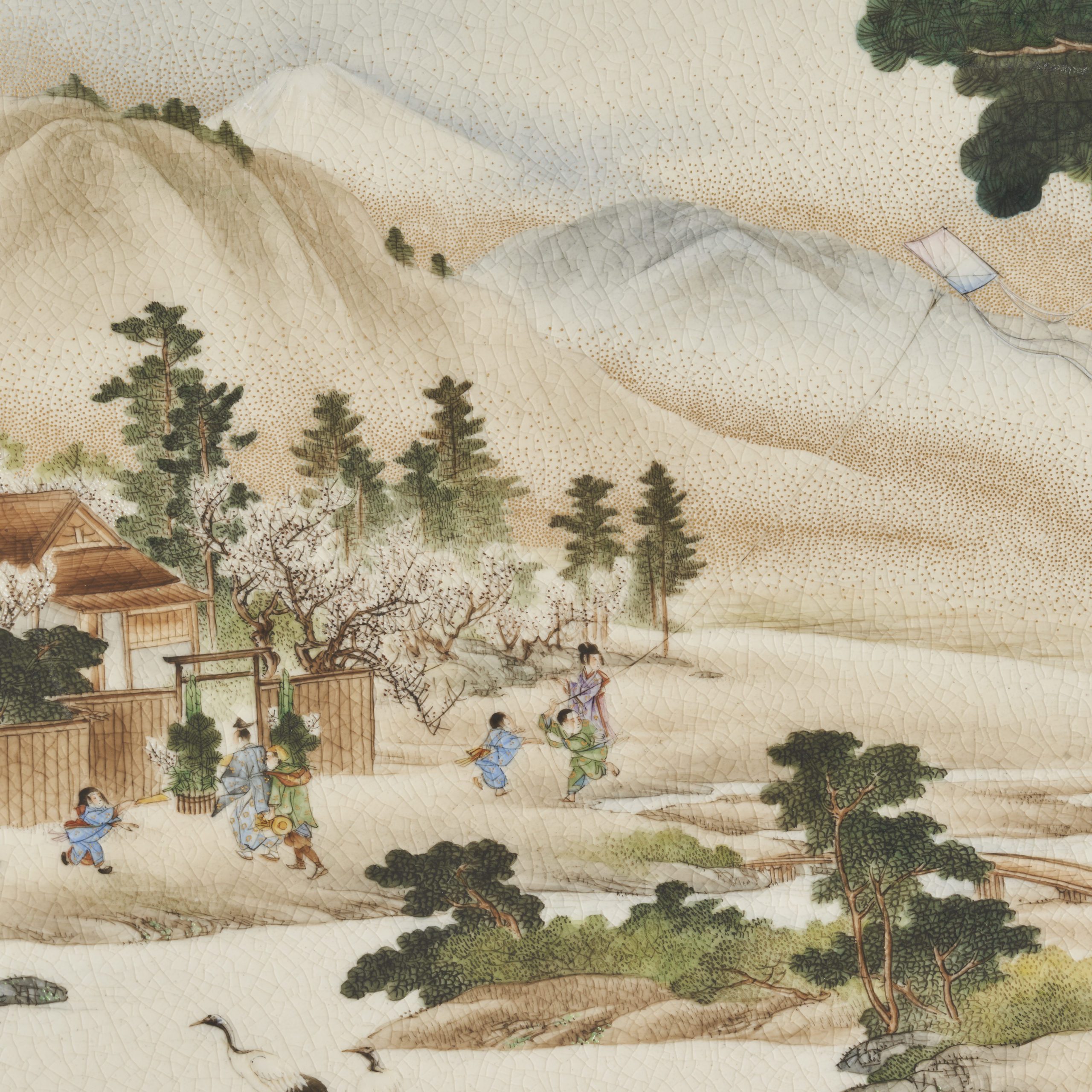 Temari Ball
Meaning hand ball, a temari ball is a handmade ball used to play games in Japan, or with a silk tassel attached they can become a decoration or kimono accessory. They are a form of folk art and were originally made from scraps of old kimono they are still made today and are highly cherished gifts symbolizing friendship.
Mount Fuji
Fuji is a stratovolcanic mountain, it is 3775 meters tall and the 35th tallest mountain in the world. It is praised for it's attractive symmetry which has made it the subject of many poems and works of art. It is an important symbol of Japan and has huge significance in the Shinto religion, there are many shrines at the base and on the acsent of Fuji, they honor Princess Konohanasakuya the Kami (Deity) who's symbol is cherry blossom.
Kinkozan
The Kinkozan dynasty were by far the biggest producers of export satsuma ware, they were active from 1645-1927 and exported heavily to America. Their factories produced a wide range of products and worked extensively with some of the best artists of the day.
Satsuma
Satsuma ware is a type of earthenware pottery originating from the Satsuma province in Southern Kyūshū, Japan's third largest island. The first kilns were established here is the 16th century by Korean potters kidnapped by the Japanese for their extraordinary skills, prior to this there was no ceramic industry in Satsuma.
The first presentation of Japanese arts to the West was in 1867, Satsuma was one of the star attractions, it was this that established the satsuma aesthetic we are most familiar with today. This export style reflects the foreign tastes of the time, popular designs featured millefleur (million flower), and complex filled in patterns. Many pieces featured panels depicting typical Japanese scenes to appeal to the west such as pagodas, cherry blossom, birds and flowers and beautiful ladies and noble men in traditional dress. The height of popularity for Satsuma was the Meiji Period and many of the most beautiful and artistically accomplished works were made during this time.