A large and dramatic Bronze and Silver inlaid Japanese, Meiji-era Okimono of Jiraiya (a shape-shifting Ninja) standing on top of a giant toad.
Jiraiya would often use his magical powers to transform himself into a giant Toad in order to fight his arch-nemisis Yasagoro. (Yasagoro was a master of serpent magic.) In this Okimono he is grasping the first and second fingers of his right hand in the closed fist of his left hand. This is a sign of performing magic so it may be that at this moment, he is transforming into the toad.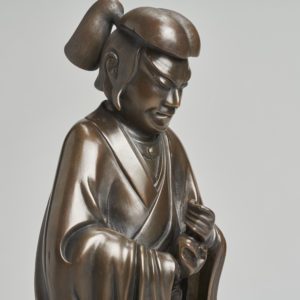 More drama is added by his robes flapping in the wind and from the beautifully inlaid Silver eyes of the amphibian.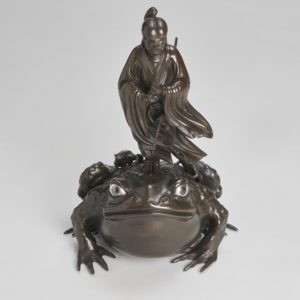 This wonderful Okimono is in excellent condition. Please contact us for more information or to arrange a viewing.
Jiraiya
Jiraiya was a ninja who used shape-shifting magic to transform into a giant toad, to fight his arch nemesis Yasagoro a master of serpent magic, he sometimes appears alongside his lover Tsunade a master of slug (sometimes translate as snail) magic.
The toad and the snake fighting seen fighting in Japanese art will be representative of this story which was published in 43 installments from 1839 to 1868 and partly illustrated by the famed woodblock artist Kunisada. It was later performed as successful Kabuki play, and it's popularity continues today with a character in the anime TV series Naruto named Jiraiya.
Toad
Toads appear in many popular Japanese folk tales such as Jiraiya, a ninja who used shape-shifting magic to transform into a giant toad.
They are also a symbol of Gama Sennin which translates as 'Toad Immortal'  is almost always seen with at least one toad. He is based on the 10th century Chinese alchemist, Liu Hai, who learned the secrets of immortality from a great three legged toad. He is a master of healing and herbs and has the ability to transform into a toad as well as fly, and release his spirit from his body.