This exquisite Japanese, late 19th Century multi-metal wall panel is from our collection of Fine Meiji-era metal work.
Using precious metals to depicting Courtesan Eguchi sitting on a recumbent elephant, this is a fine example of Japanese craftsmanship. The courtesan, dressed in opulent robes.
The scene is completed by leaves, branches and buds again in multi-metals. The frame in a bamboo style.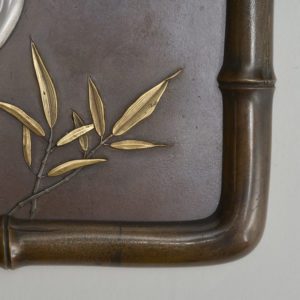 Condition is excellent. Please feel free to contact us for additional information.
Signed to the lower right hand corner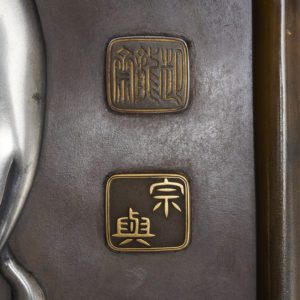 Courtesan Eguchi
The image of a lady seated on an elephant is seen in many forms of Japanese art from the Edo and Meiji period, at first glance it is simply a beautiful image but on closer inspection it is a subtle from of satire. The lady depicted will usually be Courtesan Eguchi, she sits upon the elephant in a gentle parody of Fugen Bosatsu, a Buddhist deity.