Using the interesting Yuzan-Dyed Cut velvet technique, this bright velvet painting depicts the colourful Toshugu shrine at Nikko in Tochigi prefecture.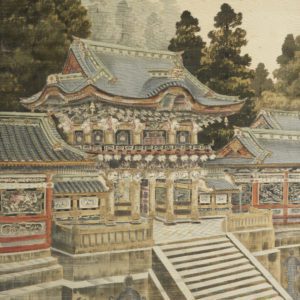 Mounted in a simple wood frame that allows the image to take centre stage.
For another stunning depicting of The Toshugu Shrine, see this wonderful Satsuma dish by the Kinkozan workshop and signed by Seishu
Contact us for more information, to discuss pricing or to arrange a viewing.
Toshugu Shrine
The Toshugu Shrine was founded in 1617 by the Tokugawa Shogunate. In its current incarnation, it is comprised of 42 structures, five of which are national treasures of Japan and three being important cultural properties.
Together with Futarasan and Rinno-ji it forms the Nikko UNESCO world heritage site.
Yuzen-Dyed cut velvet
Originally invented for the export market by Nishimura Sozaemon in around 1868, this interesting technique uses velvet which is painted with dye to create an image. It is then steamed and the threads in some areas are cut back to enhance the depth and perspective of the picture.