A masterful late 19th Century Japanese Silver Koro (incense burner) with onlaid precious metals including Gold, Shibuichi and Shakado.
The main body of the Koro depicting chickens, cockerels and their hatchlings grazing whilst the cover boasts an exceptional decorative multi-metal Rooster finial.
The Koro stands on four feet and also features polychrome enamel floral decoration to the neck.
Signed Hasegawa Issei with a stylised mark to the base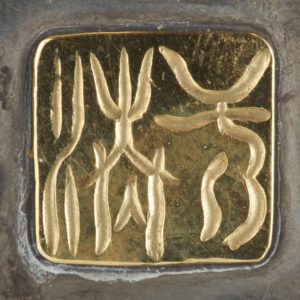 Condition: Some wear as expected considering age. Please feel free to contact us for additional photographs or to arrange a viewing.
Chicken
Celebrated and much revered in Japan the noble chicken is a symbol of many things including love, luck, prosperity and courage. It's crow was said to banish the darkness when it awoke the sun goddess Amaterasu, it is an auspicious symbol in the Shinto religion and reverence for the chicken dates back to the earliest tomb paintings in Japan.
Shakudo is an alloy of gold and copper which can be treated to develop a black patina.
Shibuichi is an alloy of silver and copper which can be treated to develop a grey patina.