A beautiful trinket box depicting Courtesan Eguchi, parodying Fugen Bosatsu, seated astride an elephant reading a scroll, signed Nogawa.
The patinated Bronze box features inlaid and onlaid decoration on a dark Shakudo ground in precious metals such as Gold, Silver, and Shibuichi. The courtesan wears fine robes and is seated on the back of a recumbent Elephant reading a scroll.
Next to them a gold censer (incense burner) emits a fine plume of smoke.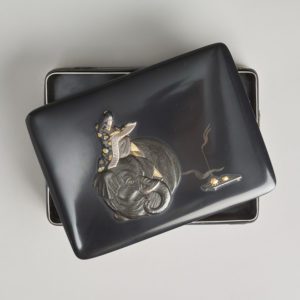 The sides of the box, decorated with foliage and dragonflies in golds, silver, bronze and Shakudo.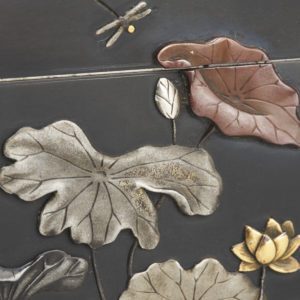 Signed to the underside with the stylised mark of Nogawa along with two other signatures. (Akikuni Meikoku, Myogoku with Kao)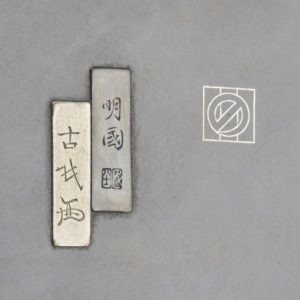 Offered in very good condition. Contact us for additional photographs or to arrange a viewing.
Courtesan Eguchi
The image of a lady seated on an elephant is seen in many froms of Japanese art from the Edo and Meiji period, at first glance it is simply a beautiful image but on closer inspection it is a subtle from of satire. The lady depicted will usually be Courtesan Eguchi, she sits upon the elephant in a gentle parody of Fugen Bosatsu, a Buddhist deity.
Nogawa
The Nogawa factory and workshops were active in the Meiji Period (1868-1912) through to the early 20th century. They created many works to appeal to Western tastes and used many different metal-ware techniques.
Shakudo is an alloy of gold and copper which can be treated to develop a black patina.
Shibuichi is an alloy of silver and copper which can be treated to develop a grey patina.