This dramatic Bronze figure of a Warrior Monk is part of our collection of fine Meiji-era (1868 – 1912) metalwork. An imposing figure, he stands tall at 51cm on his hard wood base.
He is lunging forward with his Naginata (a type of pole weapon) raised as if ready and primed for combat. His robes are decorated with Mon and the stern and focussed expression on his face gives the impression that he is an experienced and battle-hardy fighter.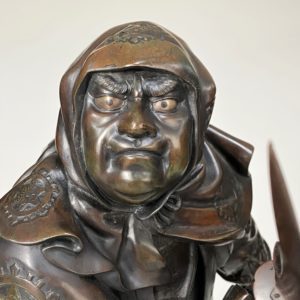 Condition: This piece is in excellent condition. Please don't hesitate to contact us to arrange a viewing or to discuss in further detail.
Ninja (Shinobi)
Dating back to the Sengoku period (1467-1615) the ninja is essentially a mercenary, specialising in deception, assignation and spying. They we're highly valued during this tumultuous period of Japan's history, but once Japan became a unified country there was less need for this very specific set of skills and the Ninja faded into legend.
Sengoku Period (1467-1615)
Known as the warring states period this was a very turbulent time in Japan's history, after the collapse of the feudal system it was a free for all with many Samurai warlords and clans fighting for control. Driven by war this was time of great innovation in armoury and weapons manufacture.