A beautiful Japanese Meiji-era Koro signed Komai (signed to the stem) with stylised dragon handles and decorated with Silver and Gold damascene inlay.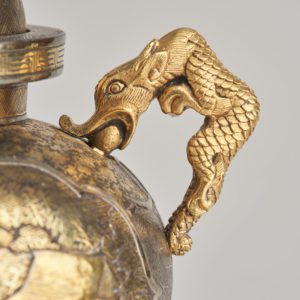 The lid decorated in the form of a flower and the main body of the vessel depicting riverside landscape scenes.
Condition is excellent.
Bears the mark of the artist to the stem: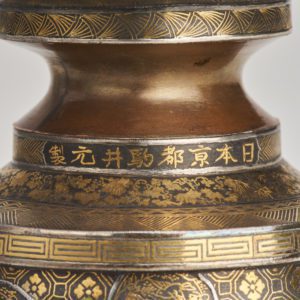 Contact us for further information, additional images or to request a viewing.
Dragon
Dragons are hugely significant in Asian culture. Known as the Ryu or Tatsu in Japan, they are closely related to the Chinese Long and Korean Yong.  Like all Asian dragons they lack wings and are serpent-like in form. The Japanese dragons rarely fly and usually reside in or near the sea and other bodies of water.
Japanese dragons have positive symbolism. They are good and represent wisdom, generosity and they are portrayed as using their powers to help mankind. (Unlike the Dragons of Western mythology.)
Generally you can tell a Chinese dragon from a Japanese by counting the toes, a Chinese having four or five and a Japanese having three.
Damascene (Zougan)
Damascening is the art of inlaying different metals into one another, typically gold or silver into a darker oxidised background. The name comes from the resemblance to damask silk embroideries.
Komai
Komai was a workshop in Japan known for their fine damascene work. Before the Meiji period they specialized in decorative sword fittings, after the carrying of swords was outlawed they turned their hand to creating artworks and goods to appeal to the export market.
Koro
A koro is an incense burner, they can be made from many different materials, ceramic and bronze being very popular. Many were made to be used but the form was also used as the basis for more decorative artworks.