A beautifully painted Satsuma bowl with mille-fleur decoration in Orange gold and blue to the exterior framing three large, oval panels. One panel depicts men, women, boys and girls at the banks of a river standing under a blossoming Cherry tree. In the distance boats bob on the water and the faint image of Mount Fuji looms over them. In the next panel, a pair of song birds stand at the waters edge taking a drink and in the third panel a group of ladies sit in a room. They wear opulent robes and are surrounded by decorative screens and objects of virtue.
The interior of the bowl again with Mille Fleur decoration and a large round panel again depicting men, women and children having a jolly time at the banks of the river.
Signed to the base Ryozan for the Yasuda Company.
Condition is excellent. Contact us for further images or more information.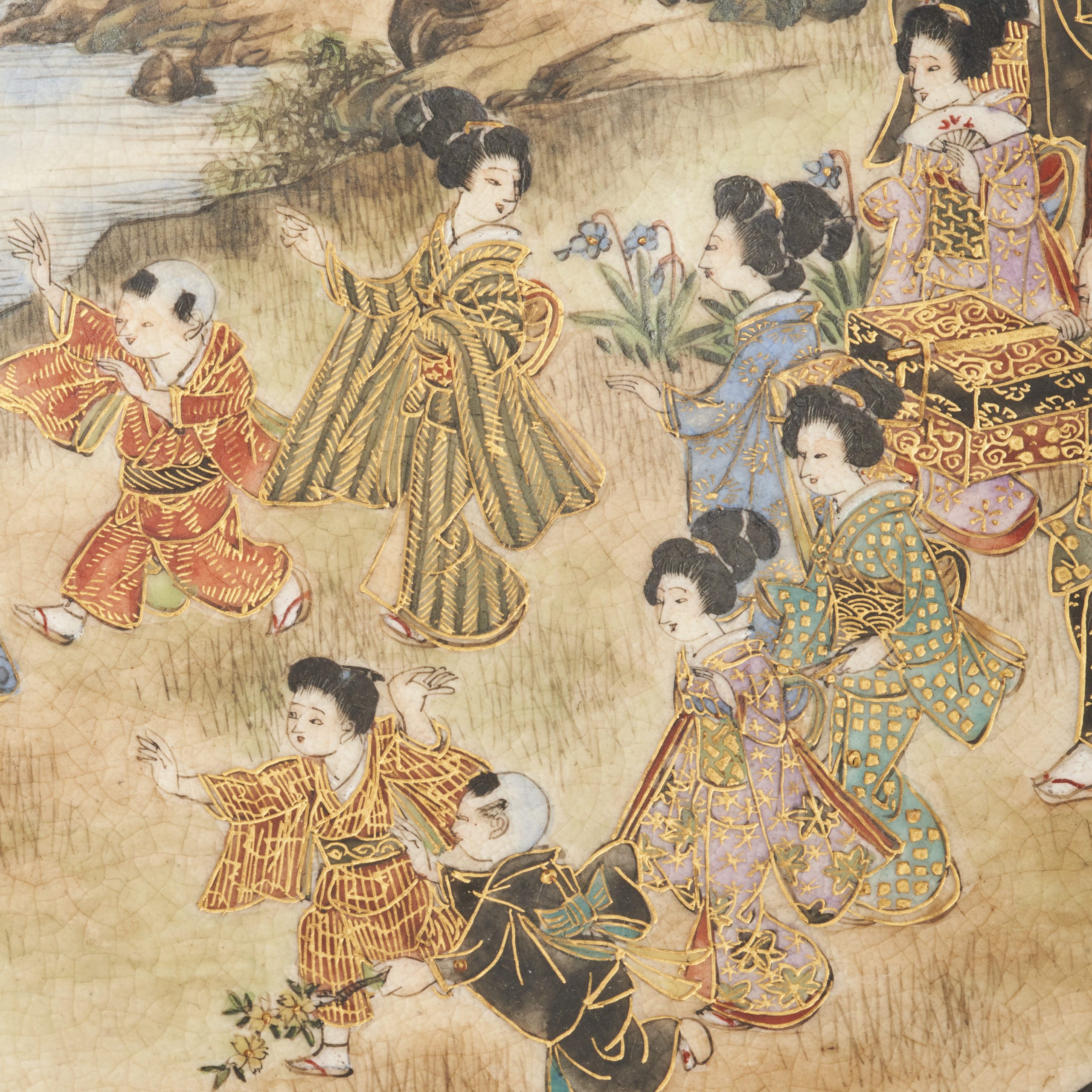 Satsuma
Satsuma ware is a type of earthenware pottery originating from the Satsuma province in Southern Kyūshū, Japan's third largest island. The first kilns were established here is the 16th century by Korean potters kidnapped by the Japanese for their extraordinary skills, prior to this there was no ceramic industry in Satsuma.
The first presentation of Japanese arts to the West was in 1867, Satsuma was one of the star attractions, it was this that established the satsuma aesthetic we are most familiar with today. This export style reflects the foreign tastes of the time, popular designs featured millefleur (million flower), and complex filled in patterns. Many pieces featured panels depicting typical Japanese scenes to appeal to the west such as pagodas, cherry blossom, birds and flowers and beautiful ladies and noble men in traditional dress. The height of popularity for Satsuma was the Meiji Period and many of the most beautiful and artistically accomplished works were made during this time.
Yasuda Company
Yasuda were a Kyoto based satsuma company active during the Meiji Period (1868-1912) they had many famous artists working for them including Ryozan and Hozan.
Ryozan
Ryozan was the head artist at the Yasuda company, he was active during the Meiji period and is regarded as one of the greatest satsuma artists, his work ranges in size and shape but always has a fine painterly quality to the decoration, faces are rendered with particular skill.