A nice pair of Chinese 19th Century porcelain bough pots and covers.
Decorated with vivid enamels and gilding with detailed panels depicting ladies in pavillions and scenes of every day life of the time.
Rope twist handles and moulded rats, vines and berries on frame each panel.
The octagonal covers pierced and with floral, famille rose decoration as well as vibrant butterflies.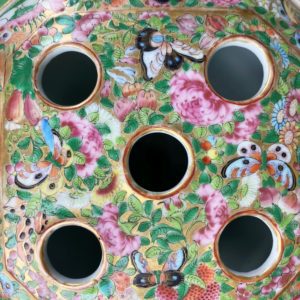 Condition: Good. Contact us for additional photographs or to arrange a viewing.