A fascinating and amusing antique Famille Verte Chinese vase dating from the second half of the 19th Century.
Of elaborate pierced square form. and with a large flare top, the vibrantly decorated vase depicts various scenes of battle as soldiers on the backs of horses and elephants alongside tigers and shishi as they storm a palace. The top with decoration of the three star gods.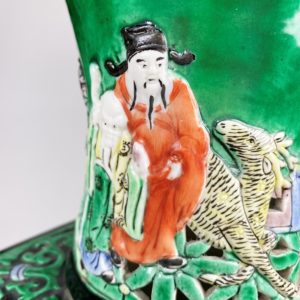 One one side, the figures are seen fighting in turbulent waters.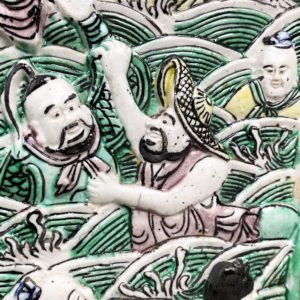 The vase is in good condition and has an imprint mark to the base.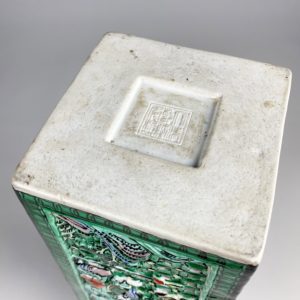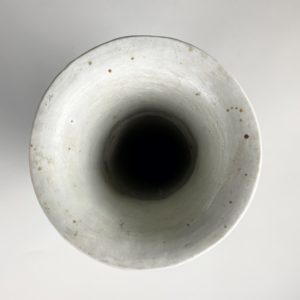 Three Star Gods (Sanxing)
The three star gods are Chinese deities personifying the three most important constellations on Chinese astrology; Ursa Major, Jupiter and Canopus. Fuxing is Jupiter, representing fortune, Luxing is Ursa Major representing prosperity and Shouxing is Canopus (the South Pole Star) representing longevity. Their personification and depiction as three wise bearded men dates back to the Ming Dynasty (1368-1420), Fu, Lu, Shou is a common saying in China to symbolise a good life.
Elephant
Various accounts state the the elephant was brought to China as tribute from Annam (a former subdivision of French Indochina, now the central region of Vietnam). The Elephant symbolises wisdom and dignity and has strong ties to Buddhism.
Tiger
In China the Tiger is a much revered animal, given the title of the King of all Beasts, it is feared and respected and symbolises
Lion Dog (Chinese)
Lion dogs, also known as Shishi, Foo Dogs or Guardian lions feature heavily in Chinese mythology and symbolism. They are thought to represent companionship, success, good fortune and protection. They are actually lion-like creatures as opposed to being actual dogs.
power and nerve.
Famille Verte
Famille Verte is a style of Chinese porcelain decoration that uses a palette of greens.