A fascinating and dramatic wood carved Okimono of Shoki (the Demon-Queller) with Sword raised and grappling with two Oni at his feet.
Condition is very good. Contact us for further information.
Signed to the underside of the Deity's feet.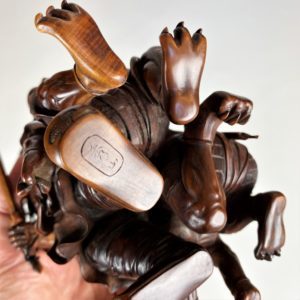 Shoki (Zhong Kui)
Shoki the demon Queller, is a Chinese deity adopted into Japanese culture, he is a vanquisher of beasts and demons and is often painted on gates and doors as a protective measure.
Oni
The oni is a popular antagonist in Japanese folk tales, they are a type of yokai (supernatural being) and resemble the troll or ogre of western fairy tales. They are usually red, blue or green with large teeth and horns and wear tiger skin loincloths or shorts and sometimes carry large spiked clubs. Historically oni were the souls of the dead who had been wicked in life, it was their job to torment the souls as wardens of Hell. During the Meiji period Oni sometimes take on a more comical function in stories, this has developed further in modern times with some oni losing their wickedness altogether and becoming a protective symbol of good luck.
If a child misbehaves in Japan sometimes they will be called a child of an Oni, and the popular game 'It' or 'Tag'  is called Oni in Japan.
Okimono
Okimono is a Japanese term for an ornament for display or an objet d'art, it has no function other than to look at and admire. Okimono come in many sizes and subjects and can be made from any material.