From our collection of Japanese Meiji-era (1868-1912) metalwork, this impressive pair of Bronze and multi-metal Temple Guardians (Nio).
The muscular figures are seated and holding giant Censers above their heads. The Censers are decorated with inlaid multi-metals and depictions of cockerels, flowers and pomegranates and a Bronze hawk sits atop each one.
Nio, (which translates as Benevolent Kings) are often depicted one with mouth open and one mouth closed. This represents life and death or the beginning and the end.
The condition of these fantastic figures is very good but please don't hesitate to contact us for further information, additional images or to request a viewing.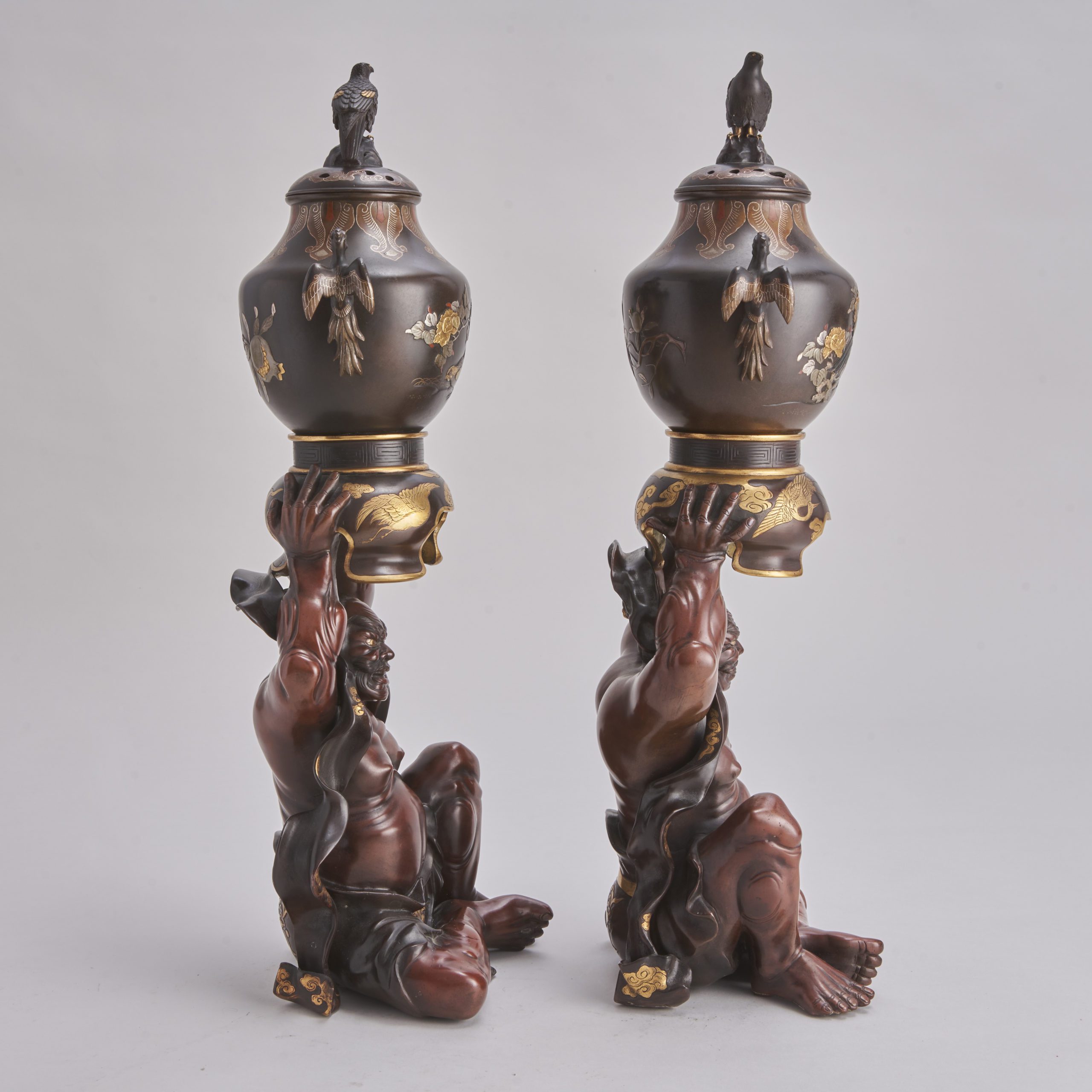 Nio
Nio are large muscular temple guardians seen throughout East Asia standing guard at the entrance to temples and shrines. A Nio is a manifestation of the oldest and most powerful bodhisattva Vajrapani who was the guide and protector of Gautama Buddha, founder of Buddhism often known as just Buddha. Despite the pacifist tradition of Buddhism, Nio are justified in their use of physical force to protect the values and integrity of Buddhist beliefs.
You will often see a pair of Nio placed either side of a temple door, usually one will have it's mouth open and one will have its mouth closed. The one with an open mouth is making the sound 'A' which represents the first sound a human makes when they enter the world, the one with a closed mouth 'hmm' represents the the last noise a human makes as they leave the mortal plane.
Together they signify the birth and death of all things and all creation.
Hawk
The hawk is traditionally a symbol of nobility and wealth, due to the expense of training and caring for the birds.
Pomegranates 
The pomegranate is not native to Japan but is widely grown there, a popular fruit it represents fertility and eternal life.
Chicken
Celebrated and much revered in Japan the noble chicken is a symbol of many things including love, luck, prosperity and courage. It's crow was said to banish the darkness when it awoke the sun goddess Amaterasu, it is an auspicious symbol in the Shinto religion and reverence for the chicken dates back to the earliest tomb paintings in Japan.