A large (58cm in height) and weighty  pair of Bronze cockerels, each standing on a Bronze gnarled tree stumps and proudly displaying their tail feathers.
Dating from the very early Meiji Period (1868-1912), they are notable for their bold artistic style.
The matching pair with each bird standing, looking over their shoulders. Their combs, plumage and talons decorated in golden relief.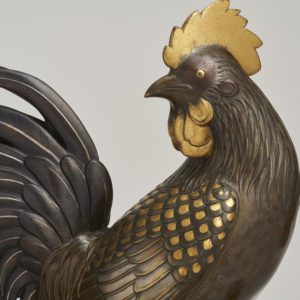 Condition is very good. Feel free to contact us for additional information.
Chicken
Celebrated and much revered in Japan the noble chicken is a symbol of many things including love, luck, prosperity and courage. It's crow was said to banish the darkness when it awoke the sun goddess Amaterasu, it is an auspicious symbol in the Shinto religion and reverence for the chicken dates back to the earliest tomb paintings in Japan.