This extraordinary and masterful, large Bronze Koro is by Kiryu Kosho Kaisha, (The Pioneering Craft and Commerce Company) and it is likely that it was worked on by Master Craftsman Suzuki Chokichi.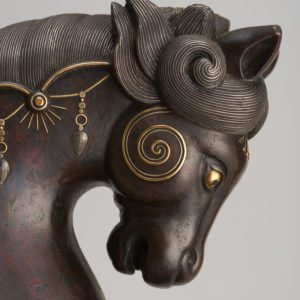 A large, Bronze winged horse stands on the cover with wings spread, prancing as if ready for take-off. The main body of the Koro, rectangular in form and in a rich reddish-brown patinated Bronze, decorated with stylised waves, fish, exotic birds, hares, squirrels and grapes.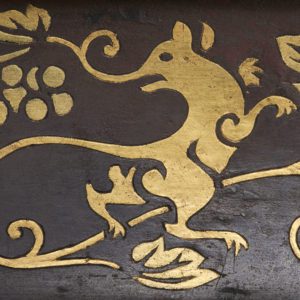 The foot of the Koro inlaid with floral designs.
The design of this wonderful piece features in Onchi Zuroku, a collection of designs compiled by the Japanese Government for works of art to display at the great international expositions of the late 19th Century. With this in mind, and although it is unsigned, the high quality of both casting and decoration, suggests that the great Suzuki Chokichi played a part in its creation.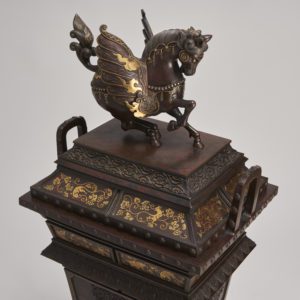 Condition is excellent.
Please don't hesitate to contact us for more information about this exceptional piece.