An absolutely stunning Japanese Silver vase with onlaid multi-metal and enamel decoration.
The bulbous body of the vase depicting chickens and their hatchlings grazing on a dark shibuichi ground, the slender form neck and feet decorated with colourful enamel decoration.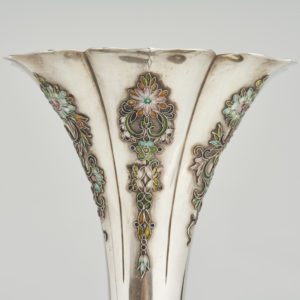 Standing on three feet and signed Tomonobu.
Condition is good. Don't hesitate to contact us for additional photographs, video or to arrange an appointment.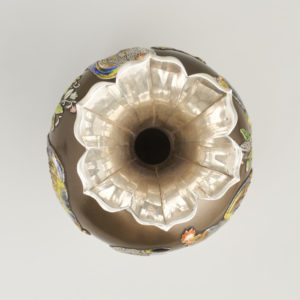 Chicken
Celebrated and much revered in Japan the noble chicken is a symbol of many things including love, luck, prosperity and courage. It's crow was said to banish the darkness when it awoke the sun goddess Amaterasu, it is an auspicious symbol in the Shinto religion and reverence for the chicken dates back to the earliest tomb paintings in Japan.
Shibuichi is an alloy of silver and copper which can be treated to develop a grey patina.