This spectacular miniature Koro is an example of Japanese Meiji-era metal work craftsmanship at its absolute best. (The reign of Emperor Meiji lasted from 1868 to 1912.)
The Koro is decorated with numerous precious metals (Silver, Gold, Shakudo, Shibuichi) and uses a number of different techniques in it's application including inlaid and onlaid multi-metal work.
It measures 17cm in height on it's hard wood stand, and 13cm in height off it.
The four sided Koro has two main decorative panels. One depicting a fanciful Samurai archer, resplendent in traditional armour resembling the large plated style of The Heian Period (794-1185 AD), which would be contemporary with the use of archery as the predominant weapon. He is crouching as if taking a break and surveying his surroundings. He has a single large curved sword, which could be an interpretation of the Zanbato horse slaying sword. His chest plate embellished with a gold Mon emblem of a dragon. At the front of his helmet is the Shimazu crest.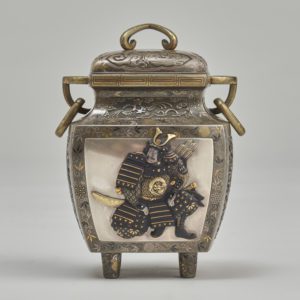 Meanwhile, on the opposite side, a single black crow is eclipsing a golden moon.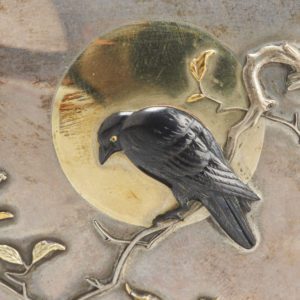 The two smaller, end panels, one with a spectacular, mythical Ho Ho bird and the other with a pair of flying dragons.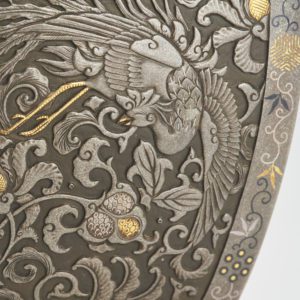 Signed to the base with the names of Hamano and Masayoshi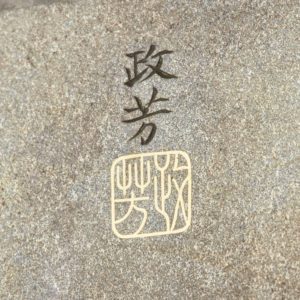 Condition: Fantastic condition. Please feel free to contact us to discuss in further detail.
Zanbato
The Zanbato was a large singled bladed sword used during the Hein Period (794-1185 AD), it was used as an anti cavalry weapon to attack the legs of a horse.
Samurai
The famous samurai of Japan were a hereditary military nobility caste who help to shape and rule Japan from the 12th Century to their abolition in the Meiji period. In Japan samurai are known as bushi (meaning warrior) they we're usually associated with a clan or lord and were highly trained officers in combat and strategy. They lived by the code of bushido (way of the warrior) which was Confucian in origin, and taught loyalty, self discipline and respect. They used many weapons including spears, bows and arrows and later on guns, but they are most famous for their swords. The Japanese Samurai blade is made by laminating metal (repeatedly folding) to create a very sharp but brittle edge which could then be combined with a central strip of stronger metal to create a blade. Despite being the best known use of this technique Japan only adopted it in the 1200's, Western civilizations such as the Celts had been using this method 2000 years before. The right to own and wear swords in public was a privilege granted only to the Samurai, they would usually wear a Daisho (pair) of swords, one larger than the other, there are many sizes and classes of samurai swords but the most common pairing would be the Katana and the Wakizashi.
Moon
The moon is the subject of much mythology in Japan, it's depiction can symbolize national well-being (From Shinto beliefs) or inner enlightenment (Buddhist beliefs)
Crow
The crow is an important creature in Japanese culture and appears in the creation myth bringing light to the world and becoming the sun. They are a symbol of guidance and divine intervention.
Shakudo is an alloy of gold and copper which can be treated to develop a black patina.
Shibuichi is an alloy of silver and copper which can be treated to develop a grey patina.