A masterful pair of early Meiji period (1868-1912) ovoid baluster form Bronze vases with dark shakudo patination. Each vase standing on five feet in the form of butterflies and with arhaic-style handles.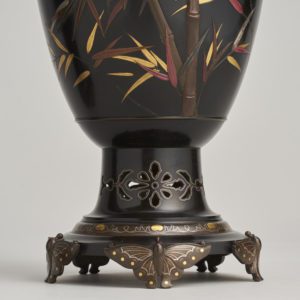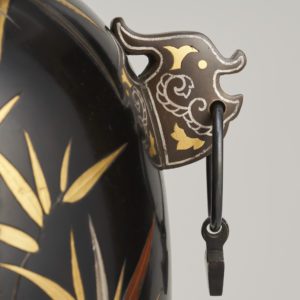 On the main body of the vases, quarrelling sparrows are depicted among bamboo plants and flowering pinks and dasies. The vases bear the signature of Sugura Gyoso, a renowned artist who specialised in chiseled and inlaid gold, silver, copper and Shakudo – all of these precious metals feature in the multi-coloured and multi-metal decoration on these exceptional vases.
The vases also bear the Kiryu Kosho Kaisha (Pinoneering Craft and Commerce Company) mark, as well as that of the head of their metalware workshop Suzuki Chokichi, meaning the vases were very likely made under his direct supervision.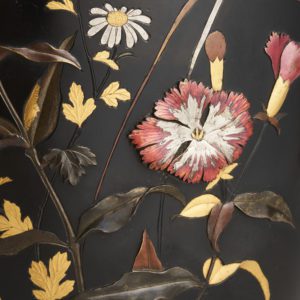 These vases are offered in excellent condition. Don't hesitate to contact us for pricing, more images, additional information or to request a viewing.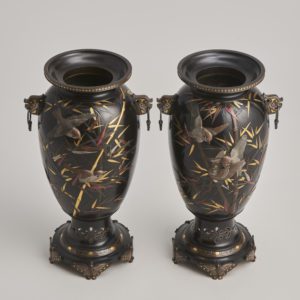 Sparrows
Sparrows are a popular motif in Japanese art, birds in general represent longevity, but the popularity of the sparrow is probably due to the traditional fable of the tongue cut sparrow.
It tells the story of a kind woodcutter that finds an injured sparrow, so he takes it home and cares for it, the farmer goes out one day and asks his greedy and jealous wife to feed the bird while he is away. She does not, and while she is out the sparrow eats the store of rice, she is so angry on her return she cuts out the bird's tongue and sends it flying back to the mountains where it came from.
The woodcutter returns and is very upset and goes looking for his friend, the other sparrows lead him to the Sparrow's Inn where he finds the little, they sing and dance for him and offer him a choice of two baskets as a reward for his kindness, he is a humble man and chooses the smaller, and when he returns home he opens it to find it is full of treasure.
Once his greedy wife learns of the existence of the larger basket she returns to claim it, and opens it before she returns home, to her surprise it is full of dangerous snakes, it scared her so much she fell all the way down the mountain to her death.
Bamboo
Bamboo is a symbol of purity and innocence, due to it's extensive root structure it is also revered for it's strength and for years if there was and earthquake people were told to run into a bamboo grove as it's roots would hold the earth together.
Sugiura Gyōsō
Sugiura Gyōsō also known as Sugiura Yukimune or Sugiura Koso was a highly skilled artisan in the craft of chiseling and inlaying precious metals. He was born in the city of Edo and originally trained to decorate fine the swords worn by Samurai in public, after the Meiji Restoration the wearing of swords in public was banned and so he had to find outher means of employment. His outsanding skills won him a place at the Kiryū Kōshō Kaisha (Pioneering Craft and Commerce Company) where he worked for a number of years before taking a post as an assistant professor at Tokyo Art School.
Kiryū Kōshō Kaisha
The Kiryū Kōshō Kaisha (Pioneering Craft and Commerce Company) was set up after Japan's very successful participation in the Vienna World Exposition in 1873. They worked with some of the best artists of the day and sold on a global scale, having outlets in New York and Paris as well as Japan.
Suzuki Chokichi (Artist name Kako)
Suzuki Chokichi (1848-1919) was a metalwork artist active during the Meiji and Taisho periods in Japan, he is considered one of the most technically and artistically advanced craftsmen of the age. Known for his figural and natural history studies, he is most famous for his large and complex bronze koro, one of which was purchased from the Paris Exposition in 1881 by the V&A Museum, it can be viewed in the Japan Gallery.