A stunningly beautiful, small Silver Okimono of a Japanese chin puppy, signed by the celebrated  Meiji-era craftsman Jomi Eisuke II.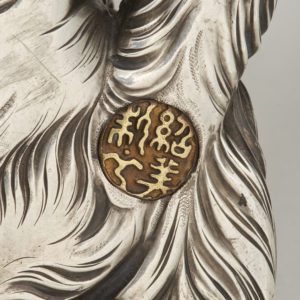 The dog is sitting obediently with one paw slightly raised and resting on a multi-metal den-den daiko drum with flame and mitsudome decoration.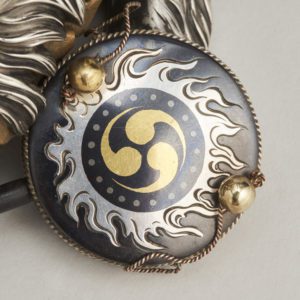 Condition is very good and you are free to contact us for further images or to arrange a viewing.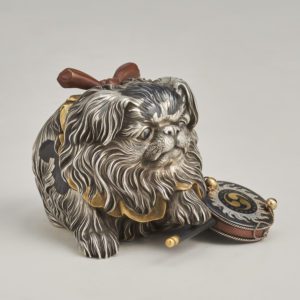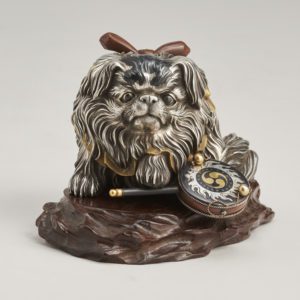 Japanese Chin
The Japanese Chin also known as the Japanese Spaniel, it is a historically important dog breed being the favored companion dog of  Japanese nobility and royalty.
Den-den Daiko
A den-den daiko is a Japanese toy made of a two faced drum on a stick, strings with beads hang off the top and it is rapidly turned to make a drumming noise.
Mitsudomoe
Mitsudomoe is a design formed of three 'Commas' or Tomoe, its often seen adorning items associated with the Shinto religion. It has many meanings including a strong association with Hachiman god of war and archery as well as associations with water and the circle of life.
Ichijoken Joun
Ichijoken being the artist name of Oshima Joun (1858-1940). Born into the family trade of metalworking, along with his brother Oshima Yasutaro (also a skilled artist), Joun became head of the business in 1877. He was a highly skilled bronze caster and by 1879 he had built up the business to include 11 assistants and apprentices all working under him in the studio. He exhibited at the 2nd National Industrial Exposition in 1881 as well as the Paris Exposition in 1900 and the Japan-British Exposition in 1910.
The majority of his work was sold through high level commissioning houses such as Sanseisha, Murakami Heishichi and Honda. Joun was a highly regarded professor at the Tokyo School of Fine Art from 1887 to 1932. Here he passed on his remarkable skills to many students including Eisuke Jomi, Sessei Okazaki, and Suzuki Chokichi