A hugely popular character in Japanese legend, Fukurokuju is one of the Seven Lucky Gods and he is associated with happiness, wealth and longevity. In this charming Meiji-era wood carving, he displays the recognisable characteristics of elongated forehead, bald head and long whiskers, he is seen crouched over a sack full of auspicious items representing the seven lucky gods.
For more information regarding condition, pricing and to arrange a viewing, please don't hesitate to contact us.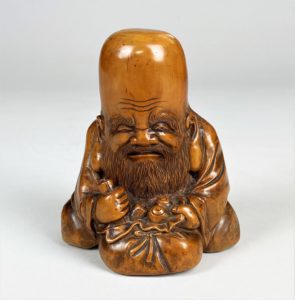 Seven Lucky Gods
In Japan the seven lucky gods or seven gods of fortune grant good luck and are often represented as a group or on their own in Japanese art. There are seven gods but sometimes only six will be depicted as Jurojin and Fukurokuju share the same origin.
Fukurokuju – god of wisdom, luck, longevity, and happiness, he shares an origin with Jurojin so is similar in appearance, however Fukurokuji's head is much longer, usually the same length as his body and he often wears Chinese clothes.