A fine example of Japanese silver-work, this late 19th Century vase is decorated with onlaid precious metals and enamel depicting foliage, the branches and leaves of a tree and sparrows.
The leaves of the tree with vibrant greens and the birds picked out with yellows, blues, purple and gold. The flowers and buds on the tree in gold and blues.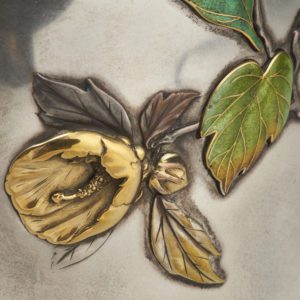 Signed to the main body of the vase Toshiyuki.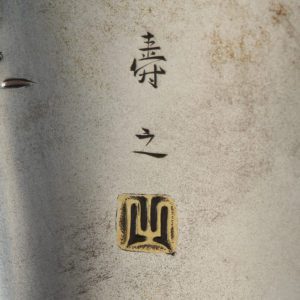 Sparrows
Sparrows are a popular motif in Japanese art, birds in general represent longevity, but the popularity of the sparrow is probably due to the traditional fable of the tongue cut sparrow.
It tells the story of a kind woodcutter that finds an injured sparrow, so he takes it home and cares for it, the farmer goes out one day and asks his greedy and jealous wife to feed the bird while he is away. She does not, and while she is out the sparrow eats the store of rice, she is so angry on her return she cuts out the bird's tongue and sends it flying back to the mountains where it came from.
The woodcutter returns and is very upset and goes looking for his friend, the other sparrows lead him to the Sparrow's Inn where he finds the little, they sing and dance for him and offer him a choice of two baskets as a reward for his kindness, he is a humble man and chooses the smaller, and when he returns home he opens it to find it is full of treasure.
Once his greedy wife learns of the existence of the larger basket she returns to claim it, and opens it before she returns home, to her surprise it is full of dangerous snakes, it scared her so much she fell all the way down the mountain to her death.