This stylish baluster-form Japanese Cloisonne vase dates from the early 20th Century and bears the mark of celebrated artist Ando Jubei.
A rich teal blue, this highly collectable piece is rendered in Silver wire and the foot rim stamped with the Silver mark, (Jungin).
The design on the main body of the vase is Art Deco inspired and depicts stylised foliate and birds.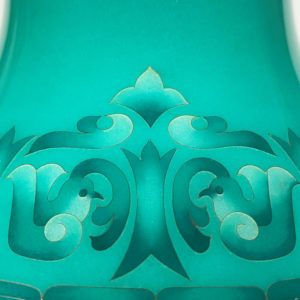 Condition is very good. Feel free to contact us for more information.
Art Deco
Art Deco or Deco is a style which influenced the visual arts, furniture and architecture, it first came to prominence in France just before World War One, and continued to grow in popularity, it's heyday being the 20's and 30's. It is defined by it's bold geometric forms influenced by cubism and the bright colours of fauvism, it used high quality craftsmanship and expensive materials to update and modernised the classic French, Chinese and Japanese, Indian and Persian styles.
Ando Cloisonne
The Ando cloisonne company is one of the only traditional cloisonne companies left in Japan, they were founded in the Edo period and originally sold pipes, in the late 1800's they became known for their cloisonne and visited many world expositions and in 1918 were awarded the imperial warrant to the Japanese court.
Cloisonne
Cloisonne is an enameling technique used to decorate metal objects, typically copper or silver, fine lines of metal are used to define the outlines of a design (called cloisons in French which is where the name cloisonne comes from) enamel paste in different colours is applied to the areas, which are then fired in a kiln and polished to create a glass-like finish.
Cloisonne is very fragile and must be treated with the utmost care, as one tiny knock can cause an area to shatter, it is very hard if not impossible to restore cloisonne.