In its original wood presentation box and with its sales ticket, this charming Cloisonne box (Kogo) is a highly collectable, decorative piece.
The cover depicts a Ho Ho bird (Phoenix) with blue, gold and green plumage on display. It is on a vivid green ground with a border of yellow, blue and white flowers.
On the underside, the mark of Ando in the centre and again more flowers. The interior of the box a rich dark blue, green colour.
The condition is very good.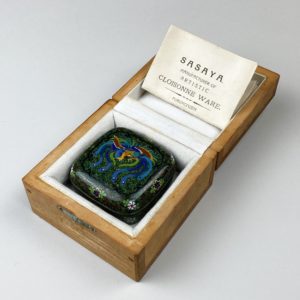 The original sales ticket including detailed information on how the piece was made: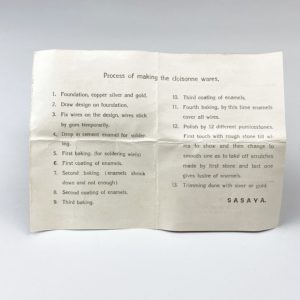 Phoenix 
The phoenix is a powerful symbol in Japan, used to represent the Empress. When used to decorate an object or house it symbolises the loyalty and honesty of the people that live there, traditionally a phoenix only stays when a ruler is without corruption.
Kogo
A kogo is a small Japanese box which can be made of bronze, cloisonné, lacquer or wood, it is used to contain incense as part of the tea ceremony.
Ando Cloisonne
The Ando cloisonne company is one of the only traditional cloisonne companies left in Japan, they were founded in the Edo period and originally sold pipes, in the late 1800's they became known for their cloisonne and visited many world expositions and in 1918 were awarded the imperial warrant to the Japanese court.
Cloisonne
Cloisonne is an enameling technique used to decorate metal objects, typically copper or silver, fine lines of metal are used to define the outlines of a design (called cloisons in French which is where the name cloisonne comes from) enamel paste in different colours is applied to the areas, which are then fired in a kiln and polished to create a glass-like finish.
Cloisonne is very fragile and must be treated with the utmost care, as one tiny knock can cause an area to shatter, it is very hard if not impossible to restore cloisonne.