This bold embroidery uses hthicker silk treads in an impressionistic way to depict the classic Japanese subject of a Torii.
This Torii stands across a woodland path which is lined with Toro (stone lanterns) to light the way to the shrine. Small huts can be seen to the left, perhaps to cater to the needs of pilgrims.
Framed and behind glass, the condition is very good. Please feel free to contact us for further information, to discuss pricing or to arrange a viewing.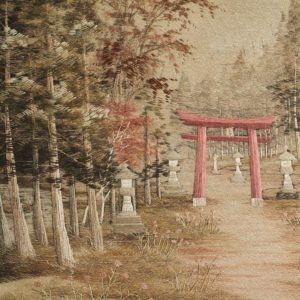 Torii
Torii are gateways which mark the transition between the everyday to the sacred.
They are often found at the entrances to shrines or scared places and are usually vermillion in colour