This wonderful early 19th Century Canton punch bowl is available as part of our collection of Antique Chinese ceramics.
Standing at 20cms (on it's hard wood stand), this collectable piece features one-continuous painted scene to the interior, depicting noble men and women reposing in gardens, playing games and socialising. The central panel with ladies in a boat at a river bank.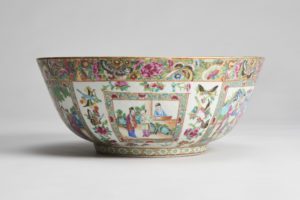 To the exterior, panels showing warriors and traders about their day are framed by decorative Famille Rose borders of flowers, blossom, butterflies and song-birds.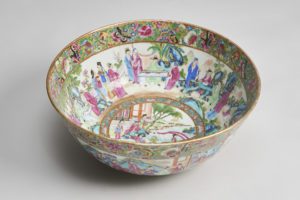 Condition: Very good, with some very minor wear in places to the decoration, to be expected with age and size.
Don't hesitate to contact us for additional photographs or to arrange a viewing. (In person or via video conference).
Canton
Canton or Cantonese is a style of porcelain decoration produced in Guangzhou, Guangdong in the 18th, 19th and 20th centuries.
Prior to 1842 Guangdong was the only port that could legally export to Europe. It is typically decorated with panels of figures, birds and insects on complicated grounds usually in pallets of green and pink.