A beautiful Japanese Meiji-period, (1868 – 1912) Miniature Shodana. Crafted in iron with intricate gold inlay, each perfectly fitting draw demonstrates the exceptional level of craftsmanship.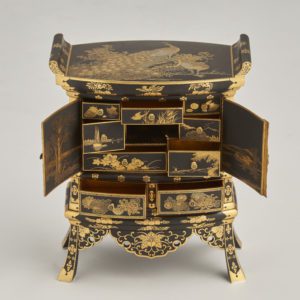 The front of the Shodana is decorated with tranquil scenes depicting the famous Shinto Torii (gate) of Itsukishima Shrine, while the back displays fishermen outside their huts on the island. The top and sides of the cabinet feature birds including ducks and peacocks.
A wonderful tiny clasp formed of a flock of sparrows fastens the doors.
The inside of the cabinet consists of seven tiny drawers decorated with cranes, seashells, boats, and tranquil lakeside scenes of Itsukushima island.
Signed Komai to the underside with detailed dragonfly mark.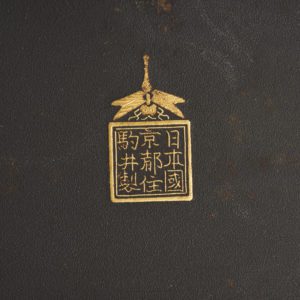 Condition is very good. Contact us for pricing and more information or to request a viewing.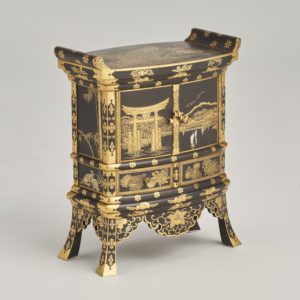 Itsukushima Shrine
Itsukushima shrine is a Shinto Shrine on the island of Itsukushima known for its impossibly beautiful 'floating' torii gate. It is a UNESCO World Heritage Site and a National Treasure of Japan.Records of a shrine on the site date back to 593, but the present form and layout of the structures are attributed to the Daimyo Taira no Kiyomori who was governor of Aki Province in 1168. The shrine is dedicated to the Sanjoshin, three female deities of the seas and storms. It is believed these goddesses were manifestations of Kannon and the island was thought to be her home. In order to keep the island scared and pure no births or deaths must happen on it, to this day pregnant people must leave the island as their due date comes near, as must the terminally ill and very elderly.
Peacock
In Japan the peacock is the emblem of love, it symbolizes good will, nurturing and kindness, and is associated with Kannon (Guan-Yin)
Komai
Komai was a workshop in Japan known for their fine damascene work. Before the Meiji period they specialized in decorative sword fittings, after the carrying of swords was outlawed they turned their hand to creating artworks and goods to appeal to the export market.