A large, impressive Japanese Meiji Period (1868-1912) bronze charger with applied multi-metal decoration and finely crafted, semi three dimensional, figures, each an artwork in their own right.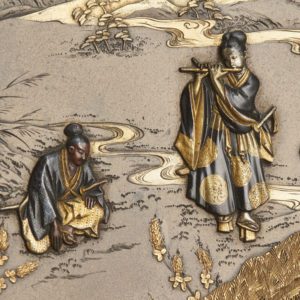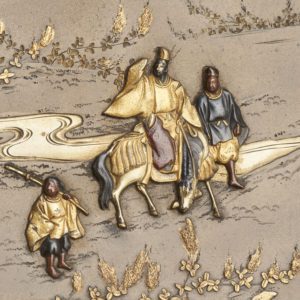 Three fine panels one in the shape of an open oni mouth with decoration of a small procession of a  lord and attendants, the other two with scroll and wave borders feature courtly musicians. The ground of the plate has lavish applied golden and bronze floral decoration of peonies and chrysanthemums and a border with stylised florals and bats, all on a dark repousse textured ground.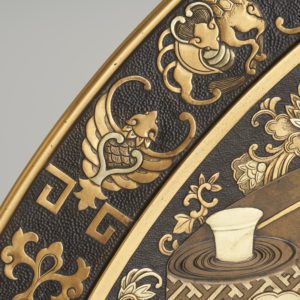 Signed Miyao
Miyao Eisuke
Possibly one of the best known and widely celebrated metalwork manufacturers of the Meiji period, the Miyao company was first based in Yokohama before moving to Tokyo in 1890.
They exhibited at many of the Great Expositions to great critical acclaim and won many prizes for their impressive works, they are best known for their metal ware but they also manufactured Shibayama style works and ivory figures.
Bat
In Asian culture the bat represents luck due to the Chinese word for bat sounding like the Chinese word for luck.
Peony
Known as the King of Flowers in Japan signifies good fortune, bravery and honour.
Chrysanthemum
This flower represents longevity, nobility and rejuvenation, it is a symbol of Autumn (fall) and the motif is used to represent the imperial family and Japan itself.